There is a property located in the heart of the Cumbrian Lake District, situated between Ambleside and Grasmere with glorious views that inspired one of the country's greatest romantic poets to create poems known the world over. Rydal Mount was home to William Wordsworth and his family for much of his life from 1813 to his death in 1850 at the age of 80.
Born in Cockermouth in 1770, Wordsworth returned to the Lake District in the late 1790s following his time at the University of Cambridge and the twelve years he spent travelling in Britain and continental Europe. Initially living at Dove Cottage in nearby Grasmere from 1799 to 1808, he needed to move to accommodate his growing family and in 1813, the Wordsworths took up residence at Rydal Mount. Before moving to Rydal Mount, William and his wife Mary had lost two of their five children the previous year: Catherine, three, from convulsions and Thomas, six, from measles. However, following the family's move, which included his sister Dorothy, their new residence became a happy family home.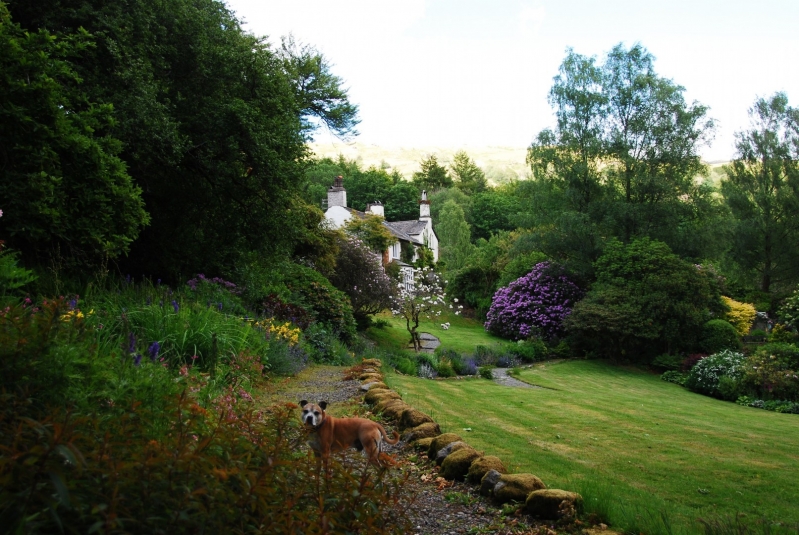 The house dates from the 16th century although it was enlarged over the intervening years by various occupants. With extensive views of Grasmere and Windermere lakes, the gardens of his new property gave Wordsworth an opportunity to create a layout which worked with the surrounding countryside as he believed that gardens should be like nature. The grounds surrounding the house were his office where he preferred to work rather than being indoors in his spacious writing room. Indeed, he constructed an outdoor 'Writing Hut' tucked away from the main house that overlooked the grounds and the lakes. Consisting only of a bench with a small roof it provided sufficient shelter for the poet to work.
As Wordsworth's love of his garden grew, he wrote about garden-related topics and flowers, such as daffodils. He spent time landscaping the grounds, designing, and building four long stone terraces and a series of rock
pools with stones placed to vary the sound of the water. One pool was home to some goldfish his sister had been given and later the goldfish went on to inspire two poems. As you proceed down the garden it becomes wilder with steps leading to the water garden and the croquet lawn.
His planting was informal. Crevices were filled with ferns and mosses, whilst wild geraniums, yellow Lakeland poppies, fox gloves, hollyhocks and wild strawberries grew in abundance. The garden is also home to a wide variety of rare trees and shrubs. When at the age of 70, his beloved daughter Dora died aged only 42, he planted 1847 daffodils to mark the year of her death. Since then the naturalised bulbs in 'Dora's Field' bloom each spring in her memory. The field is now cared for by the National Trust.
When Mary died nine years after her husband, their tenancy of Rydal Mount came to an end. However, although it had several owners over the decades, in 1969, Wordsworth's great-great granddaughter bought Rydal Mount and it continues to remain in the family's ownership. Although the gardens had become overgrown, William's original garden was discernible and today it is maintained to a high standard in keeping with Wordsworth's philosophy that humans and nature are inseparable.
To find out more about opening times and to book tickets for Rydal Mount, please visit
Photographs supplied by Rydal Mount.