From a failed application for Barrymore, to Live at The Apollo and now coming back to Oxford with her latest show.
First, can you tell us about your new show, Success Story? 
It's about being a lunatic 14-year-old who wanted to be on TV because I thought it would make everyone at school like me. I had this plan that I was going to get on Barrymore's My Kind of People, which you're probably too young to remember but in the 90s it was a really big show. It's actually baffling to think about now in the age of TikTok and YouTube where there's loads of platforms and opportunities for teenagers to make content and become incredibly successful. Back then it was quite big; you could go to a shopping centre and perform and if they thought you were good enough you would be on Saturday night TV. So that was my plan, it went terribly wrong. The Show's about that, a couple of funny stories early on in my career, then some celebrity name-dropping. The second half is more about becoming a mum, going through IVF, and my idea of success evolving and changing. 
I understand within IVF, they use quite questionable terminology – you're 'successful' or you're not, which seems quite insensitive.
Yeah exactly, so it was in lockdown that we started the IVF process, and they were talking about 'success rates' and 'success' of pregnancy, and I was thinking how odd it was that this is the language I had used about my job for a couple of decades, and it's now in a completely different context. It was that which made me start reflecting about why we consider certain things successful or unsuccessful. It was the feeling of wanting something really badly which came with the IVF process that reminded me of my ambition at the beginning of my career, when you're desperate for something to happen and you don't know if it will – and you don't feel very in control of it. It feels like luck and good fortune, the kind of arbitrariness is very similar.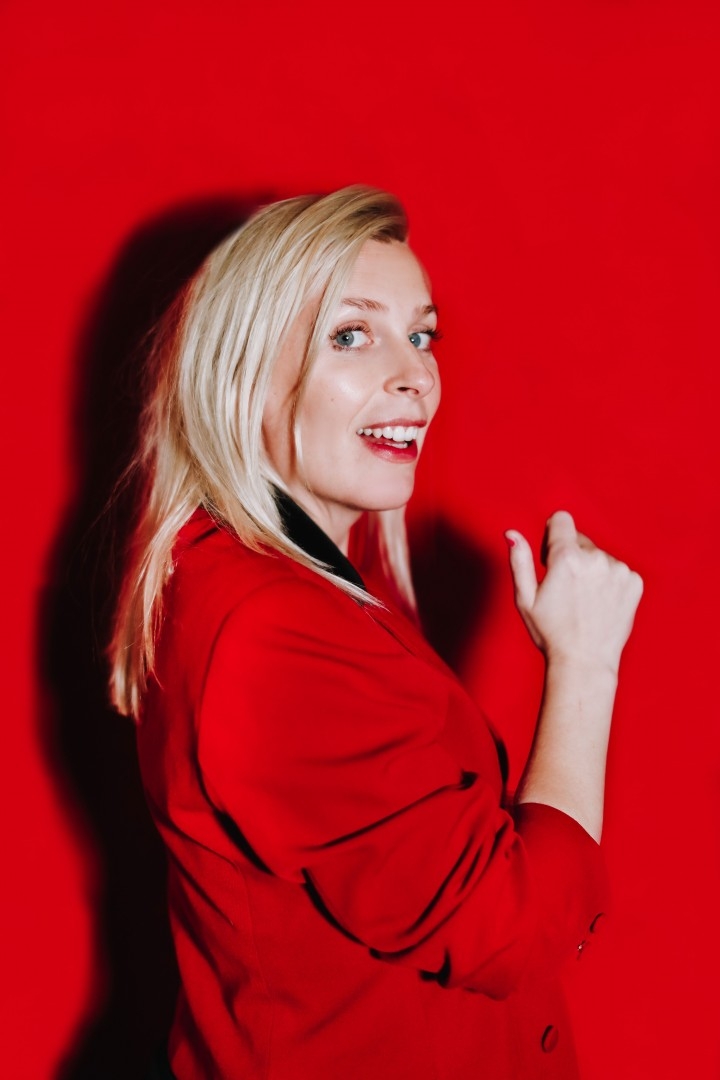 You mentioned that you've wanted to be famous since you were 14. Do you think your career is how you imagined it would be then?
Yeah, and that's part of the reason it feels like being mad (in a good way) because when you wish for something really hard and then it happens it makes you feel a little bit insane and a bit like you're a god. 
Psychic. 
Yeah psychic, in that you're in control of it. I don't know if you've ever really massively fancied someone – like, can't sleep, really desperate for them and then when you're kissing them your brains just like, 'oh my god'. That's what a lot of my career felt like. When I did Live at the Apollo, you're behind the big sign, they play the music that you've asked for, the smoke goes off and you have to walk out – that feeling is absolutely crazy if you've spent years watching that show, thinking how much you want it to be you. It's actually amazing but also a little bit like being mad in that way.
Did you have a definition of success pushed upon you as a young girl?
No actually. I think that's what's quite nice about not having show-biz parents. I don't think I even had it about GCSEs and stuff though. I think we were kind of left up to our own devices by my mum – my dad didn't live with us, and by the time we were in school he lived in Australia, so he was quite a satellite to our lives. My mum was working full time and was very busy, so both of them were like, 'as long as there are no huge problems, great, get on with it'. My mum once said to me at university; "I don't care what you do as a job as long as you're not asking me for money." There's something very liberating about that because what you don't have is this helicopter looking over you which a lot of my friends had. Mine weren't as invested and now they're quite bemused. 
Do you feel like there was ever an element of imposter syndrome at the point at which you felt successful?
I think that happens at all levels of life for most of us. You think you want something, you get it and then for whatever reason it isn't what you expected. For example, you get a show you wanted and you either aren't as good as you hoped you'd be, or it goes out and you hate an edit, which is awful because then you become someone who wants to moan about being on Mock the Week. I think that's the funny thing about it, we don't just want to do things, we want them to be done well and then want to do more of them so there is an element of feeling a little bit greedy. My need for success came from a really adolescent place because I was like, 'If they don't think I'm worth anything, wait till they see me on Would I Lie To You'. It was good to be able to use that energy for something constructive though.
And it worked.
Except no one from my school is impressed, so it didn't work in that way.
So, you're bringing the show to Oxford which is very exciting. What is the Oxford audience like to perform for?
Oxford is one of the really great places for me personally. Cities with big university populations who are also quite lively and up for it are my perfect demographic because I sometimes worry like, 'Oh, I hope they're going to get my Nietzsche reference'. I would never worry about that in Oxford. I have a bit about Salman Rushdie in my show and this isn't me being snobby but there are certain places – which I won't name – where I feel like I have to give a bit of context before delivering the joke. I look forward to places like Oxford, Manchester, Bristol, and Cambridge because they're going to get every joke, they've got Netflix subscriptions, and they're not pro-Nigel Farage.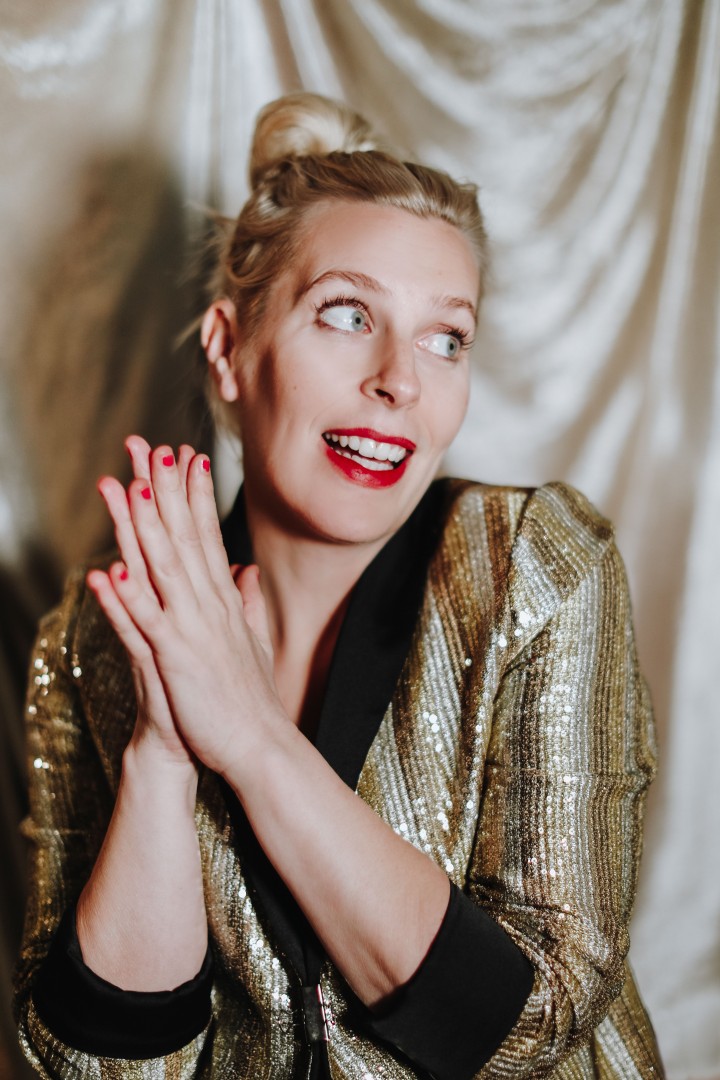 Always a good thing.
I do the majority of my 'trying out the material' gigs in London, but if you travel around the country there are places where it's very different to London – Oxford is fantastic because it will translate there really well. I've got a routine about how when you have a baby it makes you become more selfish and then I say I think I've become a Tory. Most of the time the response to that is like, 'Oh haha that's obviously a left-wing person using Tory as an insult' but then I've done a couple of gigs in places like Tunbridge Wells and Crawley where they're like, 'woo more Tories!' You assume that everyone who comes to see you is just like you and the really great thing is, they're not. 
What are you reading, watching, and listening to at the moment?
I'm reading a book called The School for Good Mothers by Jessamine Chan and it's a sort of futuristic, feminist thing where the government have a retraining scheme for mothers who aren't good enough and it's really horrid. You know sometimes when a book is really good but it's so good it means you're not really enjoying it because it's about something awful? I'm watching White Lotus season two which I think is even better than season one and I loved season one so much. Then I'm still listening to Self Esteem, I just love that album so much. 

Prioritise Pleasure?
Yeah, it's great for before shows because it's really vulnerable yet empowering and that's how I need to feel before I go on. 
What do you think is your most loveable quality? 
I'm very generous with money and it's really nice to have money because I didn't use to have it. The best part of the money is being able to be like, 'I've got this dinner', 'I've got this round', 'I'll get you an Uber home', 'here's the bag you looked at for your birthday present'. It's just so nice to be able to have that and share it. And also, it really makes people like you.
Another tick.
Sara Pascoe is at The New Theatre on 12 March.