At OX Magazine we like to explore different ways that people who have a love of plants and gardening can take their passion into their careers. One Oxfordshire artist, Margaret Fitzpatrick, has done just that.
Based in Clanfield, Maggy's career began when she worked as a freelance Calligrapher and Heraldic Artist. Examples of her work hang in the Inns of Court in London, Westminster Abbey, and St George's Chapel at Windsor Castle. However, to be successful in the precise work of heraldry you must be able to work in a detailed and accurate manner. Maggy was first attracted to learn to paint at an early age when she watched her grandfather – a signwriter – precisely painting and applying gold leaf to his work.  
"I then became interested in historical methods and art materials," Maggy explains, "particularly those used by medieval painters and illuminators together with the Dutch masters and Renaissance artists."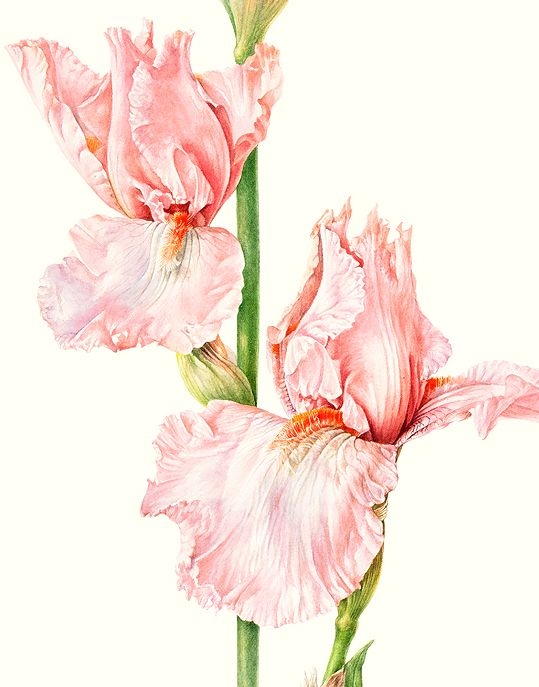 With a love of plants and the natural world, coupled with her previous artistic experience, Maggy has developed a talent for painting very precise and detailed botanical studies as well as more freestyle watercolour landscapes. Being able to draw, however, is key to her success. "Whether botanical or landscape, I sketch and work from life whenever possible. My work uses a variety of materials and types of paper and by using watercolour and dry media, I have learned how to use contrast and tone with different media to portray the detail, pattern and structure of the natural world."
Maggy's first botanical illustration, some 20 years ago, was a Passion Flower (Passiflora) when she attended an RHS course at Wisley, run by Pauline Dean, an exceptionally talented botanical artist. "Starting with such a detailed and challenging flower gave me a great foundation and understanding of the patience and detailed observation required to illustrate plants accurately."
"I feel it is extremely important when working as a botanical illustrator to correctly portray your subject. For me, however, it is equally important for me to portray the plant's feel and character, which is often incredibly challenging!"
"Each plant and leaf provides its own challenge. Since the 2020 lockdown, I have been working on a series of 14 studies of one tree through the seasons. I have set myself a personal challenge in undertaking this work to create a continuity of colour and texture with all the shades of green that are involved."
Watercolour is Maggy's medium of choice for much of her botanical work. "When I work on paper, I use a combination of initial washes with dry brushwork for the finer detail and texture. However, I love to work on vellum which is a beautiful surface to use and this requires a much drier technique."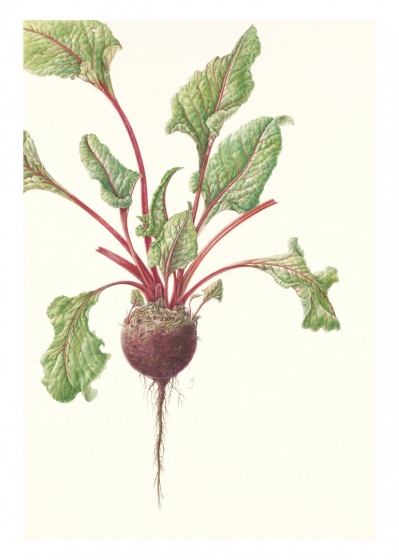 Maggy also undertakes metal point drawing. "Having visited an exhibition at the British Museum of drawings in silver and gold metal point with works from da Vinci to Jasper Johns, I began to study metal point drawings in more detail and have started using traditional materials such as bone ash for some of my botanical illustrations. The changing nature of the material which evolves over time as the metal lines change colour with age and oxidisation gives a unique way of portraying plants, reflecting the transience of nature and the natural world."
Her botanical illustrations have been published in a range of books including 'Botanical Illustration from Chelsea Physic Garden', the Royal College of Physicians 'The Illustrated College Herbal 2018' and the 'Society of Botanical Artists 2018'. Maggy always enjoys the challenge of taking on new commissions and has recently updated her website to make it easier for people to contact her.
If you are inspired and would like to learn how to accurately draw and paint flowers, plants, and trees, Maggy does run classes. She is a tutor on the Society of Botanical Artists distance learning Diploma course. Up until the COVID-19 restrictions, she also taught privately in Oxfordshire as well as at the Gloucestershire Society for Botanical Illustrations and Ardington School of Arts and Crafts.
Details of Maggy's classes and exhibitions planned for 2021, can be found on her website maggyfitzpatrick.co.uk where you will also find a range of limited edition fine-art prints and originals to purchase, all of which would make the perfect gift for plant lovers.
Her Instagram is MaggyFitzpatrickArtist.