With over 15 years in the bridal industry, Ellie Sanderson – queen of bridal retail whose boutiques are widely regarded as amongst the best places to buy your wedding dress in the UK – shares her top seven tips to find your dream dress. Ellie Sanderson offers a choice of some of the world's most exclusive, sought-after labels which you may not find anywhere else.
1. Timing is everything
lead times for dresses are longer than usual right now, believe it or not we are still dealing with the backlog from Covid postponements. Make sure you leave at least six months to order a new dress and anything up to nine months if you are looking for bespoke couture. Don't forget you have to factor in a few months for fittings ahead of the wedding and all fabrics are made outside the UK.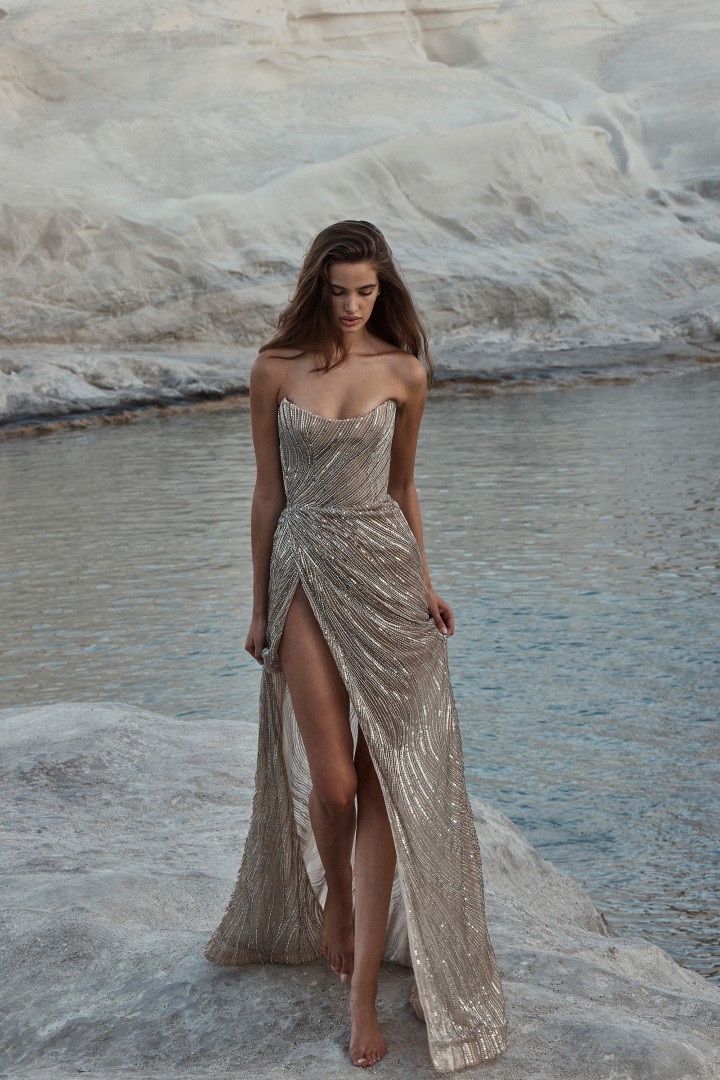 2. Money and budgeting
consider your dress price range before you start trying on dresses. I promise, if you try something that is way out of your price range you will end up falling in love with it and being heartbroken. Nothing will compare from that point forward. So, have a price range and upper limit before you shop. If someone else (a parent or partner) is helping to pay then have this chat with them ahead of your appointment. Know your limits.
3. Research research research
Pick wedding dress shops which have collections you just love. It's vital that you feel a connection with the dresses in your shops of choice. Instagram and Pinterest are fabulous tools for research but make sure you spend time on the shop's website before you book your appointment. There is nothing worse than arriving and not really liking any of the collections because you didn't check it out ahead of time.
4. When you have decided on the shops
You want to visit, don't just book it cold and turn up hoping for the best. Call them, chat with the stylists, or email first but make sure you engage ahead of your appointment. This will help you feel you are in the right place and if the service and care feel special enough. Sense-check the vibe. Also be prepared to pay for your appointment (this will of course be refunded when you buy your dress).
5. Limit the number of shops
You visit to only two or three. And, try to visit one or maximum two in one day. Give yourself time to digest things, ask questions, enjoy your moment and be relaxed. It is pretty emotional and exhausting and booking three shops in one day is just crazy. You become 'snow blind' and can't remember what you loved and why. Also, limit the number or photographs you take, there is a reason your photographer doesn't use an iPhone. Seriously, they can distort the reality with bad lighting and bad angles: it's better to remember the feeling.
6. Take only your closest friend and family member
Asking six people to help you choose the most significant dress of your life is tough; too many individual opinions may leave you confused. Some girls come alone and focus on their feelings and then invite their mum or best friend back for the second appointment. Asking a parent to choose a dress can be tricky, I mean when was the last time they dressed you? That said some brides are blessed with cool and fashion forward parents (if you have one of those you are a lucky girl).
7. Don't be scared to say yes
When you found the groom, you didn't keep looking or swiping on right, did you? It's the same with your wedding dress. If you find the dress that makes you feel incredible and look like a goddess and is in the price range then ring that bell and say yes.
Walking away from that wonderful life moment is a tragedy as it never feels the same the second time round when you come back to retry.
Happy shopping Ellie x
We book all of our brides in for a two-hour one-to-one consultation with our stylists or Ellie herself. If you are ready to get trying on then contact us via our website at elliesanderson.co.uk