The new buzz in skincare seems to be less is more: a streamlined approach is clearly where it's at. After all, time saved on multi-step prep is time in the bank for other activities, even if it's simply perfecting the ultimate smoky eye.
Wake Skincare – for screen addicts and 24-hour party people
It's only fitting that Wake is the brainchild of two millennials seeking to address skincare concerns arising for 'generation connected'. The problem? A reliance on screens and a non-stop work-life balance. Their solution? Simple, ethical, gender-neutral products which don't compromise the planet and target the most common concerns for both Millennials and Gen-Z's (over-exposure to blue light, blemish-prone, lack of radiance and the emergence of lines).
First up, the Eye Gel which combines cucumber, aloe and elderflower to cool and de-puff. It may tingle slightly on first application, but it leaves eyes feeling refreshed and regular use should help tackle dark circles from burning the candle at both ends. Next, the Face Cream. The blue light in emanating from screens both big and small, penetrates the skin quicker than UV rays and can lead to issues with pigmentation. This gel-weight cream's milky formula is packed with antioxidants and a hefty dose of hyaluronic acid. It melts into the skin, leaving it reinvigorated. Finally, the Australian Pink Clay Face Mask with kaolin and zinc oxide; used a few times a week it will tackle blemishes, build a level of resilience to UV light and add radiance to dull, lacklustre complexions. It didn't trigger my tester's sometimes-sensitive skin and left it feeling smooth and deep-down clean.
  From £22.98 wakeskincare.com
Amare Vita – to keep skin looking beautiful through the years
Ita Ohayon was so frustrated and confused when she sought to address the changing demands of her skin in her 30s that she was driven to create her own line of multi-tasking products. "There are so many products, for so many concerns I didn't know what to treat first". Her background as a chemist and a love of natural ingredients led her to try experimenting with different blends at her own kitchen table. In her own words, "no matter what we can create in a lab, nature has already been there and done that!". The resultant range she describes as 'botanicals to bottles'.
Amare Vita consists of three cleansing products and four basic face treatments: All Eye Need, a concentrate to be used day and night; The One, a serum-primer-moisturiser-spf all-in-one [why don't more company's make these?]; Oil I Dream Of, a night oil; and The Afterglow, a mask. All leave skin feeling buoyant, but it is the night oil which (in our opinion) is the hero of the set. The smell is simply sublime and speaks of the quality of the oils used which are not only clinically proven to improve tone and appearance, but meld together to create an aromatherapeutic hit to relax, calm, and comfort you as you drift toward sleep. Most pleasingly, it is utterly traceless, sinking into your face rather than your pillowcase.
Finally, care has been taken to produce low-impact packaging, working with a provider partnered with the World Land Trust, which includes Sir David Attenborough amongst its patrons and also, importantly, the brand is cruelty-free – "it's not tested on animals, it's tested on husbands".
From £18 amarevitaskincare.com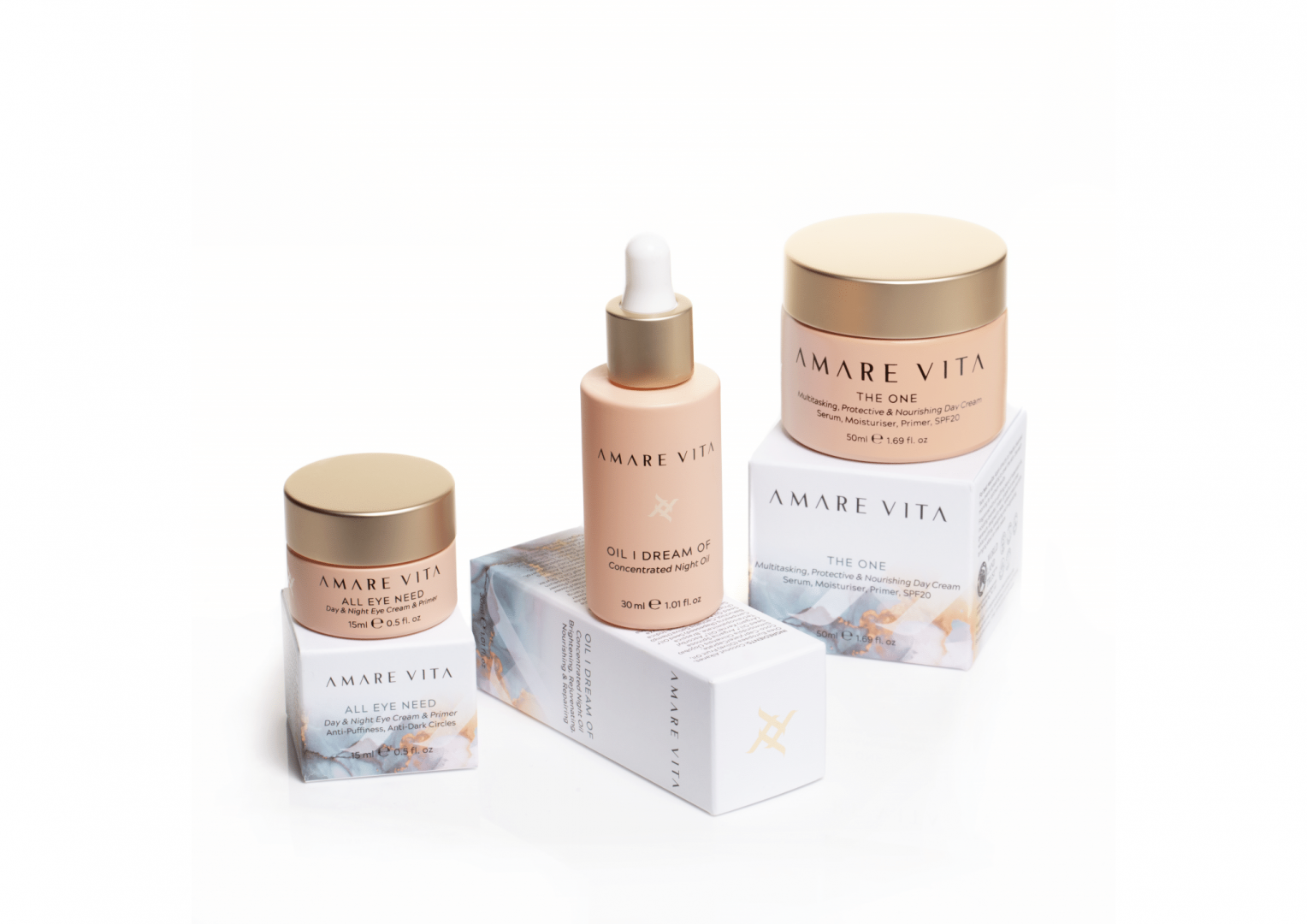 Cultured Microbiome – 'forget skincare, meet biomecare'
It's been 21 years since Rob Calcraft disrupted the beauty industry with the launch of Ren, one of the first brands to define themselves as 'clean', using skin-safe nature-based ingredients. A gazillion plaudits later, the brand is still thriving, but Calcraft has moved on with a new category in mind: treating the microbiome, which sits on the skin protecting it against harmful bacteria. Forget traditional product ranges, designed to target individual concerns or work for defined skintypes, what Cultured does is encourage your skin to renew, protect and repair itself from any damage, be that health, quality, environmental, texture or age-related. Calcraft credits a revolution in microbiome science in making this possible and the combination of cleanser, serum and mask are all rich in 'new-era, skin-enhancing' ingredients alongside active enzymes.
The products are a genuine pleasure to use. The sticky balm cleanser swiftly emulsifies when massaged into dry skin and is best removed with a warm, wrung-out cloth. It removes all trace of make-up and muck and left my face feeling rebalanced with zero tightness. The light creamy serum feels satisfyingly silky to apply and I didn't feel the need to add any additional moisturiser, although an SPF is always advisable. Both are designed to be used day and night and then the weekly mask delivers an effective exfoliating treatment without stripping skin and/or exacerbating redness or sensitivity. All of which is thanks to the gentle acids which remove debris including dead skin cells and give a glowing boost. Packaging has been created to respect the environment's 'biome', and the cute, upbeat design of these products guarantee them pride of place on the bathroom shelf.
From £32 culturedmicrobiomecare.com