RHS Hilltop, the UK's first dedicated horticultural scientific centre, opened in June 2021 and is a unique space sited at RHS Wisley in Surrey. This exciting development houses three purpose-built laboratories supporting research, an Herbarium and a Digitisation Suite, alongside three new gardens designed by RHS Chelsea gold medal winners.
The Wellbeing Garden has been designed by Matt Keightley whilst Ann-Marie Powell was responsible for the design of both the Wildlife Garden and the World Food Garden, where you can taste your way around the world and learn more about how and what to grow in your own outdoor space.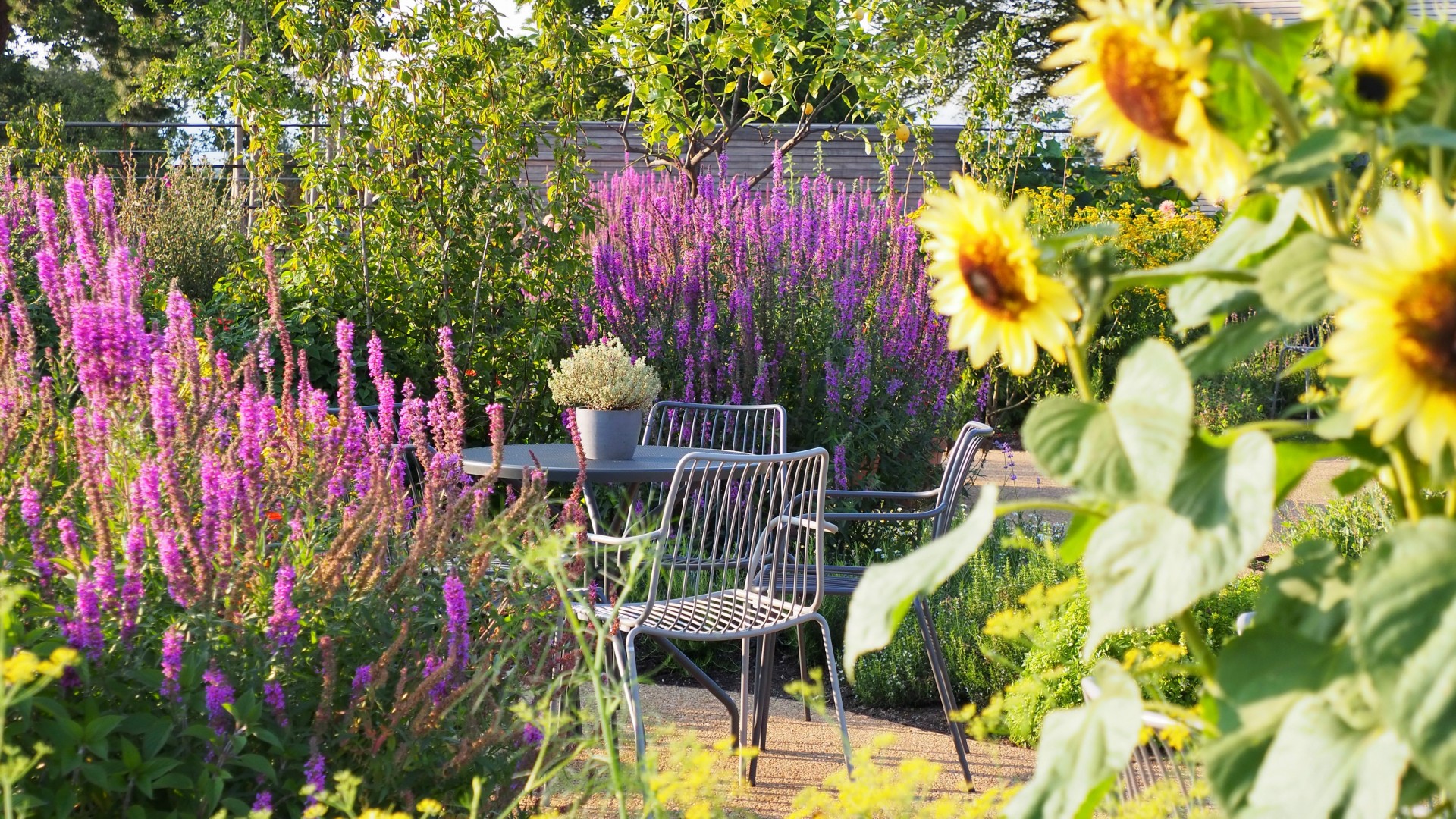 "The process of putting forward our tender and presenting ideas for the site was quite challenging," Ann-Marie explains. "Over a four to five-year period, we presented to various RHS Committees who were responsible in selecting the design team to work with them on this very exciting project. When we were finally appointed, there was great joy as it was a project we all wanted to be involved with."
The World Food Garden is just under an acre in size, and Ann-Marie worked closely with the RHS Edibles Team to create a contemporary food garden based on traditional kitchen gardens. "By working with the Edibles Team and the RHS Garden Manager Sheila Das, it meant that the team who have considerable knowledge about growing food crops, their expertise could be incorporate and as a consequence, it gave the team the opportunity to shine and take pride in developing the garden still further."
RHS Wisley has a significant history of growing fruit and vegetables over the decades and have grown model gardens since the 1950s, along with large scale fruit orchards. With a brief to design a garden which celebrates the diversity of food which can be grown in the UK and the people who grow it, the gardens have to inspire visitors to get growing in their own gardens whilst honouring the RHS's history of edible growing. 
Like many UK gardens, the RHS also has to protects its crops from local wildlife who would eat any new shoots before they had grown. As a consequence, the World Food Garden has been fully surrounded by a fully wildlife-proof boundary with alternating fencing demonstrating different growing and training conditions. A selection of 75 varieties of trained fruit, including apples, pears, gages, nectarines and peaches illustrates what can grow, according to prevailing conditions
The garden within is divided into three sections. The central 'Good to Grow' area, inspired by the design of a plant cell structure, has a contemporary twist on the traditional vegetable plot with a central ring of espaliered fruit trees located around a circular pond, linking with the tradition of dipping ponds frequently found in traditional walled kitchen gardens. The beds within this area are planted with easy-to-grow crops to inspire beginners. 
"We wanted to throw out some of the rules of traditional kitchen gardens, where vegetables are planted in straight rows. Instead, we wanted to be able to show people how they can use small spaces within their own garden, mixing flowers, herbs and vegetables and increasing the bio-diversity within our garden area. If people visit often, they will learn more about how to manage their own vegetable growing areas and come away with different ideas as different crops are selected from RHS AGM varieties each year."
The Edible Flowers and Herb Garden links directly to the café in the National Centre for Horticultural Science and Learning and takes you on a journey of how to mix edible flowers and herbs with vegetables. Planted with a rich tapestry of croppable blooms, visitors to the café can enjoy the complete plot-to-plate experience. Children particularly like running around this area, safe in the knowledge that everything around them is edible.
The World Food Maze is the final part of the garden and features raised beds filled with exotic crops which are a staples of multicultural Britain. All the plants grown in this area can withstand the UK climate and the planting style sees plants spilling from beds and clambering over arches.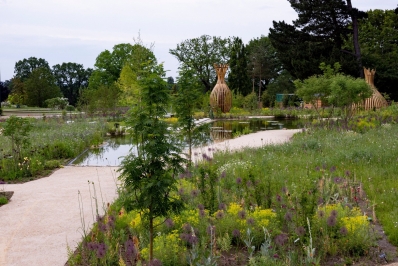 Paul Debois from the RHS Photo Library
"I think for me, the World Food Maze has given me most satisfaction," says Ann-Marie. "Visiting RHS Wisley and seeing diverse groups of people from community gardens, allotments and different ethnic groups sharing their knowledge about exotic crops that would have been grown abroad and which have been brought into the UK over the years, is really exciting. I feel collectively we have set the spark of something really good for the future and, as I am a vegan, it is great for me personally to experience a wider range of edible plant-based foods. This part of the garden will continually evolve as more people share their knowledge and experience. After all gardening is all about learning and experimenting."
The three sections of the RHS Hilltop garden are linked together with a wide central axis of arched pergolas festooned with edible climbers including brightly coloured squashes and exotic passion flowers, demonstrating how effective vertical planting can be to increase the amount of planting space. 
A visit to RHS Hilltop to visit the three gardens will provide visitors with the opportunity to see how the RHS research is conducted, watch interactive displays and marvel at world-class plant collections, all providing inspiration for you to take home and incorporate in your own planting space.
To find out more visit rhs.org.uk/gardens/wisley/garden-highlights/the-world-food-garden and for further information of Ann-Marie's work visit ann-mariepowell.com