Adding to their award-winning collection of single malt whiskies, The Cotswolds Distillery is delighted to announce the launch of Cotswolds Bourbon Cask Single Malt Whisky, the latest addition to the English whisky distillery's Cask Collection, launching in time for the festive season and a perfect gift for the whisky connoisseur at Christmas.
Located in the Cotswolds, in an area of outstanding natural beauty, the Cotswolds Distillery is committed to sourcing local ingredients and their award-winning distillery Visitor Centre and their shops in Broadway and Bourton-on-the-Water are now stocking the whisky, as well as it being available online. www.cotswoldsdistillery.com
Cotswolds Distillery Founder, Dan Szor, says, "We always planned to launch a Bourbon Cask Single Malt ever since 2014 when we founded the distillery. It's been a while in the making but it's definitely been worth the wait. Our house style is to produce spirits with big flavours and by using first-fill ex-Bourbon casks, which arrive at the distillery with their staves soaked in Bourbon whisky, we ensure a full and rich flavour for this wonderful cask strength expression."
Cotswolds Bourbon Cask Single Malt Whisky is made with 100% locally grown Cotswold barley and created from select first-fill ex-Bourbon casks in which their rich and fruity single malt spirit has been patiently matured. This sweet and malty cask strength expression is a whisky for purists with classic Bourbon-matured notes of vanilla and honey. It joins the rest of the Cask Collection, which encompasses Cotswolds Founder's Choice, Cotswolds Peated Cask and Cotswolds Sherry Cask.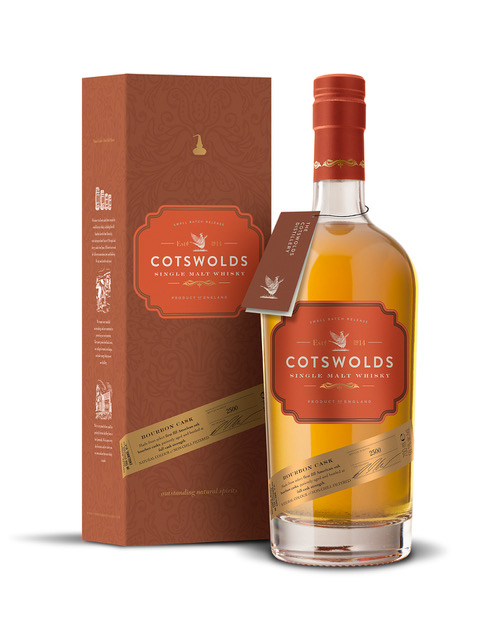 The Cotswolds Bourbon Cask expression begins with their new make spirit, which is already smooth, rich and fruity thanks to the pair of yeasts they use, the long 90-hour fermentation and the tight heart cut on the spirit still. They dilute it to 63.5% ABV before filling premium American oak ex-Bourbon casks from Kentucky for full term maturation, allowing the key maturation processes of flavour extraction, oxidation and evaporation to work their magic on the already smooth spirit.
Over the last seven years, the Cotswolds Distillery team have been combining these Bourbon barrels with STR (Shaved, Toasted and Re-charred) ex-red wine casks to produce their flagship Cotswolds Signature Single Malt Whisky; yet this is their first whisky bottling to be exclusively Bourbon-matured.
Bottled non-chill filtered at cask strength for maximum flavour and without added colouring.
Ingredients:
Malt: 100% locally grown, traditionally floor malted barley from the Cotswolds.
Yeast: Two complementary varieties - Anchor and Fermentis - to ensure good yields and excellent fruity flavours.
Water: Village water supply - filtered, softened and demineralised before use.
Wood: Premium first-fill ex-Bourbon casks from Kentucky, made from American white oak (Quercus alba).
Tasting notes:
Nose: Decadent vanilla custard with a hint of malt.
Palate: Raisins and caramelised figs, delicate vanilla.
Finish: Subtly earthy with a hint of honey.
RRP: £64.95 | ABV: 59.1%
Cotswolds Bourbon Cask Single Malt Whisky is available to purchase exclusively from the Cotswolds Distillery shops and online.
Instagram: @cotswoldsdistillery Facebook: @cotswoldsdistillery Twitter: @cotswoldistill