Years ago, when my daughter was at an age when questions were broad and sweeping, she asked me what my favourite time of the week was. After thinking about it for a couple of minutes I told her it was Sunday, late afternoon. Then I built a picture: it's late in the afternoon and the sun is shining, but soft and low in the sky. Homework is complete, chores are done and there is nothing left on the to-do list other than to enjoy the last few hours of the weekend. Better yet, we're out together, walking somewhere in woodland with that late sun filtering through the leaves and spotlighting the ground below our feet. You might wonder why I'm starting this piece with a seemingly unrelated trip down memory lane, and I'll tell you: readers, today I created my perfect time of day in scent form, with the help of Scent Expert and Founder of Humos, Gabriel De Carvalho.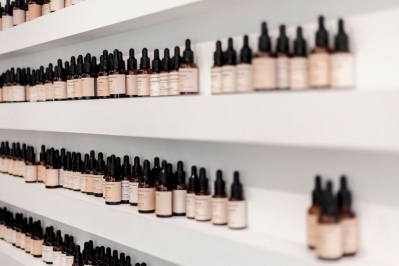 Humos' Atelier and Showroom is located in the fragrant neighbourhood of Caversham, a skip, hop and jump, and yet also a million miles from Reading Station. Step inside its serene interior and you will be greeted by a wall housing row upon row of bottles containing just about every scent note you could imagine. And, if you're just popping in for a browse, there is plenty to tempt your purse on the opposite wall; candles, diffusers, scented lotions, room mists and oil blends, all comprising Humos's house blends, expertly created by Gabriel. Humos also offer a bespoke service for industry, creating 'white label' perfumes (you know when you walk a hotel and are greeted by a luxurious fragrance? Chances are that's one of Gabriel's) and there's even a treatment room upstairs offering both aromachology and aromatherapy treatments.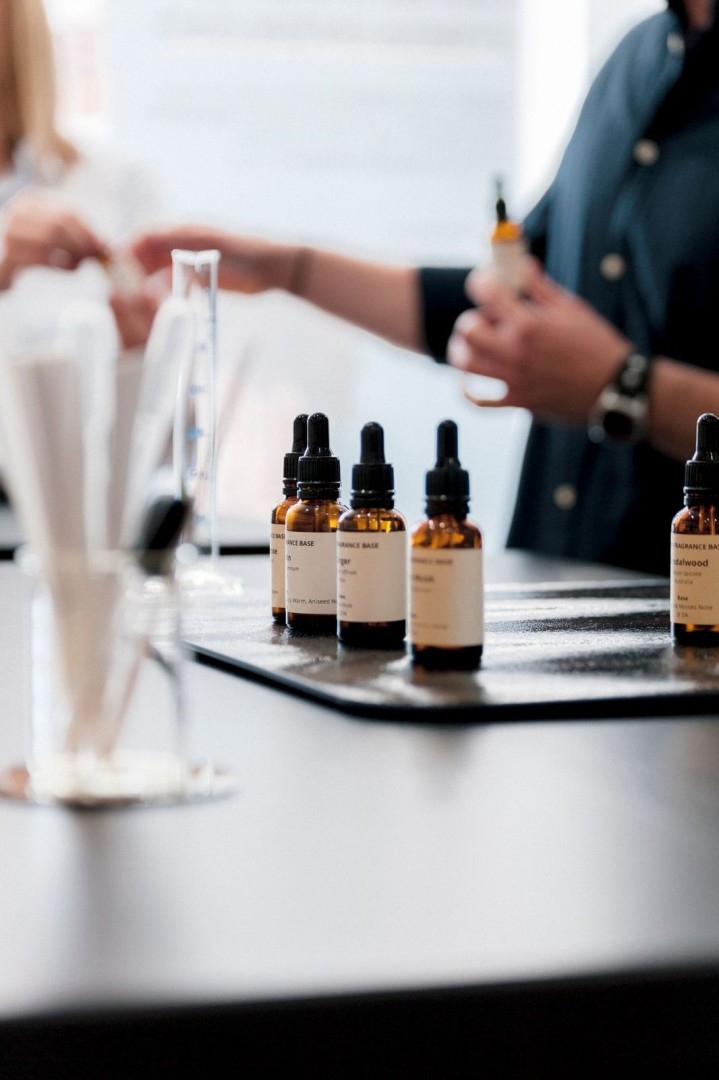 However, I was there to try out their Fragrance Blending Experience, a two-hour workshop in which I got to create my very own essence of me. Guided at each step of the way, Gabriel and I worked our way through my every fragrance whim as we discerned my preferred base, middle and top notes, of which every scent is comprised. Working purely with raw materials (rather than a pre-prepared base to which additional notes are applied), Gabriel was, in his words 'giving me the ultimate control to find my energy'. And, as he wryly reminded me, the scents I was drawn to might surprise me. Often, he said, clients come in thinking they know what they want to create and leave with something delightfully unexpected. "But what if I choose things which don't work well together?" I worried. "Everything is personal, there is no right or wrong", he reassured me. That said, he did tell me a tale of one customer who insisted on a large dollop of a particular aroma which can take on a rather unpleasant fragrance if used in large quantities). Armed with some great tips (eg don't bother with coffee beans which will block your senses, either take a break or smell your own bare skin if you feel yourself getting overwhelmed), I got to work establishing the components I was attracted to for my base layer. Gabriel explained that the base is traditionally where he will offer up the more balsamic, smoky or animalic scents, and I rapidly filled my 'yes' pile with those deep fragrances I adore; leather, patchouli, guaiac wood, red cedar, vetiver and just a soupcon of birch tar for a hint of campfire. Delicious. 
I was then presented with Gabriel's pick of potentials for the middle layer, which melds with the base to underpin the whole. By no means think that this was a limited choice, bottle after bottle was presented before me and he was more than happy to accommodate any special requests "Oooh, what will Parsley Seed bring to the party? (not much in this case). Once I narrowed this down to a strangely quirky combination of florals with a dash of seagrass, the structure of the finished scent was established and Gabriel blended each part separately, giving me plenty of opportunities to adjust the quantities, to knock back anything which overwhelmed and increase the percentage of whatever notes I wanted to be more dominant. It's interesting because although I liked the base well enough, it was only when the middle notes were added that a huge smile started to cross my face; "This is my favourite bit" said Gabriel, "when the client gets that look I know they're going to love the finished product".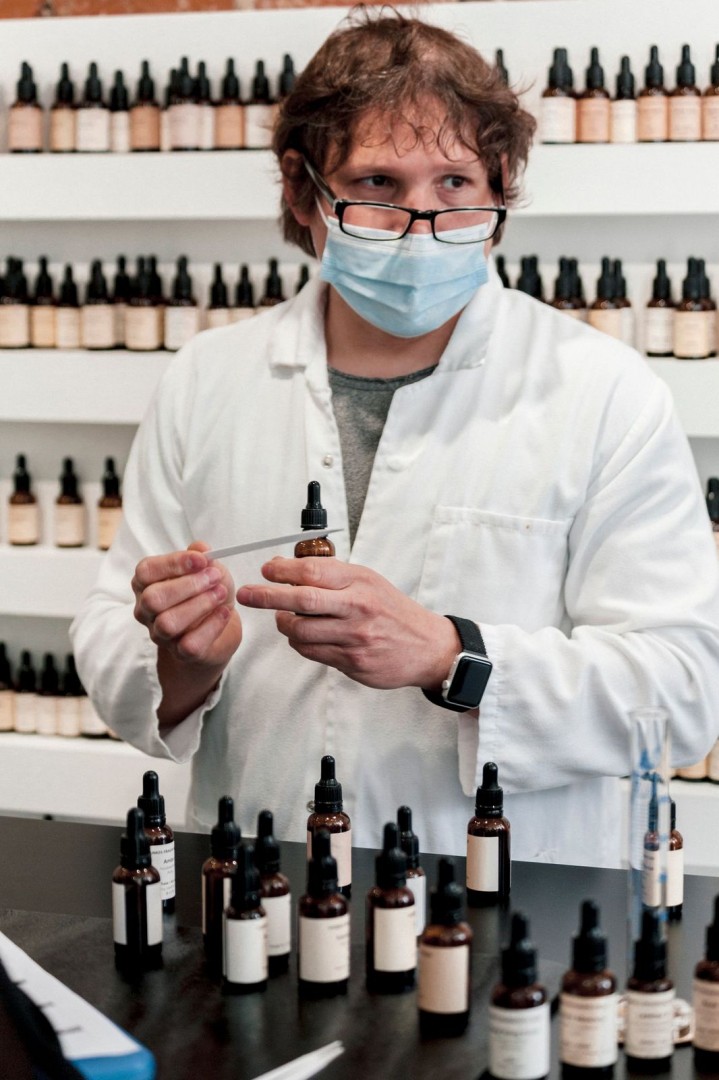 Establishing the top notes were easy: these are the handshake of your perfume, the first impression that will ultimately be overtaken as the heart and base establish themselves on your skin but you'll want it to be something with immediate appeal.  Gabriel told me, "Often fragrance houses use citrus for the top note, and this is also a popular choice with clients". I went rogue with resinous, autumnal galbanum and tabac vanille, tempered with tomato and basil to enhance the barely perceptible green notes already present. Again, they were mixed together and I was given the opportunity to mask anything which I felt overpowered, in this case, the basil with its strong aniseed aroma threatening to take over needed to be mellowed by adding more of the tabac.  
After adding alcohol (a fixative) and a drop of water, my unique concoction was filtered and bottled, leaving me only the job of coming up with a name. I inhaled deeply, closed my eyes and let my imagination take me to where it wanted to go and there I was; Sunday, late afternoon, with those I loved; "It's Golden Hour' I declared, and with that a label was printed, and I was good to go. Two hours of sensory bliss and my very own fragrance. In all, Humos is highly recommended.