15 June-12 September
Caryn Hibbert, creative director and founder of Thyme, and Melissa Richardson and Amy Fielding, co-directors of JamJar Flowers, share a love of wild spaces and native flora and fauna. United in a desire to celebrate and honour the beauty of Thyme's surroundings, this exhibition of botanical installations will push the boundaries of this traditional art form with a series of large-scale artworks, along with JamJar's signature native flower pressings. Moreover, Thyme and JamJar Flowers will collaborate again, this September, on the design of the Bullring Gate at the Chelsea Flower Show.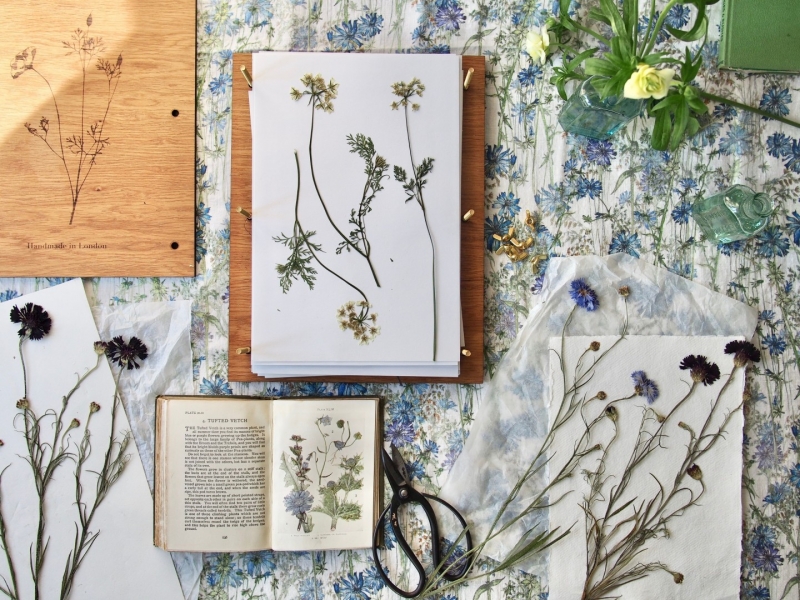 The Tithe Barn at Thyme, Southrop Manor Estate
Polenta, grilled courgettes, onions, herbs, leaves & their flowers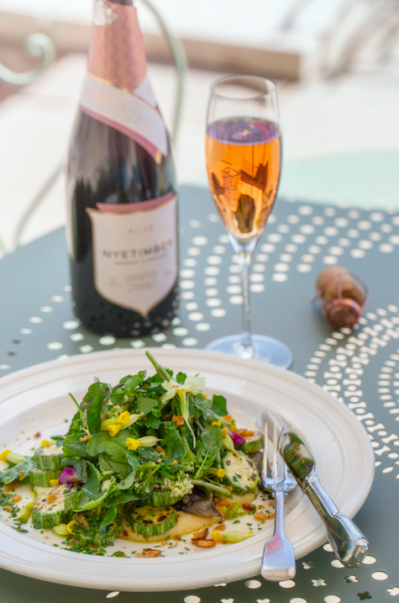 Serves 4
Charlie Hibbert has put together a bespoke seasonal menu to celebrate The Nature of Thyme, an exhibition of pressed botanicals by JamJar Flowers, inspired by the gardens and water meadows at Thyme. This dish is the main course.
Ingredients
For the polenta
600ml water
100g polenta (check the cooking instructions on the packet)
60g Parmesan, freshly grated
Olive oil for cooking
Sea salt flakes and freshly cracked black pepper
For the courgettes & onions
4 courgettes, sliced into 1cm rounds
4 onions (Roscoff or similar)
1 lemon, zest
½ lemon juice
Olive oil for cooking
Vegetable oil for cooking
Sea salt flakes
For the leaves & flowers
2 bunches watercress
And a selection of:
1 bunch mint (approx. 25g), leaves picked, stems discarded
1 bunch flat leaf parsley (approx. 25g), leaves picked, stems discarded
½ bunch of lovage (approx. 12g), leaves picked, stems discarded
1 bunch of chives + chive flowers (approx. 25g), finely chopped
15 nasturtium leaves and flowers
25ml olive oil
1 lemon, zest and juice
And whatever's available in the following edible flowers:
Calendula flowers
Marigold flowers
Cowslips
Cornflower
Viola
Allium
Borage
Method
1- Preheat the oven to 180°C | 160°C (fan) | gas mark 4
2 - Cut the onions in half from root to tip, making sure you don't peel them. Place them on a baking tray cutside down, dress with olive oil and salt, and put them into the oven for 20 minutes until caramelised and cooked through. Place a pan over medium heat, allowing it to get nice and hot before you start cooking. Dress the courgettes in a good drizzle of vegetable oil, ensuring they're completely coated. Fry them in batches, ensuring they cook in one even layer. Once browned on each side, set them aside in a tray, dressed in the olive oil, lemon zest and half the lemon juice.
3 - Bring the water to the boil with a good glug of olive oil, salt and pepper. Gently pour the polenta in a stream into the water, while constantly whisking. As the polenta begins to thicken, turn the temperature right down and whisk periodically to prevent it catching on the bottom. Allow it to cook for 5-20 minutes (the cooking time will depend on the quality of the polenta you have bought). If you need to add more water or polenta to get correct consistency, go ahead. It should be almost porridge like, holding its shape without being stiff and rigid. Stir through the Parmesan at the end and take it off the heat.
4 - Make the salad by putting the watercress, herbs and flowers in a bowl. Dress the salad in olive oil and lemon, gently toss.
5 - Take a large spoonful of polenta and put in the middle of each plate. Scatter over the courgettes and two onion halves, before tumbling the herb salad over the top.