There are some exceptionally beautiful gardens to visit around Oxfordshire and its neighbouring counties, but if you want to gain a greater understanding of why Gertrude Jekyll is so highly regarded as a garden designer, the garden at The Manor House, Upton Grey, in Hampshire is a beautiful example of her work. The village of Upton Grey lies some eight kilometres east of Basingstoke, on the north-east facing slope of the North Downs. From the centre of Oxford, it takes less than an hour and a half to reach this truly inspirational garden.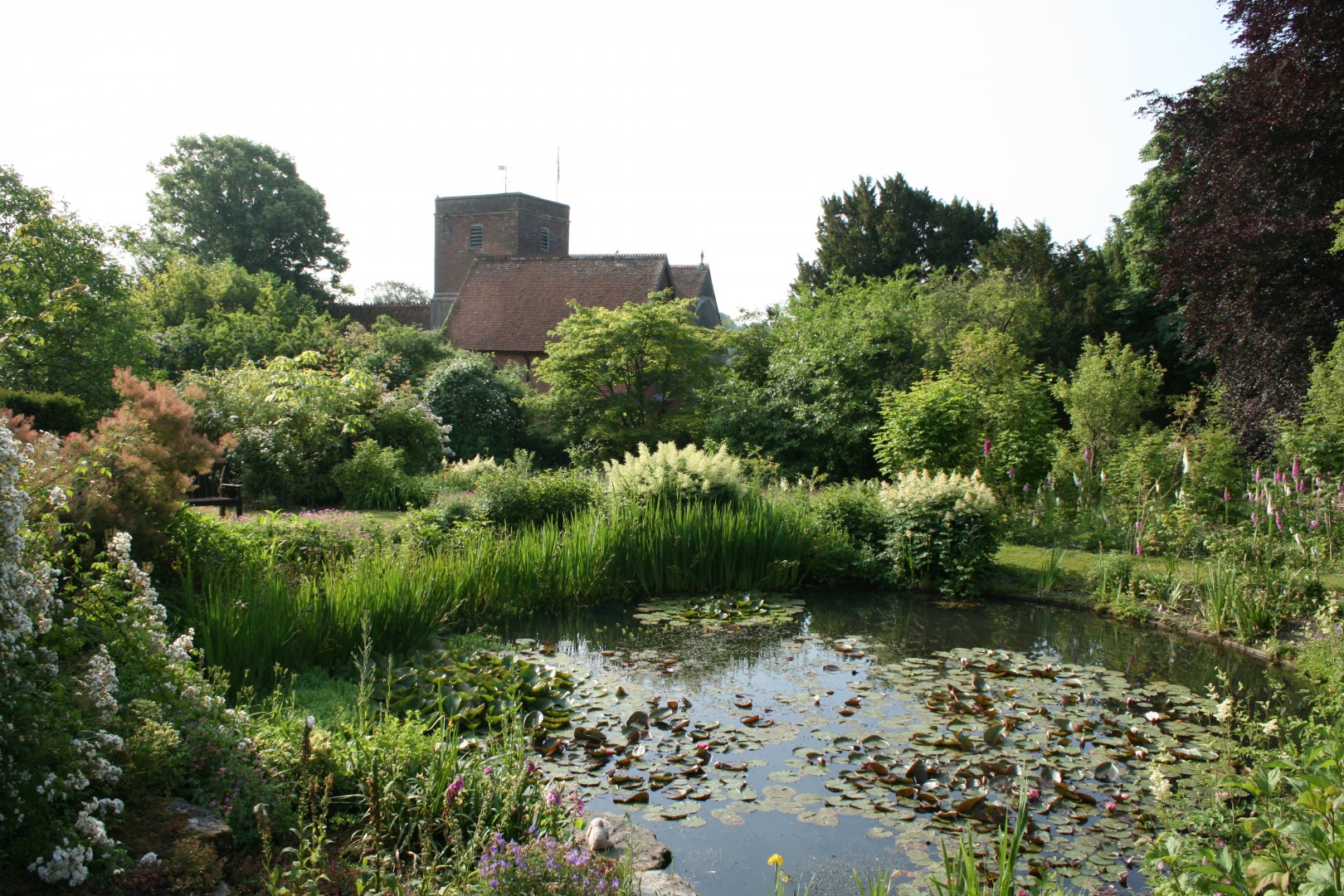 In 1902, the Manor House at Upton Grey was bought by Charles Holme, founder of The Studio magazine, an influential Arts & Crafts movement publication. The Old Manor House, which dated back to the fifteenth century was in a fragile state, so he commissioned local architect, Ernest Newton, to make 'alterations and additions' to the property. Holme subsequently rented the property to a Mr Best who, in 1908, asked Gertrude Jekyll to redesign the four and a half acre sloping garden into something which complimented the property. Although the site was smaller than some Jekyll had worked with, she designed one of her most beautiful garden creations.
 However, 76 years after the gardens were first planted, new owners John and Rosamund Wallinger, who bought The Manor House in 1984, found what had once been a magnificent, well-tended garden, overgrown and sadly neglected. The house, too, was in a sorry state of disrepair.
Both the house and garden were very neglected when we moved in the property," Rosamund explains. "As new owners of a garden and house about which we knew very little, it was thanks to the input of the Hampshire Gardens Trust that we were inspired to start a serious restoration of the gardens. With the Trust informing us of the garden's interesting past, and by introducing us to many of today's fine garden historians, we began to delve into the garden's history. The Trust also funded some small yews for replacing the yew hedging and gave me ten hours of invaluable advice from Penelope Hobhouse. It was she who advised that the Reef Point Collection at the University of California holds most of the surviving Jekylliana. Consequently, we were fortunate to be able to obtain copies of Jekyll's original plans for the gardens.
 Although the garden was over-run with weeds and brambles, no constructive damage had been done. Whilst the drystone walls had collapsed, their Purbeck stones were still here, as were the gentle shallow steps – all so typical of Jekyll's eye for proportion. From 1984, for almost two years, I had help from a local gardener for two days each week. Although neither of us were very experienced, we were both young and energetic and together we cleared incorrect trees, removed weeds, and dug out trenches to replace yew hedges. Slowly, the soil was cleared and sterilised, the moss and grass were stripped off the surfaces in the formal garden and we began to double dig and feed the area with well-rotted compost. With limited funds, we hired almost all the equipment before deciding which items were essential to buy. Each section of the garden needed restoration and over the years, we have gradually returned it to the glory it once achieved when Jekyll first had the garden built.
 To the north-west of the house stands the Wild Garden. Here the grass paths wind from semi-circular grass steps through swathes of wildflowers, rambling and species roses, to a small copse of walnut trees and beyond is a pond which is surrounded by rocks and planted with indigenous and water-loving plants. Here, we had to stake the area into three-metre grids, enabling us to pinpoint exactly where we needed to replant. Fortunately, during the process, we found some survivors of Jekyll's original garden including three species of daffodils.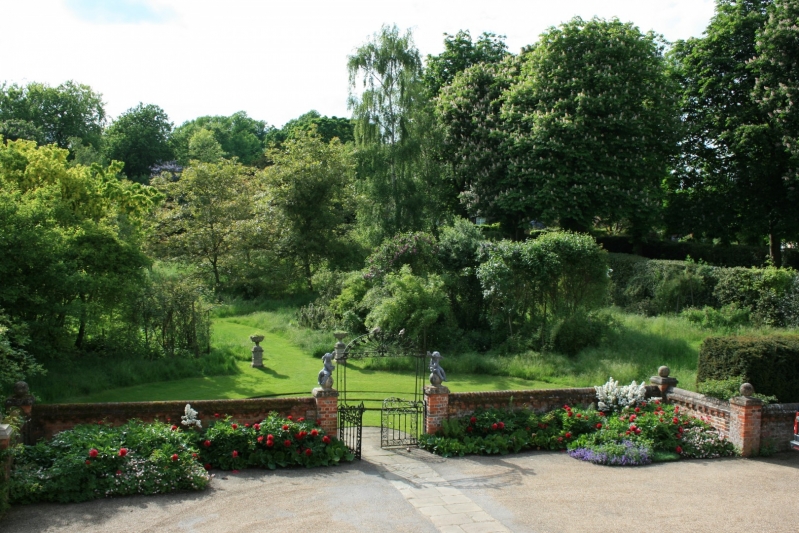 To the south-east of the house, we restored the Formal Garden where Miss Jekyll had once created a geometric, structured outline. Using her signature natural frame of yew hedging, this part of the garden includes a pergola, festooned with climbing plants. On the ten stout posts of the pergola, she planted Roses, Artisolochia, Jasmine and Virginia Creeper, creating interest for many months of the year. From the Formal Garden, the layers descend towards the Rose Garden, Bowling and Tennis Lawns.
 Using the original stone, we recreated the drystone walls introduced by Jekyll as she had a distaste for grassy banks (hard to manage, particularly in a small garden). Once we had rebuilt the walls, the planting areas were replanted to once again give an overall effect of vertical beds which are filled with colour from late February onwards. With the onset of summer, colour spreads to the restored Rose Garden where peonies, roses and lilies fill the air with scent and together create a tapestry of colour as Jekyll's artistic eye intended. The two main herbaceous borders are particularly spectacular towards the end of summer. Here she used simple cottage garden flowers such as hollyhocks, delphiniums, phlox, poppies and campanulas, to name but a few. Recreating her planting schemes with cool colours of blues and whites at either end, and hot reds and oranges in the centre was a major achievement.
 She selected her plants with care; ensuring that as one flowering plant went over, others would grow up to take its place. We have followed this style and these borders give a glorious display until late autumn. Other borders are planted with shrubs and structural plants, and these look good during the colder months of winter.
 The Nuttery has rows of hazel which we coppice each January to use for stakes and fences in the garden. Creating hazel hurdles is a skill which takes some mastering. Our Kitchen Garden, lying to the south-west of the Formal Garden, is where we propagate mainly Jekyll plants for replanting in areas of the garden when necessary. We also use a small area of this part of the garden, as the name suggests, to grow herbs, vegetables and fruit.
Over the years since we discovered the foundations of this very special garden, we have worked tirelessly to ensure that we have remained faithful to Gertrude Jekyll's original ideas and plans for the garden. The restoration project has been exciting and very rewarding, and we look forward to welcoming visitors to the garden.
 Re-opening on the 2nd of May 2022, find out more about these magnificent gardens and play your visit. gertrudejekyllgarden.co.uk
Born in 1843 in Mayfair in London, Gertrude Jekyll spent her formative years on her family's estate in Surrey. At seventeen, she enrolled as an art student at the School of Art in Kensington studying under John Ruskin. Not only was she an artist, but she also excelled as a musician, composer, embroiderer, photographer and botanist. By the time she graduated, Gertrude was translating colour and texture using impressionistic brush strokes, painting flowers and shrubs.
When she reached her early fifties, with her eyesight failing, she struggled to create the detailed pictures she had become famous for. However, she took her skills and understanding of perspective and use of colour and turned to creating gardens, especially those herbaceous borders for which she is still known and respected. Towards the end of the 19th century, Jekyll started collaborating with the architect Edwin Lutyens who responsible for the design of her own property at Munstead Wood in Surrey, completed in 1897.
 Today, we can still refer to Gertrude Jekyll's design principles by striving to emulate planting in the most natural way, using plants with contrasting textures and selecting plants that will follow in their season of bloom so they can take each other's places. For example, plant oriental poppies next to Gypsophilia; as the poppies die back, gypsophilia will grow and bring new life to the border. As Jekyll explained: "It is not as simple as planting two specimens which bloom at different times. It must not be supposed that they are just lumped over one another."
 Her understanding of perspective as well as colour meant she would select tall plants and surround them with descending heights to create a multi-dimensional approach to the bed. Consider using colours which are opposites on a colour wheel. At Waterperry Gardens in Oxfordshire, Jekyll used the yellow orange Heleniums with yellow Solidago combined with the deep blue of Delphiniums. In her own garden at Munstead Wood, she would focus on one colour, such as white, to give a feeling of serenity.
 Some of Jekyll's favourite plants:
Rosa 'Munstead Wood' – a medium shrub with sumptuous, deeply fragrant crimson-purple blooms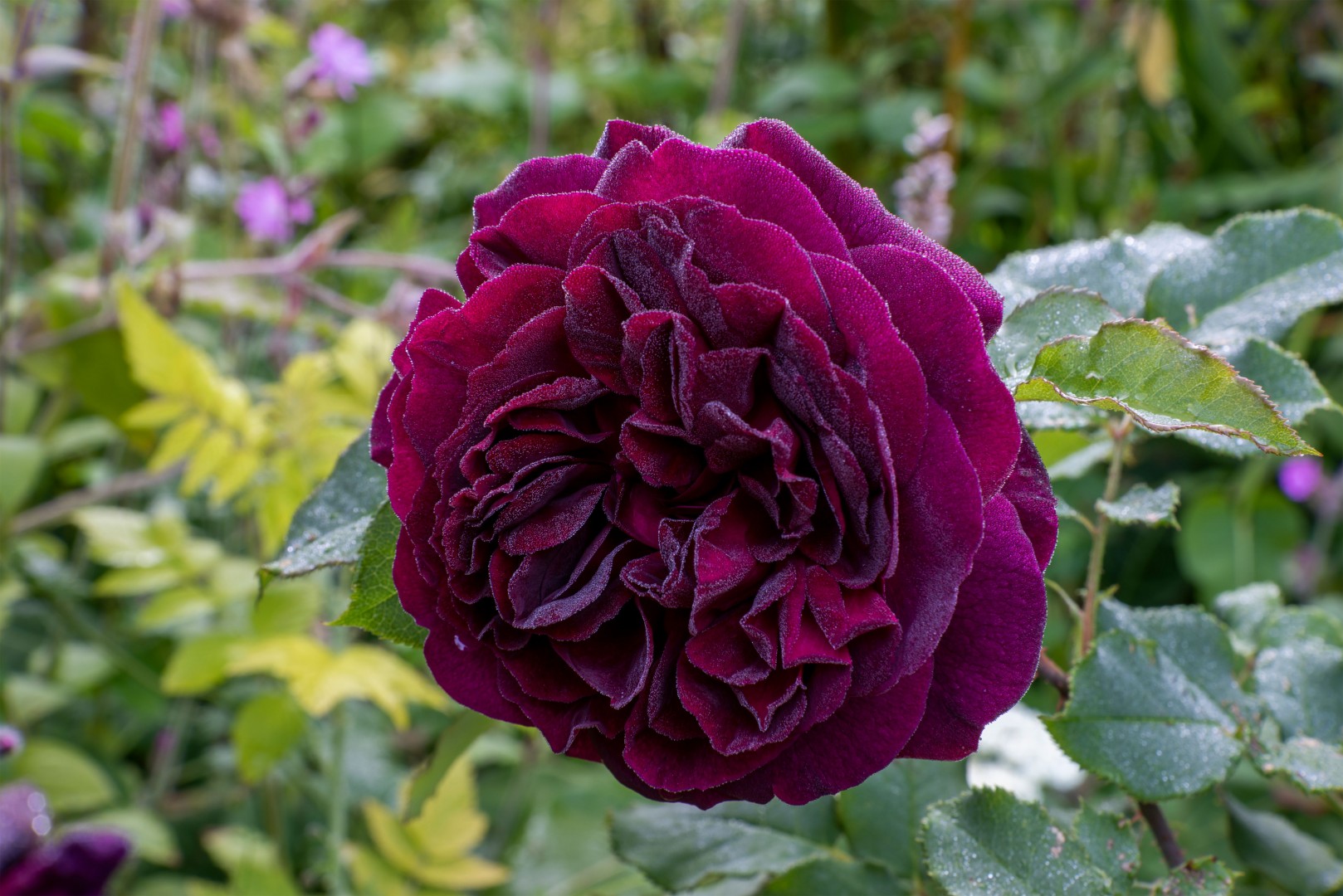 Bergenia – valued for evergreen foliage which intensifies in wintry weather and flowers in early spring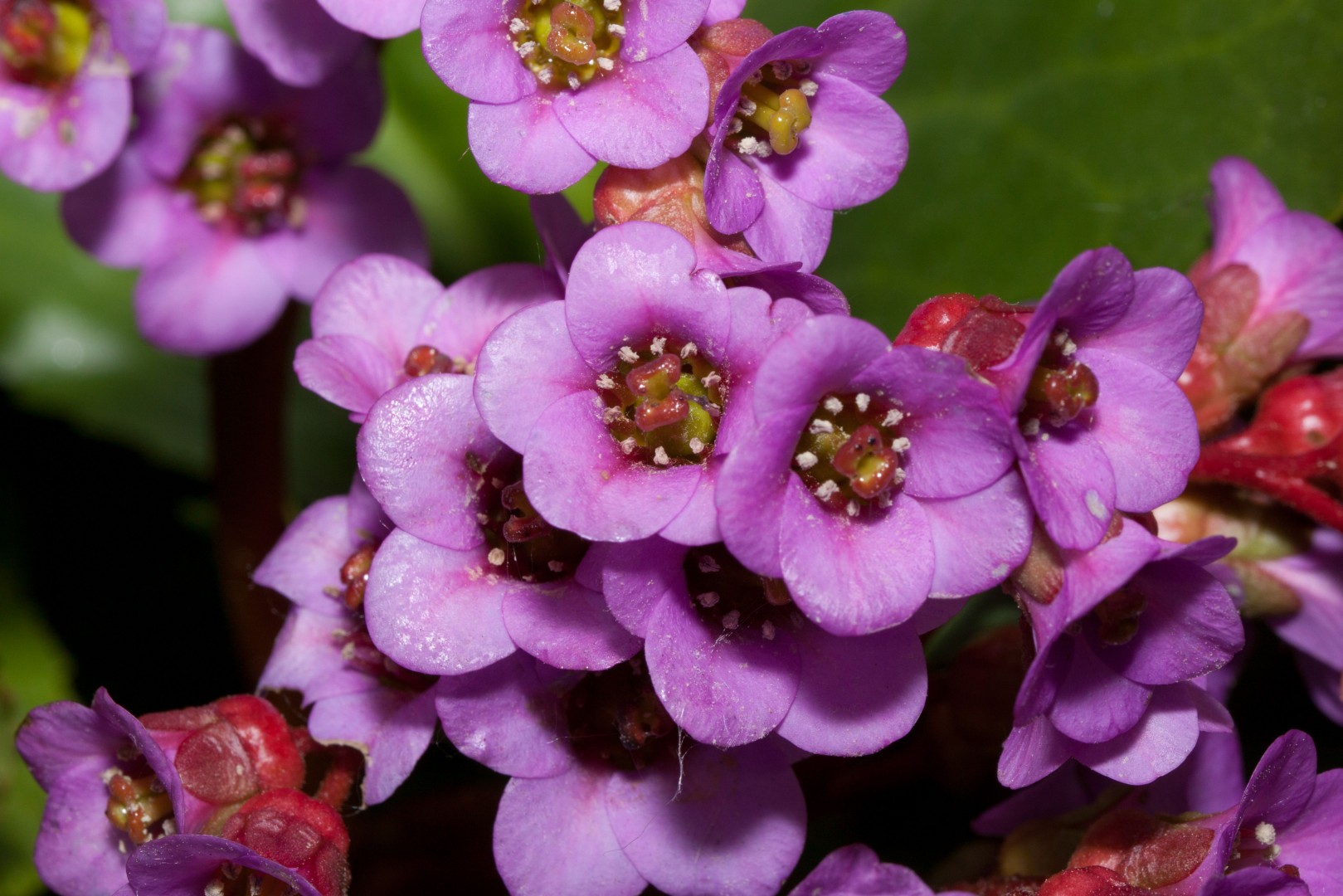 Nigella or 'Love-in-a-mist – two varieties of which were named after her; Nigella 'Miss Jekyll' (a rich periwinkle blue) and Nigella 'Miss Jekyll Alba'(with white petals and a deep purple centre)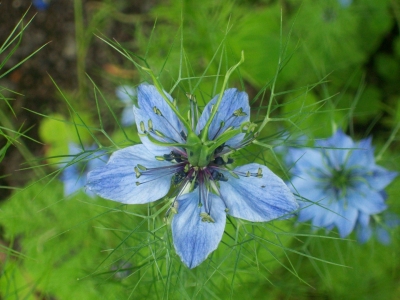 Cardiocrinum – these giant Himalayan Lilies reach up to 2 metres in height. Jekyll might use these or perhaps creamy Yucca filamentosa to create points of interest