First project from the National Trust's Heritage Skills Centre is installed at Coleshill estate
The busts of two Roman Emperors which were stolen in the 1990s have been recreated at the National Trust's Coleshill Heritage Skills Centre by stone carver Thomas Ball. They've been re-installed in their rightful place in the gate piers at Coleshill near Faringdon in west Oxfordshire.
The original stone busts of Marcus Aurelius and Antoninus Pius were set in the rectangular gate piers which once led to Coleshill House. The great 17th century house was amongst the most famous and influential of its age, described by John Betjeman as "the first great house of the English Renaissance." The design of the grand gate piers echoed the original chimney stacks and are one of the last remaining elements of the house, which was destroyed by fire in 1952.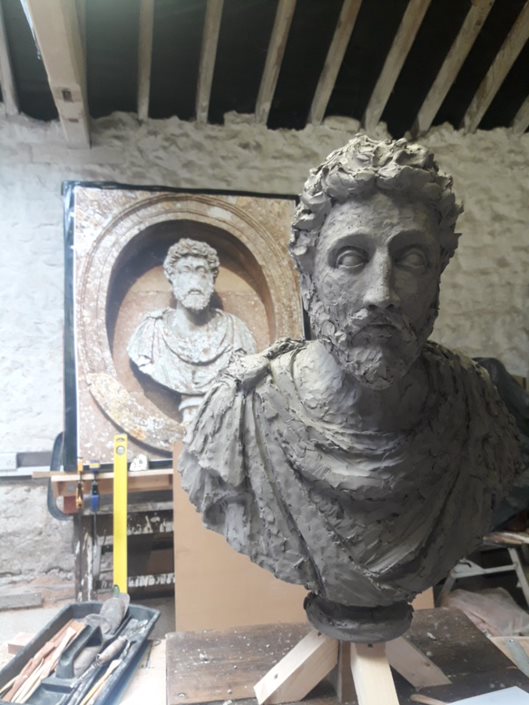 The busts, set within their recessed roundels, echoed the classical interior of the house. As philosophers and effective governors, Emperor Aurelius and Antoninus were appropriate classical figures for a progressive, historically conscious 17th century landowner to align with. Given the significance of the busts to the history of the estate, the National Trust took the decision to recreate the stolen artefacts.
The National Trust commissioned award-winning carver Thomas Ball, who occupies a workshop at the charity's Heritage Skills Centre at Coleshill, to recreate the busts in Bath stone.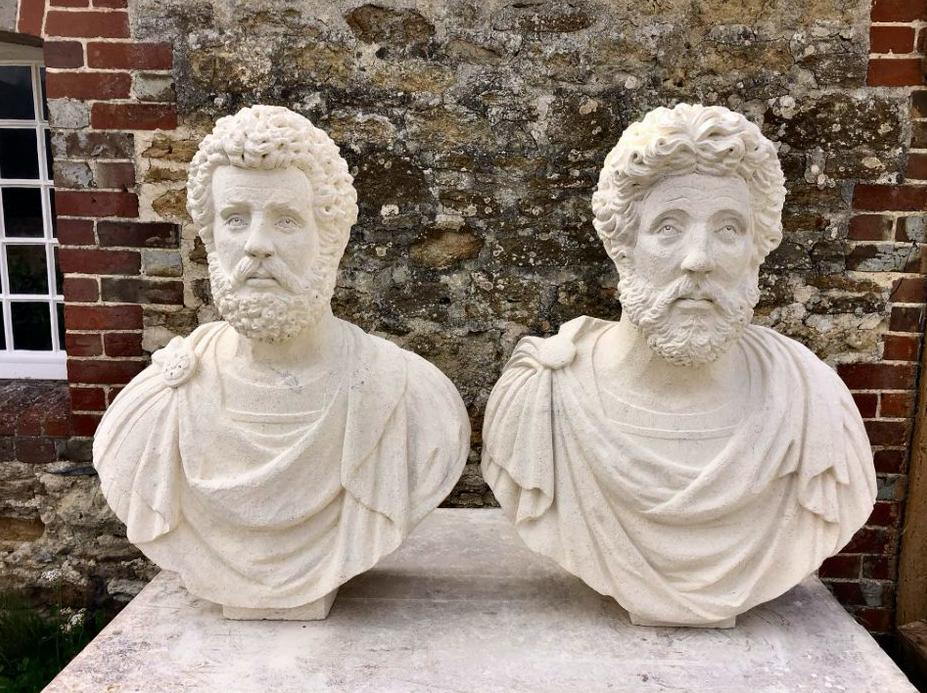 Tom began work on the project in April 2019 and began by enlarging the historic photographs to life size. The Emperors' noses had been eroded away by the time the pictures were taken, so he also used images of the two emperors from other museum collections.
Using the images as reference, Tom produced clay models and made silicon moulds in which to cast the busts in plaster. The plaster models were trialled in situ to check dimensions, then Tom used the plaster exemplars to cut a rough outline from great slabs of Bath stone. Over a period of weeks, the final, refined busts began to appear.
Tom Ball, carver:
"Carving the replacement busts has been a fantastic opportunity. I've really enjoyed working alongside the National Trust team here and sharing my work and process with the community of Coleshill. I'm very grateful for all the support I've received and look forward to seeing the Heritage Skills Centre develop and to playing a part in passing on traditional craft skills."
Christian Walker, General Manager of the National Trust's Buscot and Coleshill Estates:
"It is fantastic to have these lost Coleshill residents back in the village. These Grade 1 gates are one of the few structures remaining that were built at the same time as the lost Coleshill House. They demonstrate the quality of workmanship of the 1660s. When the busts were stolen, another piece of the history of this special place was lost.
"Recreating the lost busts within our own Heritage Skills Centre was a unique opportunity to understand the heritage craft required to create them. We were delighted that Coleshill resident Tom Ball was able to take on the commission and show vital heritage skills in action."
Ben Alsop, National Trust curator:
"Once again Marcus Aurelius and Antoninus Pius stand watch over the Coleshill parkland, acting as a reminder of the importance of classical art and architecture within the lost house. The return of the Emperors' busts is an echo of the site's former greatness, but also a testament to the great skill of Tom Ball and people like Tom who have found at home at the National Trust's Heritage Skills Centre at Coleshill."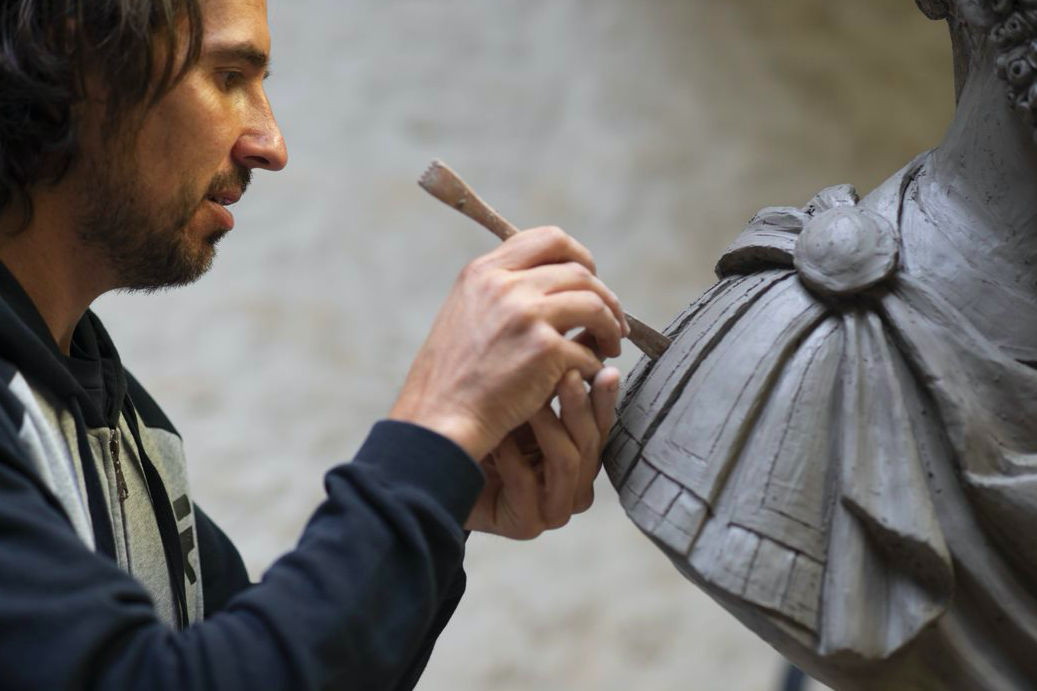 Tom Ball is running a short 'letter cutting in stone' course at the Heritage Skills Centre in Coleshill on 6-7 May 2022. Book via the website: https://www.nationaltrust.org.uk/buscot-and-coleshill-estates