Having lived on the edge of the Evenlode Valley for many years, I have driven through the village of Chadlington numerous times but never taken time to stop at The Tite Inn at Mill End before.
Located within an easy drive of both Oxford and Cheltenham, just three miles from Chipping Norton and nine from Burford, the village has become known as a 'foodie' destination. Not only does it have a long-established butcher with a superb deli just next door, but it is also home to Chadlington Brewery, brewers of The Oxford Beer. Brewed using only natural ingredients including Oxfordshire spring water and the finest English hops and malt, they produce a range of quality beers and lagers.
In April 2021, Chadlington Brewery took over the ownership of The Tite Inn, located at the top of the hill at Mill End in Chadlington. The building, dating back to the 1600's, has been a local pub since the late 18th  century. Named after the Oxfordshire word for the water source located at the front of the Inn where spring water runs into a small trough, The Tite Inn sits comfortably at the edge of the village. Access is up a slope or steps which for people with mobility issues may be challenging but the area outside is flat and accessible.
  As I walked inside, I was immediately impressed by the welcoming atmosphere it exudes, further enhanced by the friendly approach of the Restaurant Manager, Amy, and her team. The Tite Inn is managed by Callum and partner Amy who have extensive hospitality experience, and this shows. I was further impressed to see that The Tite Inn is dog-friendly and there is a large jar of dog biscuits on the bar! The interior offers a dining room as well as the bar area (where food is also served). As the temperatures outside dip and we head into winter, there is a welcoming roaring fire encouraging visitors to stay a while and enjoy all that is on offer.
  When I visited was a balmy autumnal day, so my friend and I chose to sit in the gloriously well-tended garden which is thoughtfully landscaped on tiers. Tables are well spaced, and the top section of the garden has a well -organised children's play area.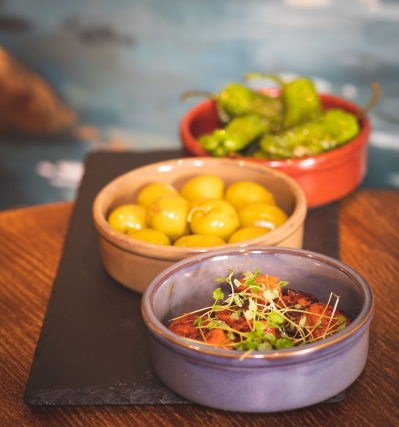 The menu, devised by new chef James Keen, is an interesting one: vegans and vegetarians are well catered for but there are also a range of fish and meat dishes to keep everyone happy. It is clearly designed for people to take their time over meals, with a selection of starters including Korean chicken wings and Padron peppers to name but two. Using fresh, local seasonal ingredients, James' menu changes weekly and there is usually a fish special on a Friday. Although not a vegan, I chose the Wild Mushroom Risotto and my friend opted for the Beef and Ale Pie. Neither disappointed. The risotto was rich, creamy, and full of flavour. The pie, served with roasted carrots and tenderstem broccoli, had a buttery flaky pastry covering a well-rounded braised beef stew which was delicious. Other mains included a Chickpea and Tomato Tagine, Cumberland Sausages with mash and onion gravy and Lamb Rump served with a selection of vegetables and a rosemary and red wine jus.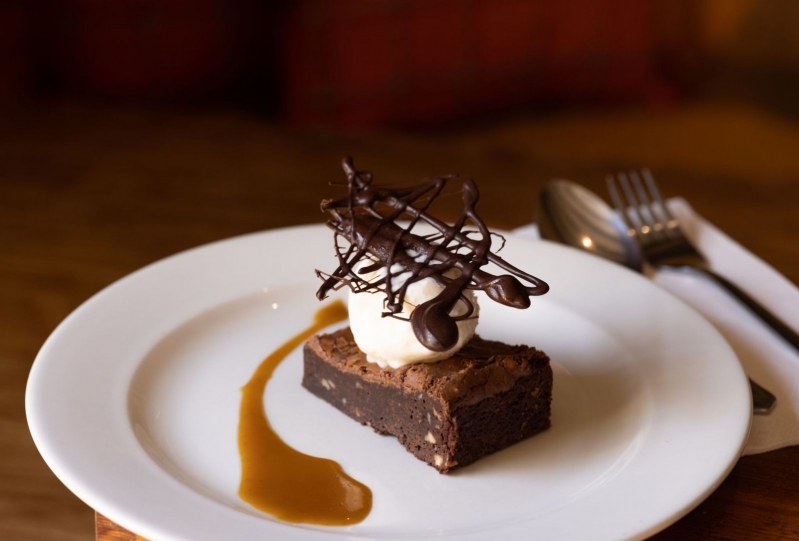 The dessert menu is certainly aimed at diners with a sweet tooth. We selected the apple and blackberry crumble served with vanilla custard, a fitting dish for the time of the year.
  With their own brewery, The Tite Inn offers a good range of beers and lagers brewed in the village. There is a fine wine selection including several vegan wines selected from vineyards around the world, supplied by the Oxford Wine Company. Gin lovers are catered for with a delightful selection of brilliant local gins.
  The location of The Tite Inn makes it ideal for walkers and cyclists alike. Overall, it is a family-friendly place to visit and enjoy what the local area has to offer. My guest had driven over from Cheltenham, and she felt that she would certainly return with her husband and family.
  To find out more, including information on a range of events leading up to Christmas and New Year, visit  thetiteinn.co.uk