In November and December, hundreds of artists and designer makers inspired by the season are showcasing their creations as part of Oxfordshire Artweeks' Christmas Season. Esther Lafferty talks to one Oxfordshire artist, Jo Lillywhite, who takes the rich autumnal colours storming across the landscape and uses them in her art with striking effect. Her colourful paintings of the local south Oxfordshire landscape use strong lines and perspective that draw in the eye of the viewer. "I hope my pictures intrigue people and encourage them to ask, 'what lies beyond that hill?' and 'where does the path through the woods go?'" she smiles.
Jo loves to paint striped, ploughed fields, local ponds and the tunnels of trees that are formed in the beech woods around her home. Having moved from the rugged, hilly landscape of East Lancashire, Jo initially found the rolling hills of the South Oxfordshire countryside rather flat for her liking. However, having seen the land through the changing seasons and now resident here for 16 years, she now delights in the beauty of the arable fields and the plains and vistas that the area offers.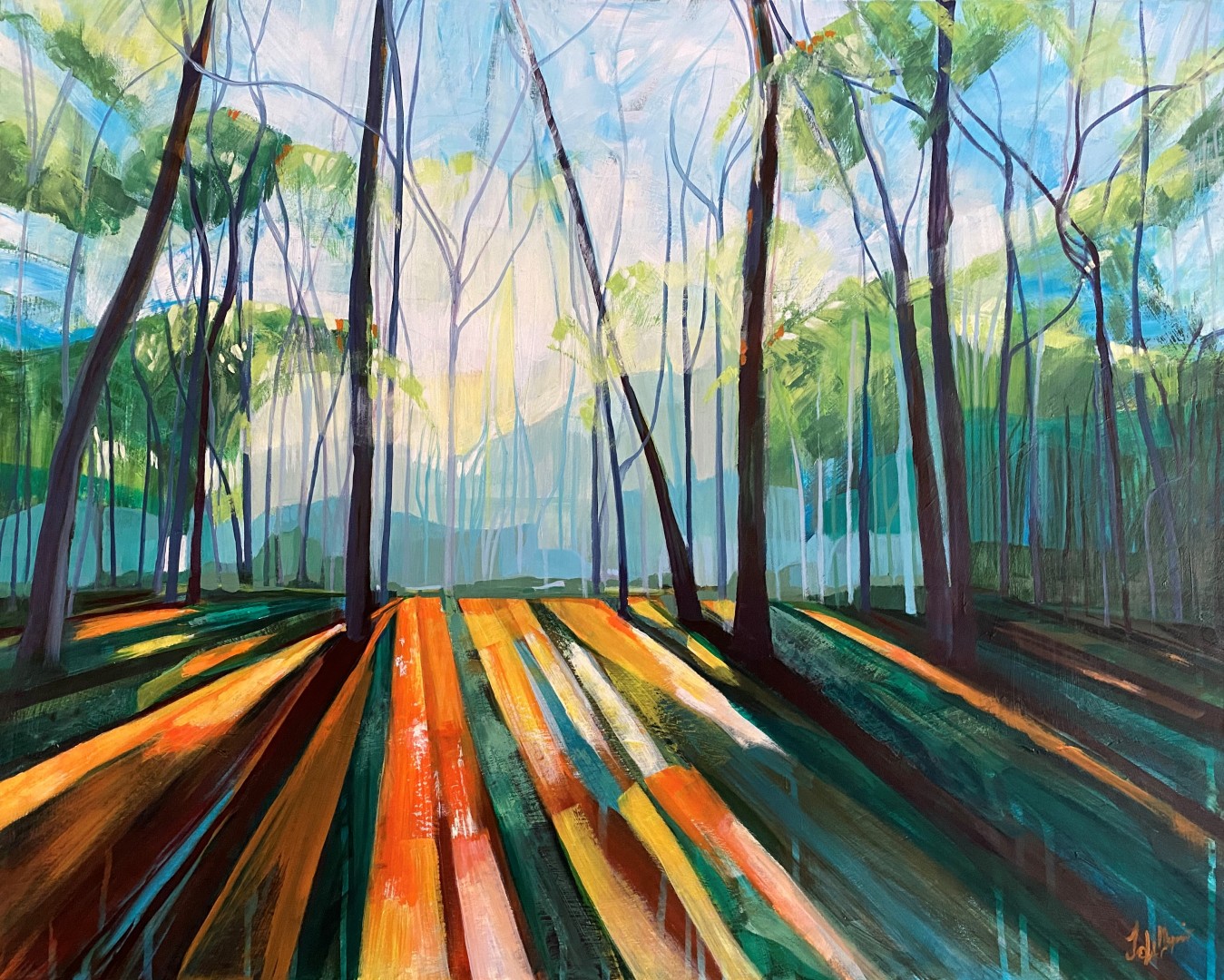 Using acrylics, Jo layers the paint with translucent medium to make interesting colours and patterns, and to add depth. Her paintings include statement pieces as large as a metre square. In her work, Jo loves to invent and magnify the colours, often working in complementary colours of the wheel, such as red and green, blue and orange or yellow and purple. Her inspiration for her colour combinations also comes from other aspects of nature.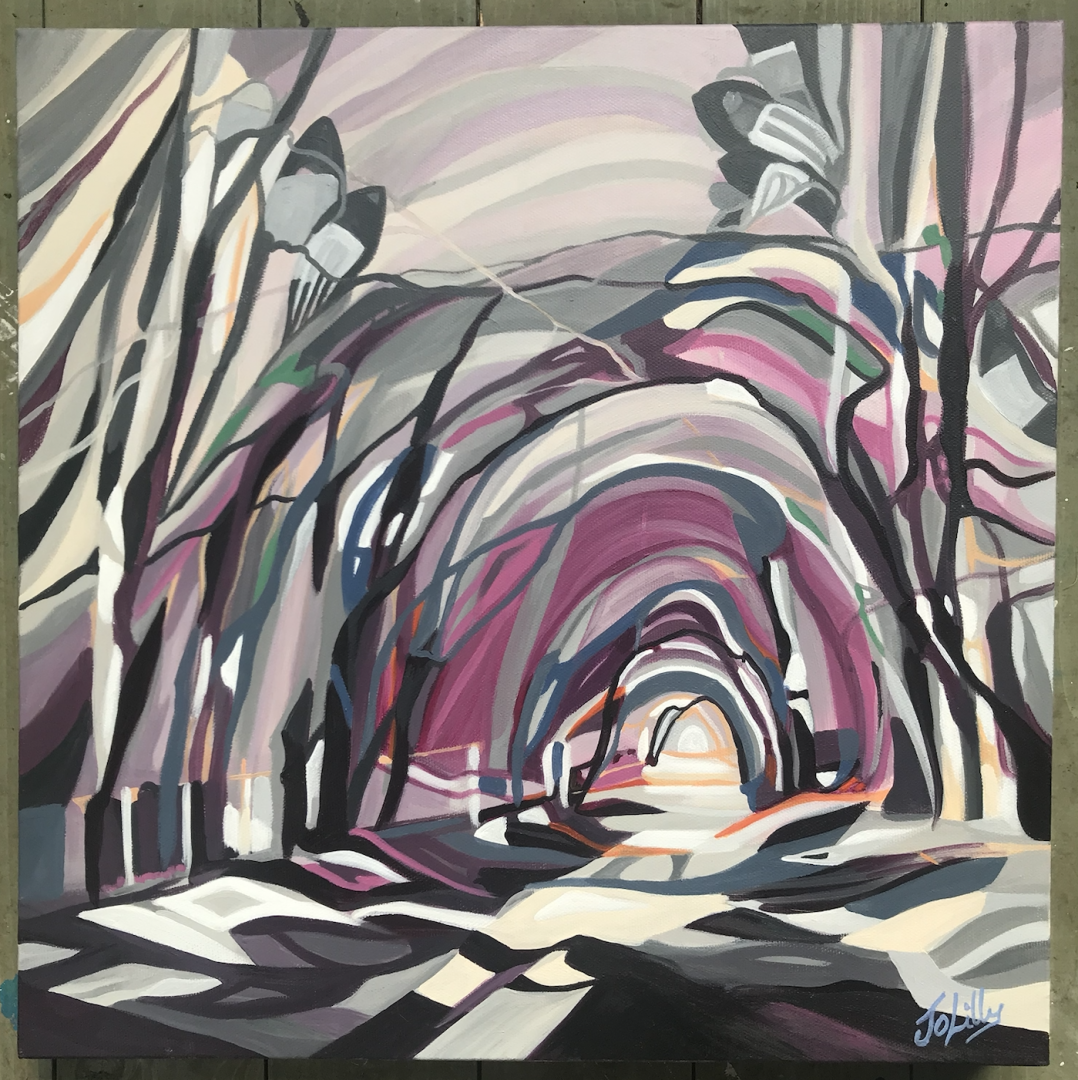 The Tunnel Woods series, for example, uses unusual and unexpected colour combinations, taking the colour palette from birds, as the colours in nature already harmonise in beautiful eye-catching ways; from iridescent starlings and monochromatic magpies to robins and red kites. In Pigeon Woods, the soft greys and dark pink of wood pigeons add gentle shadows, whilst Kingfisher Woods is alive with the glorious orange and turquoise of these popular river birds.
Jo's paintings also include birds, animals and flowers and most recently, she has focused on poppy paintings inspired by the poppies near her home in Woodcote, a village near Goring-on-Thames, an Area of Outstanding Natural Beauty.
"This year I have been particularly inspired by the fields of poppies locally. There were no poppy fields in Lancashire when I was growing up and so I have always found them rather magical. When I was small my favourite book was The Wonderful Wizard of Oz with its joy of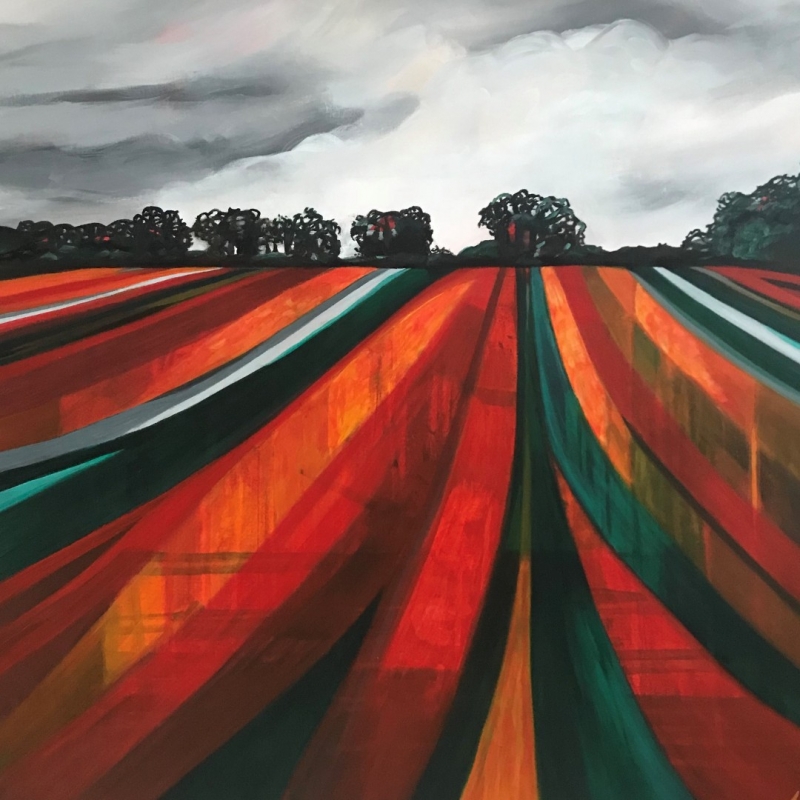 adventure and the magic of the sleep-inducing poppies. I remember begging my mum for red patent shoes that would stand out on the grass, and I still love the contrast of the two complementary colours today. There's something amazing about the unexpected swathes of scarlet on the landscape, striking against rolling green hills. And the poppy is such a poignant reminder, all year round, of the battles that have taken place in the past so that we enjoy this landscape in peace today – my grandfather was in the Second World War and lost colleagues and loved ones, and we mark his and everyone's sacrifices each November.
"Over the summer, however, there were dozens of acres of lilac poppies around the village where I live. The crop, infamous from the illegal drugs trade in Afghanistan, is farmed for their opiates which are used to produce pharmaceutical morphine, and the poppy seeds go into the food chain. For me, they became rather an emblem of the months at home during lockdown: many of us were able to get out walking in the glorious sunshine more than we would normally, and take the time to appreciate the natural environment, and yet the world is facing a different challenge. And the poppies' medicinal purpose seems to align with the global focus on coronavirus and health concerns."
Jo welcomes visitors to her studio. To make an appointment email enquiries@jolillywhiteart.co.uk or to see more of her art online visit jolillywhiteart.co.uk.
During November and December, you can visit Jo Lillywhite and hundreds of other artists, designers and makers who are taking part in the Oxfordshire Artweeks Christmas Season which showcases art and handcrafted gifts perfect for the festive season, all inspired and created locally. Choose from exhibitions to visit in real life; a wealth of colour, form, and flair on Instagram #oxfordshireartweeks; and a virtual extravaganza at artweeks.org where you can take an online trail of studios, exhibitions and more.