Join the award-winning M6 Theatre Company as they present Little Gift, an original family show touring to The North Wall Arts Centre in Oxford from 19th – 23rd December 2020. Directed by Andy Manley (White, One Little Word), one of the world's leading theatre-makers producing work for children and young people, Little Gift tells an optimistic story of friendship and hope.
The North Wall auditorium has been transformed to allow for social-distancing, with each family having plenty of space to sit in separate family bubbles. The North Wall's co-director Ria Parry says, "We are delighted to be able to present a Christmas show at the venue for families – this has been a very tricky year for everyone, and we're so pleased we can offer people the chance to experience the magic of live theatre again in a way that's safe and comfortable. Little Gift is such a special play, with a message of warmth and hope that will we hope brings people a little bit of joy."
Lewis Wileman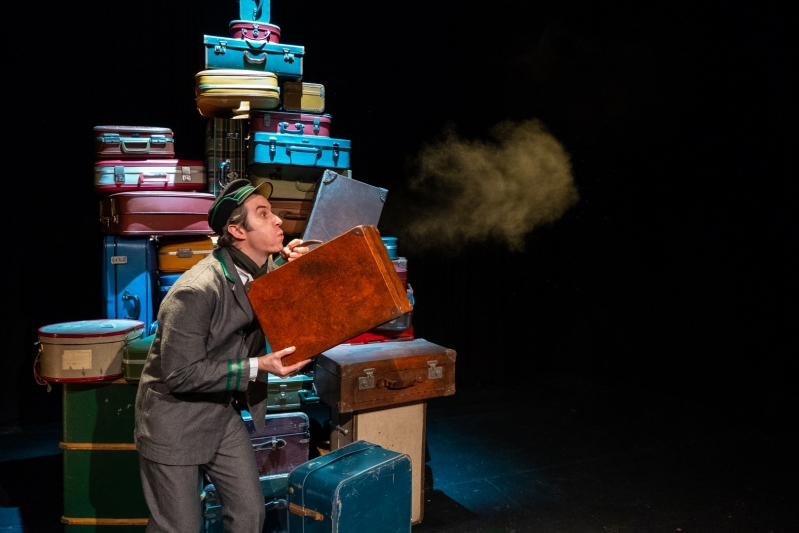 Little Gift tells the story of Ted, a lonely old soul, living all alone in the big city. One morning his life is changed forever when a mysterious helping hand steps in and disrupts his quiet routine. This playful production presents Ted's tale with a heart-warming mix of puppetry, live music and song.
Artistic Director of M6, Gilly Baskeyfield, created the show with Andy Manley: "The idea for the show came from a chat with Andy about stories of redemption and helping a sad character, much like A Christmas Carol. Giving a gift is a lovely thing for both parties. It's a way of noticing somebody and saying 'I remember you'."
Little Gift is performed by actor Guy Hargreaves, who has worked previously with M6 on the original tour of their OFFIE Award-winning show Whatever the Weather, and who is a regular member of The North Wall's Catalyst ensemble. Gilly explains:
"We knew we needed a very special actor to bring Little Gift to life and we saw a number of performers for the role. Guy's wonderful attitude, alongside his top notch clowning, dancing and musical skills make him the perfect fit. The audiences love him."
Founded in 1977 and based in Rochdale, M6 Theatre Company is acknowledged as one of Britain's leading touring theatre companies specialising in creating and delivering high quality theatre for young audiences. The company's production of WHATEVER THE WEATHER (in association with Polka Theatre, created and directed by Gilly Baskeyfield) won an Off West End Theatre Award in 2016 for Best Production for Young People (0-7 years).
Little Gift is recommended for ages 3-7. Tickets cost £xx and are available from the The North Wall box office on 01865 319450 or visit www.thenorthwall.com