As top contemporary glass artist Vital Peeters prepares to celebrate 30 years of opening his studio to the public each year as part of Oxfordshire Artweeks, Esther Lafferty visited him at home to find out more about him and his work.
"I started out on the kitchen table 30 years ago," Vital smiles, "in a terraced house just off the Abingdon Road in South Oxford, and that's where I held my first open studio event, inviting people to come and see the pieces I was making. They loved to learn about the making of glass art and have a look at the projects I was working on at the time.
"After a couple of years I upgraded to a studio in the garden. It wasn't much more than a garden shed really with my glass pieces hanging around the sides. I'd made windows for the kitchen and bathroom in the house as well as glass for the front door and I would show visitors those too. In fact, when we sold that house the person who bought it particularly wanted it because of the stained glass, and after I left I was invited back several times to create new windows for an extension that was being added."
Vital meanwhile had moved to his house, 538 Banbury Road, where he now opens his studio each year. "The house had a garage which I took over as my workspace and extended it to become a studio and gallery." The large bright windows overlook a garden where Vital's stone, terracotta and glass sculptures are on show.
Although primarily known for his fused glass art, Vital shows his talents across a range of art forms. "I grew up with the smell of oil paintings and wood resin as my grandfather was busy painting and sculpting around the house," he explains, "and so it was natural for me to pick up brushes and carving tools from a young age and to switch back and forth between different media. I still constantly enjoy changing experiences by playing with different viewpoints, materials and methods.
"It's funny though," he says, "I grew up in the Flanders in Belgium, which has one of the richest traditions of glass in the world. You can find Flemish glass in the oldest English churches, and in Oxford's colleges, but I didn't start working with glass until I was living in the UK."
Growing up in the land of Brueghel and Rubens, as a child Vital was inspired by their flamboyant colours and narratives. He also adored the fairy-tales as a boy. "I pick up ideas from many sources, including the rich storytelling traditions of the places where I have lived and travelled. My favourite characters when I was a child were the witch, the princess and the dragon – or any fabulous beast. Talking of which, one of my current models is Dexter, our English pointer. He is my model for drawings and clay and bronze sculptures.
"Having been to China which I found fascinating, over the last few years I have taken the animal of the Chinese New Year as a theme. The dragon, the monkey, the dog and the rooster each have their tales, characteristics and associated symbolism. They appear in many of my works on show. This year though we've welcomed in the Year of the Pig and I thought that this traditionally considered lazy creature might rather leave me scratching my head. Brueghel used the pig to symbolise gluttony but also as a jovial fellow – we use the phrase 'as happy as a pig in muck'. Also, I love the idea of a flying pig."
Although Vital enjoys creating characterful pieces, it is the windows, doors and glass panels he creates for buildings large and small for which he is best recognised. His designs can be seen in the UK and internationally. Locally they can be found in, amongst others, Linacre College, Sobell House Chapel and Stoke Mandeville Hospital. They can also be seen in the twinning windows in the town halls of Oxford, Leiden, Bonn and Grenoble, and in many private houses.
Although his earlier commissions were stained and leaded glass, today he makes large fused glass panels boasting colour, rhythm, abstract circles and sweeping curves. Each glass window is rich with texture as if capturing a transformation. Fusing glass gives it a fluidity that contrasts with the formal geometry of the Art Deco which is a key inspiration in Vital's work. "It was a golden age of travel," he explains, "when motifs from all around the world influenced the shapes within art, when glass art epitomised New York glamour and pizzazz." Contemporary yet timeless, Vital's stylish and elegant panels offer a magic with the same instant appeal.
He works with multiple layers of glass and one of his trademarks is the trapping of tiny air bubbles between layers of glass as he fuses them. "I love the way this adds an element of unpredictability to what I'm making and an organic, flowing quality.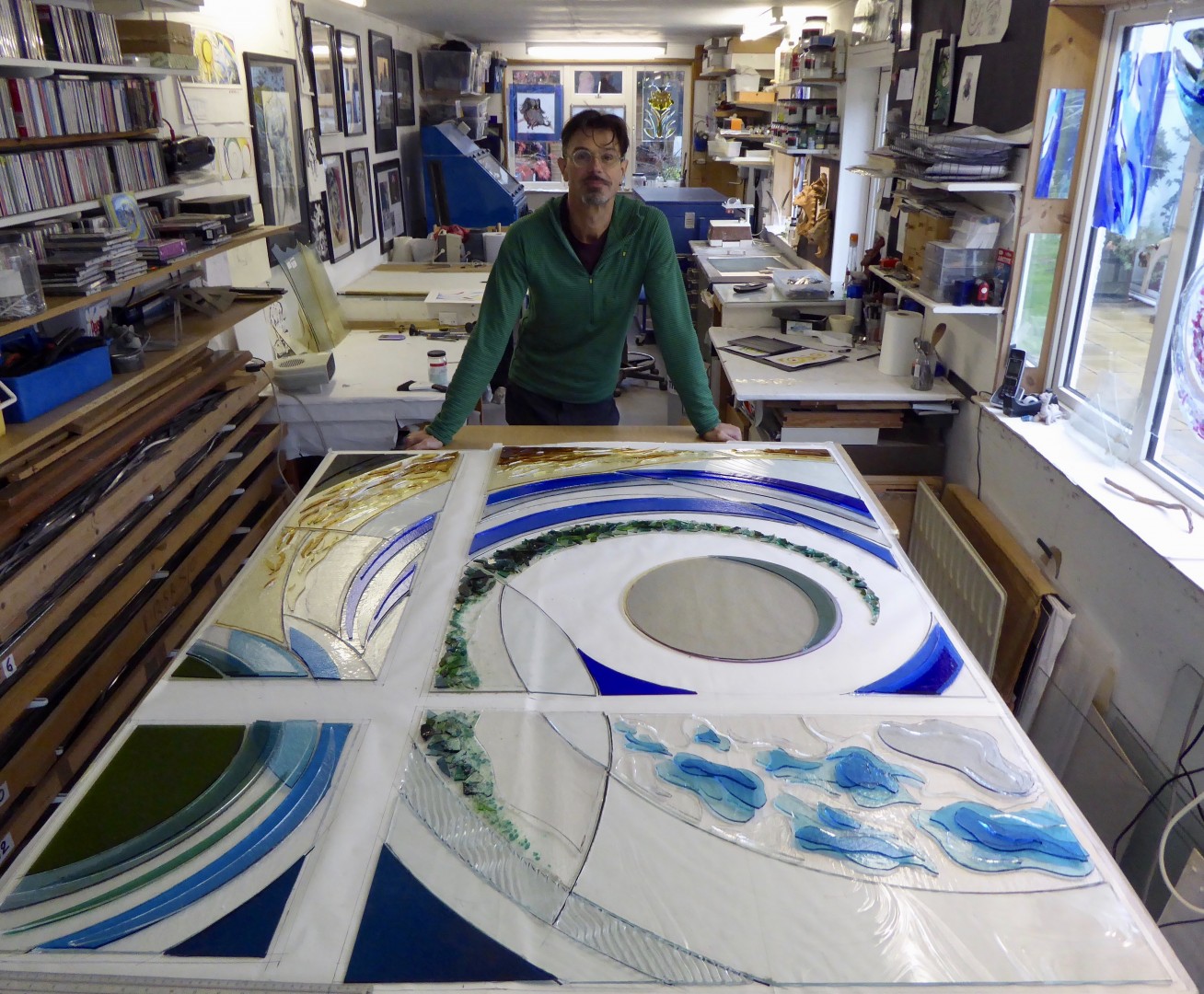 "Glass has enchanting qualities because it combines colour and texture and as daylight goes through it, it is transformed. There are so many types of glass that there's a whole kaleidoscope of possibilities. For example there's a certain half-light at dusk during which opaque glass suddenly seems to glow. The real magic happens when you lift a piece of glass from the kiln and there's this explosion of colour as the light passes through and fractures into amazing effects. And fusing layer upon layer of glass creates even more surfaces to catch the light. The effect is different every time you move around it or the light shifts. Each glass piece is different every time you look at it; it's forever changing, like the surface of water."
Visitors are welcomed to see these for themselves in Vital's studio and garden during the Oxfordshire Artweeks May festival when you can enjoy the breadth of Vital's creations and explore the materials and processes he uses. "I love it when people come to have a look and they ask questions which make me ponder. Their observations and the connections they make often surprise me and their thoughts stimulate new ideas in me. And maybe they'll even be inspired to have a go themselves."
For more on Vital Peeters visit vitalpeeters.co.uk.
You can follow the progress of his work on Facebook (Vital Peeters) and Instagram (vitalpeetersglassandstone) and to see information about Oxfordshire Artweeks (4-27 May) and hundreds of other open studio events and pop-up exhibitions, visit artweeks.org