Are you one of those people who hated science and physics at school but love spending time in the kitchen trying out new recipes? If so, you are actually using your kitchen as a science laboratory and the art of cooking is more scientifically based than you probably realised.
Even something as simple as bringing water to the boil is a scientific process: water boils when the liquid becomes a gas, forming bubbles inside the liquid volume. The boiling point is reached at 100o Celsius.
  Perhaps the best-known celebrity chef who used a range of scientific methods in his kitchen is Michelin-starred chef patron Heston Blumenthal, OBE. Not only was Blumenthal a pioneer of multisensory cooking, food pairing and flavour encapsulation, but he was an advocate of taking a scientific approach to cooking for which he was awarded honorary degrees from London, Bristol and Reading universities and was made an honorary Fellow of the Royal Society of Chemistry.
  One of his protegees at Blumenthal's The Hind's Head in Bray, is Jonas Lodge, now chef-patron of Cheltenham's Restaurant GL50. Jonas was taught the benefits of applying scientific methods of cooking and food preparation to enhance the flavour and texture of ingredients. We took an opportunity of asking Jonas how we as home cooks, can also use these methods in our own kitchens.
  "Scientific processes have been used in making bread, wine and beer for thousands of years. The Ancient Egyptians made bread over 5000 years ago, but they were unaware of the actual fermentation process and instead, believed that the biological reaction must be a miracle. However, in 1857, Louis Pasteur discovered the actual fermentation process, understanding how yeast is the micro-organism responsible for alcoholic fermentation. The process of fermentation dates back some 12,000 years when the Chinese fermented rice, honey, and some fruits to make beverages."
  "Before deep freezes and fridges were available to preserve products, fermentation was used for food and drinks to enable them to be stored through the winter months. I use a range of fermentation processes in my own restaurant kitchen including making sourdough bread, fermented vegetables and pickles, and my own apple cider vinegar. The process of making apple cider vinegar uses sugar rather than salt and a layer of jelly containing active bacteria from a previous batch, which takes several months to develop into what we know as cider vinegar. I make fermented vegetables – such as shredded cabbage – with 2% salt and place in a clean, dry Kilner jar. The salt draws the moisture from the cabbage, creating a brining solution. The cabbage starts to ferment resulting in a crunchy but acidic sauerkraut, perfect to serve with fatty meats such as pork.
  Another scientific method I use is sous vide; a method of slow cooking where food is vacuum packed and cooked very slowly in a water bath at 60oC. It was first used by French chef Georges Pralus in 1974 and became more popular following the publication in 2008 of Thomas Keller's cookbook 'Under Pressure: Cooking Sous Vide'. The science behind this method is linked to molecular gastronomy as the proteins of what is being cooked break down with the slow cooking whilst moisture and flavour is retained. When I cook pork belly, I soak it in a 10% brine solution using pink salt with a pinch of sugar for two days; it is then vacuum packed before slowing being cooked in our professional immersion circulator for a further 48 hours before I serve it with root vegetables, cabbage and a light pork broth."
  I even use sous vide to make the Crème Anglaise when we make ice-cream, which can be likened to cooking in a bain-marie. Making rich, solid-yet-soft ice cream that melts slowly is a complex scientific process. It is the ice crystals created from the custard as it chills which determines if the result is grainy or smooth. Using full cream milk or cream fat stabilises the mix and enhances the overall quality of the end product and there are other ingredients that can affect the quality of your ice cream. The type of sweetener from honey, syrup or sugars not only adds sweetness but can improve texture and also might reduce the freezing point of the mix. Reducing the amount of sugar can easily destabilise the ice cream, resulting in rock-solid ice cream when it is frozen. Air is one of the most important elements in achieving the final correct consistency: non-premium ice-creams might have 100% of air incorporated into the mix unlike quality artisan ice cream, made with care.
  My team and I are constantly exploring and pushing the boundaries of scientific cooking methods, both in the professional kitchen at the restaurant and in our homes. By understanding the science you can question the process when you are cooking.
To experience some of the innovative dishes that Jonas has created, simply visit restaurantgl50.com to book your table.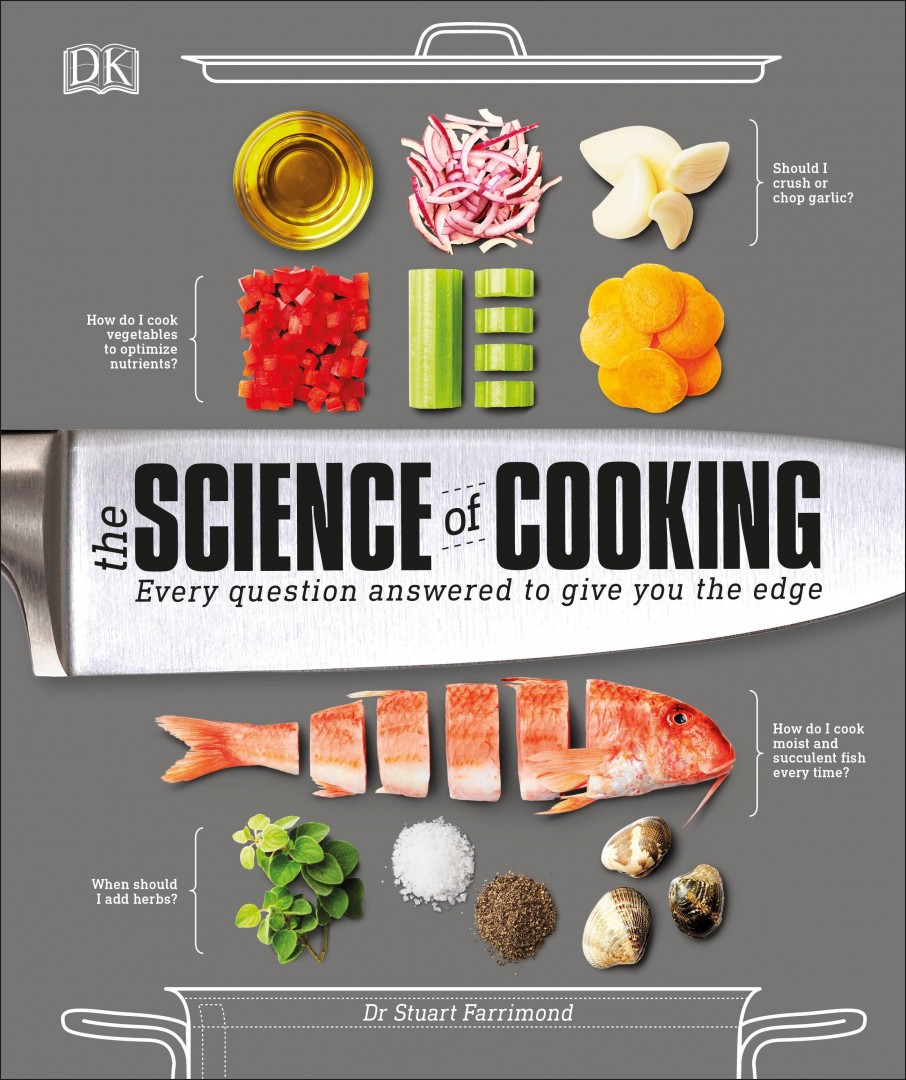 WIN!
If you're inspired to try out some science in your own kitchen, we have two copies of The Science of Cooking by Stuart Farrimond, DK to give away worth £20.00 each. Enter at oxmag.co.uk/competitions