When I set off to find Worton Kitchen Garden, near Cassington and only five miles north-west from the centre of Oxford, I was uncertain what to expect. Located just behind a large farm complex at Worton Rectory, I discovered what I would consider to be one of Oxfordshire's best kept secrets if you are a foodie and love kitchen gardens, too.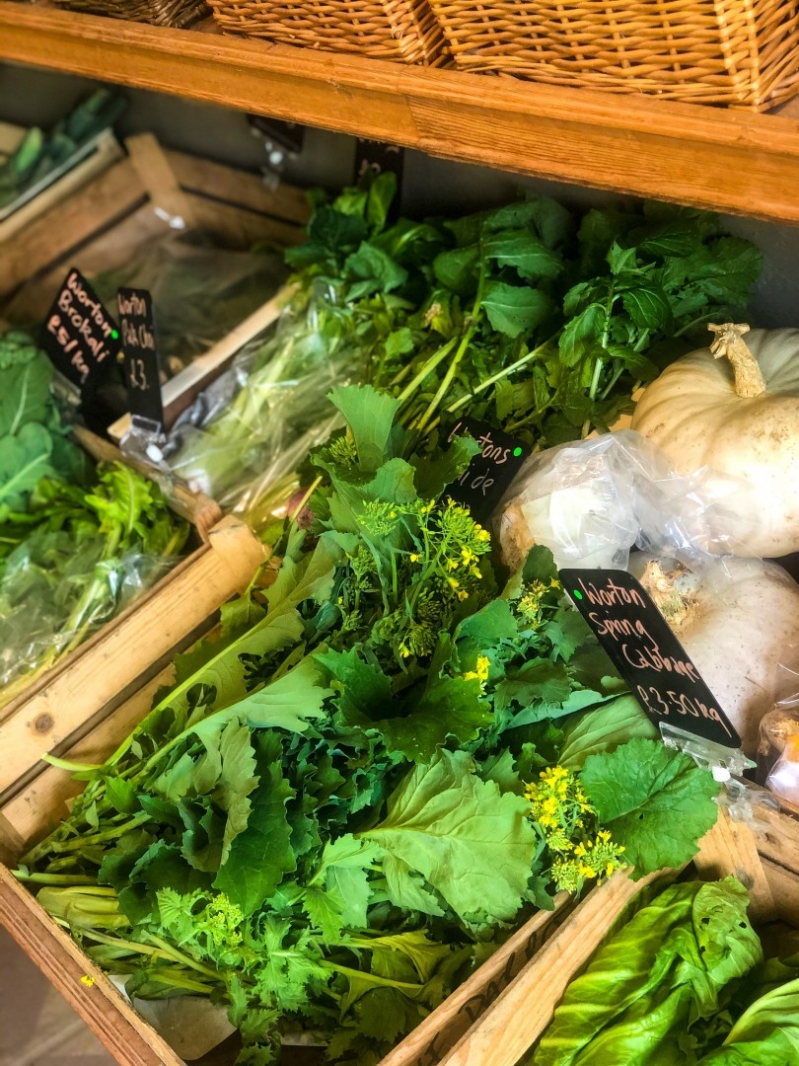 As I strolled up the gravel path leading from the carpark, I was delighted to find a really interesting kitchen garden planted with a wide range of vegetables and fruit, interspersed with colourful bulbs and perennials. At the time of my visit, the large glasshouse beside the entrance pathway was full of colourful spring bulbs as well as an array of salad crops and herbs. The large vines, both in the glasshouse and growing in front of the restaurant entrance, would soon be covered in rich foliage, full of promise of the crop to follow in the autumn.
 The seven-acre market garden provides a diverse range of produce; fresh vegetables, herbs, fruit, eggs, and flowers, all stocked in a delightful shop. The colour and freshness of the items displayed, the fragrance of the cut flowers for sale, and the delicious smell of a wood-fired oven and freshly baked bread all make for a truly appetising welcome to this intriguing business. Open all year round (Wednesdays through to Sunday), the shop holds a plethora of fresh vegetables, fruits, honey, pickles, eggs and so much more.
 As I went around to the side of the shop to the restaurant area, I felt I was entering a garden that one might expect to find in France. It all felt very Provençal, with tables located around the garden area. Indoor seating is split into two areas, one of which is in a glasshouse overlooking a further glasshouse area planted with flowers and produce. The simple wooden tables – each with a vase of colourful flowers, bringing the outdoors in – gives this informal restaurant a relaxed, inviting feel. Somewhere to spend time having a leisurely meal with friends or family.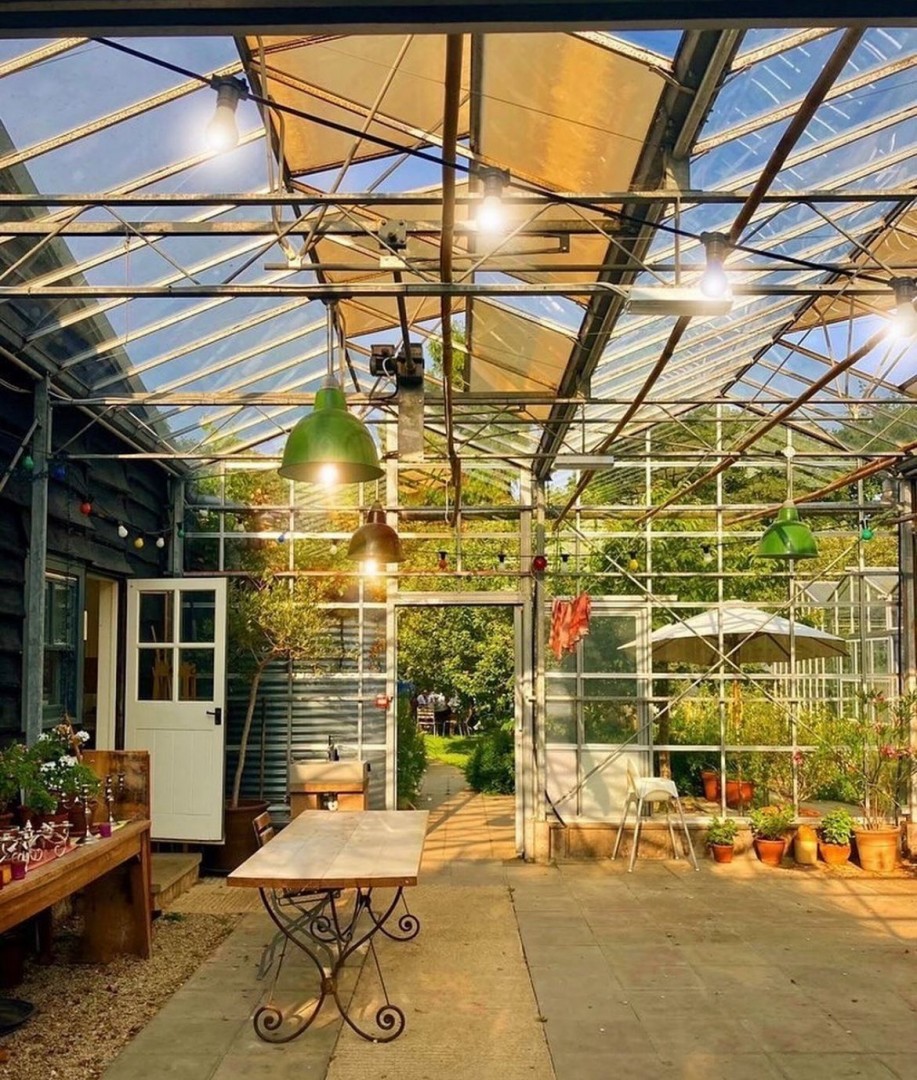 Simon has been part of the Worton Kitchen Garden since 2017. Initially he took on the role of baker, carefully crafting sourdough loaves and baking an array of delicious fresh cakes and quiches for the shop and restaurant. In August 2021, when the previous owners decided to move on, he took over the ownership of the Worton Kitchen Garden.
"The kitchen gardens at Worton have been evolving steadily since 2005. With the help of six gardeners, we combine field crops and an orchard with glasshouses and poly-tunnels for growing more delicate salad crops. By merging stunning flowers, herbs, vegetables and an orchard with small scale animal husbandry (including pigs, hens, ducks and geese), the team has created a secluded piece of paradise just on the edge of Oxford."
Chatting to him in the tiny kitchen area whilst he was making pastry cases for a spiced mirabelle plum frangipane tart, I asked him to tell me more about the Kitchen Garden and his plans for the restaurant.
 "I am fulfilling a dream I have had all my life – I love to cook good food for people made from quality produce. As a child my mother handed over the responsibility of cooking the family meals to me when I was just ten years old. She was not a good cook and she got annoyed at me constantly complaining about the meals she produced so I was given the job. My parents ran a greengrocer's, but we did not have a lot of money to spend on ingredients we didn't sell in the shop. As a consequence, I learned to make a lot of vegetable-based dishes. My sister concentrated on creating the cakes and puddings, whilst I focused on savoury food. At the age of 19 I worked briefly in the kitchens of an Italian restaurant and wanted to train as a chef. However, life took over and I went to university. When I graduated, I worked my way up a corporate company ladder. My job involved a lot of travelling in Europe and the US, and I was lucky to be able to eat at lots of different restaurants tasting a wide range of different food. When I was at home, I continued to cook for my own family and my love of cooking grew deeper. When I was made redundant some years later, I knew it was the time to look for a career change and do something related to food. I had, for several years, been trying to perfect the art of making the perfect sourdough loaf and often struggled to get the starter dough correct. However, I was offered a six-month apprentice working for Aston's Bakery in Lambourne. There was nothing glamourous about working long hours in a bakery, the work is relentless, but slowly I started to learn how true professionals make the perfect sourdough loaf. By the time I left my apprenticeship, I had built a foundation on which to gain further experience.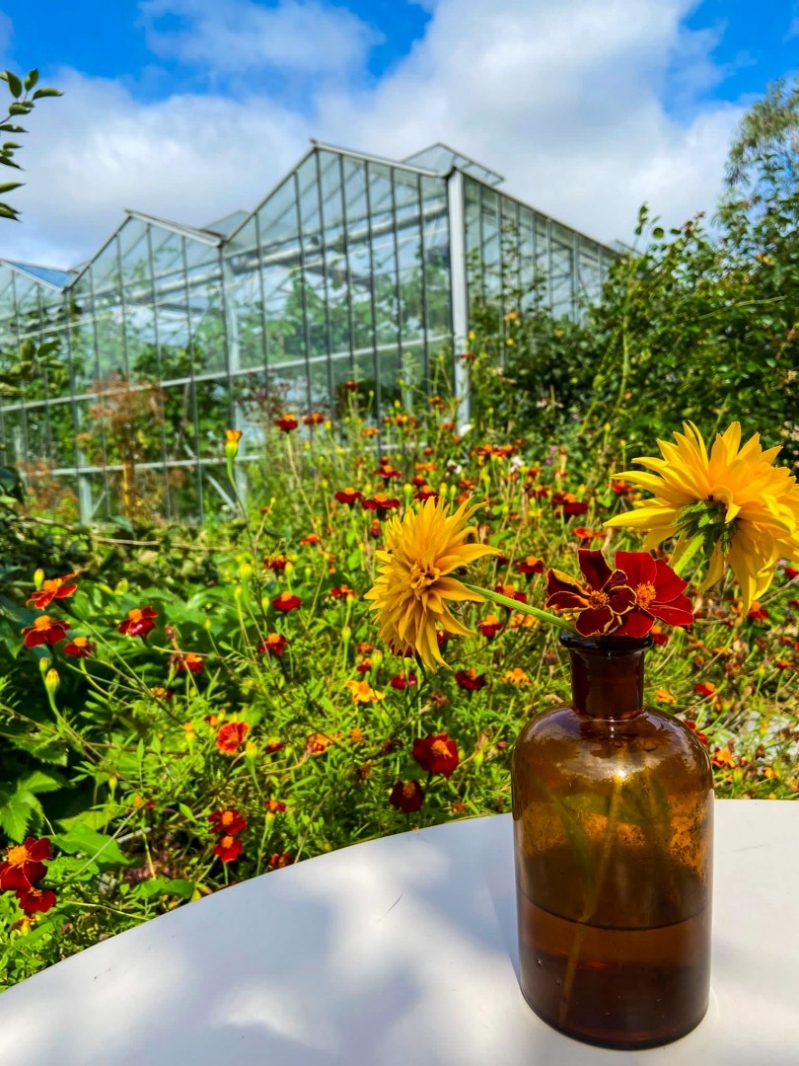 The seasonal menu in the restaurant is hyper-local, using produce from our farm and key local suppliers. I cook dishes inspired by a wide range of cuisines driven by the fresh, nutritious produce we have. We don't just cater for vegetarians and vegans, but also feature fish from dayboat fisheries in Cornwall and pork from our own herd of pigs. I also make a range of fermented pickles, all from our own gardens. Where we have to supplement our produce, we own buy from quality driven organic or low intervention suppliers."
 The menu offers some interesting dishes that give guests at Worton Kitchen Garden something different to enjoy for lunch. Averaging around £8 each, starters the day I visited included Cornish herring with new potatoes and sour cream, Worton pickles served with sourdough toast and Puntarelle alla Romana. Main courses cost between £16 and £20, and included Confit Crown Prince with Mustard Sauce as a vegetarian option and a spicy Goan Hake curry. The dessert menu, priced between £4.50 and £8 offers a wide range of mouth-watering options – including that tempting frangipane tart which Simon was making.
On a lovely sunny day, sitting outdoors amongst the flowers with the bees buzzing, watching the crops grow, eating fabulous food – what more could anyone want?
 Worton Kitchen Garden (OX29 4SU), is open from 10 am to 4pm Wednesdays to Sundays. To find out more about this interesting and atmospheric garden restaurant or to book a table, visit wortonkitchengarden.com.