As the BBC thriller The Capture transfixed us on screen this autumn, Esther Lafferty meets Andrew Wildman, a Chipping Norton artist who story-boarded the show behind the scenes and follows his journey from Korky The Cat to conspiracy thriller.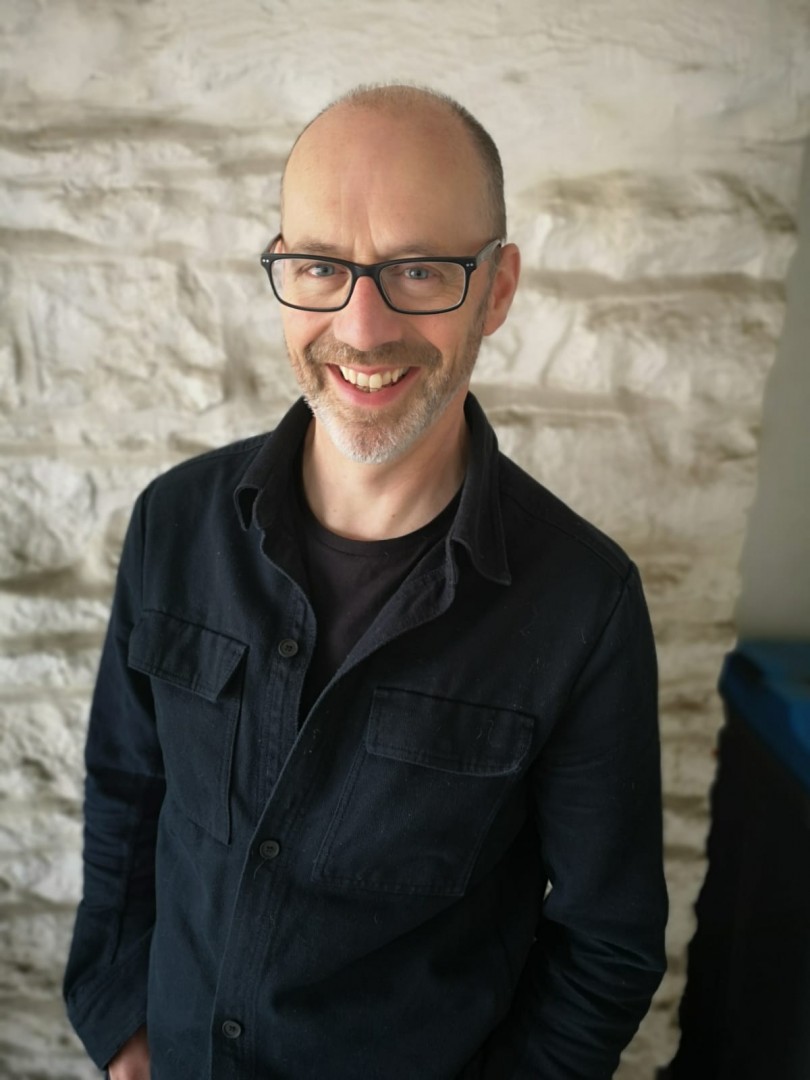 "I first became especially interested in comics from about age 7," explains Andrew. "I used to read the Dandy, with Desperate Dan and Korky the Cat, but then we went on a family holiday to a caravan park in Devon, where in their little on-site shop, I came across the American Marvel comics which I'd never seen before. I was totally hooked. Comics from the US were very hard to come across back in the late sixties and so I only had occasional copies. I had a quiet family background and I loved the idea of breaking out of the constraints of Middle England. I was transfixed by their myths and legends of heroes and monsters played out in an alternative version of our universe. Comics give you the chance to be the hero you wanted to be, to imagine your own super-powers.
My drawing developed as I spent hours tracing the pictures and gradually understood how minimal lines were used to create characters and their world. I progressed to drawing comic strips in the back of my school exercise books. When I left school, I trained as a graphic designer but whatever brief I had, I squeezed comics in somehow," he grins.
"In my spare time I was heading into London to Comic Marts where comics were traded, and comic enthusiasts gathered to meet the editors and artists involved in their creation. It was there that I made the first steps into being a comic artist myself: I was invited to draw a strip for a comic called Bravestarr. Marshall Bravestarr was a sheriff in a sci-fi western world with a robot horse.
I then began working for Marvel UK on Thundercats and then Transformers. Thundercats are cat-like humanoids and Transformers are the robots who can transform into vehicles and back again. The idea of robots didn't particularly grab me initially, but I was given free rein, style-wise, so I approached them as sentient beings in robotic form and added life and character to them with lots of expression and battle-damage. Interestingly there are great parallels between the sweeping space story of the Transformers, the Autobots versus the Decepticons, and Star Wars with the Empire and the Rebellion. The narrative draws on the Greek myths whilst being futuristic too: it's the perfect 'hero journey' for young Transformer, HotRod who negotiates the forces of good and evil in a giant universe.

I loved the Thundercats and the Transformers, but I hankered after drawing the Marvel superheroes who had always particularly appealed to me. They were generally normal people who were probably geeky teenagers but happened to have a super-power which they keep under wraps. My favourite was Peter Parker – Spiderman. As a child I used to dress my Action Man in a back-to-front red balaclava which my mum had knitted for me, and stick Spiderman-eyes on to give him super-powers.
When I was finally invited to draw Spiderman, I was thrilled. I felt like I'd hit the jackpot. Funnily enough though, he wasn't that great to draw as a comic artist because he has no face, just the stylised eyes, so it's very hard to give him expression. Also, it takes a month to draw a comic – about a page a day - and in almost every picture there was that dratted web pattern on his suit!
I worked on a number of other comics too, including X-Men, Venom, Action Man and Power Rangers before spending a few years in the world of computer games, designing characters for Rebellion, a leading computer game company based in Oxford. Being a comic illustrator in an at-home-studio is a solitary existence, so stepping out of the comic world was exciting. Until then, everything I did was paper based as the illustrations for the comics I worked on were posted back and forth to editors and offices around the world.

Rebellion gave me a chance to develop my computer animating skills and consider how images moved and were managed on a screen. I began to do the character design for TV shows too, including The Legend of The Dragon which ran on CBBC and I was the production designer for the CBeebies series Ruff-Ruff, Tweet & Dave.

There was a particular day when I was at home with the family and we were reminiscing over the shows my own children had loved; Bob the Builder, Postman Pat and so on. At the time my son was training to be a chef and we realised there wasn't an equivalent kids show, with a chef as the protagonist. That afternoon we came up with the idea for Shane the Chef (though we called him Jeff the Chef originally) which would encourage ideas of cooking and healthy eating for pre-schoolers. Because the process involves concept development and writing, agents and production companies, programmes take a long time to come to fruition. We were thrilled when it aired last year on Channel 5's morning slot, Milkshake. There's a dog in the programme called Eddy who is based on our family dog, and the place that Shane and the other characters live in is based largely on Chipping Norton. The first series has 52 episodes and we're thinking about the second series at the moment.

On the one hand I am working on computer-animated programmes for children's TV, like Dennis and Gnasher and on the other, on live action series. There's considerable cross-over between comics and TV dramas: storyboard artists sketch certain scenes that contain special effects; visual effects that will be added digitally at a later stage and stunts (fighting, car crashes etc). The director uses the storyboard to work out their shots, so they underpin the composition and framing of the scenes and the choreography of the filming.
I worked on a range of live-action shows, including Dr Who, Luther and Strike, a crime drama series, based on the detective novels written by J. K. Rowling using the pseudonym Robert Galbraith, and the Netflix drama The Innocents. I also story-boarded this autumn's BBC thriller The Capture. I don't want to give anything away but it's a great story: it's very contemporary and is based around the confusion caused by fake news, and whether you can trust what you see."
Andrew is also working on his second graphic novel, Oxygen, the singular journey of an astronaut stranded on an unknown planet. Described by Will Gompertz, BBC Arts Editor and Oxfordshire Artweeks patron, as 'an intriguing book that tells a great story in four wonderful dimensions: words, pictures, speech and space,' his previous graphic novel Horizon was a classic 'hero journey' inspired by Andrew's own experiences.
You can see more about Andrew and his art at andrewwildman.org