This summer the Oxford Artisan Distillery (TOAD) invited us to join them at their inaugural Lammas celebrations.
Lammas is one of the 'cross quarter' days, observed by the English-speaking countries of the Northern Hemisphere. Whilst Quarter Days fall in March, June and September and December, cross-quarter days occur on All Hallows (1 November), Candlemas (2 February), May Day (1 May) and Lammas (1 August). Neopagans honour Lammas as the first of the three Autumn festivals, followed by the equinox and Samhain on 1 November which, therefore, in addition to being All Hallows (or All Saints Day), also marks the end of the harvest.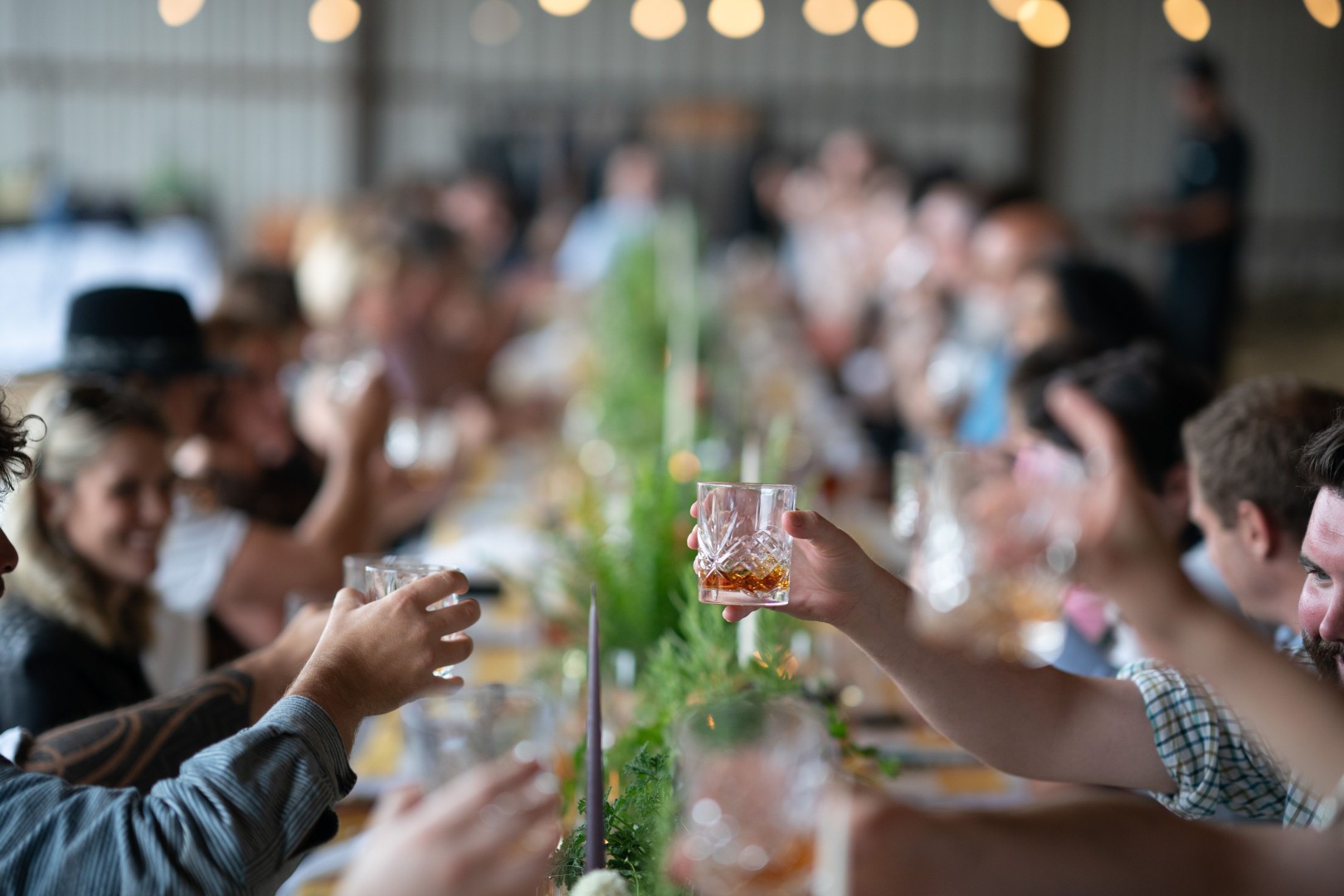 The start of the grain harvest falls on Lammas, and it was the ideal opportunity to celebrate the crops used by the distillery under the guidance of Head of Farming, John Letts. John is evangelical about ancient heritage grain. A renowned archaeobotanist, his fascination with landraces of wheat, rye and barley led him, in 1994, to tour the country exploring thatched buildings dating back to Medieval times. By excavating the thatches he discovered perfectly preserved examples of wheat and rye. These crops once grew tall and but had been lost through nineteenth century industrialisation and the popularity of imported grain from Ukraine and Canada. Further, at the start of the twentieth century new hybrid grains were created which rely heavily on artificial fertilisers and gradually biodiversity in our land all but disappeared.
Using traditional samples of wheat and rye from all over the world, John has planted fields of genetically-and-bio-diverse, sustainable grain in Oxfordshire and Buckinghamshire. Over 15 years he has developed crops which are able to withstand the vagaries of climate. From the clover which feeds natural sources of nitrogen into the soil, ecosystems are created which enable the grains to thrive without need of chemicals. Not only kinder to the planet, but these grains are rich in flavour and, with less gluten, are also kinder to our guts.
Dave Smith, TOAD's CEO, commented: "We are excited by the journey ahead as we use whisky to further a revolution in the field. Over the last years we have seen the industry take major steps towards addressing the climate crisis, but we have a responsibility to do more in tackling sustainable farming and grain production".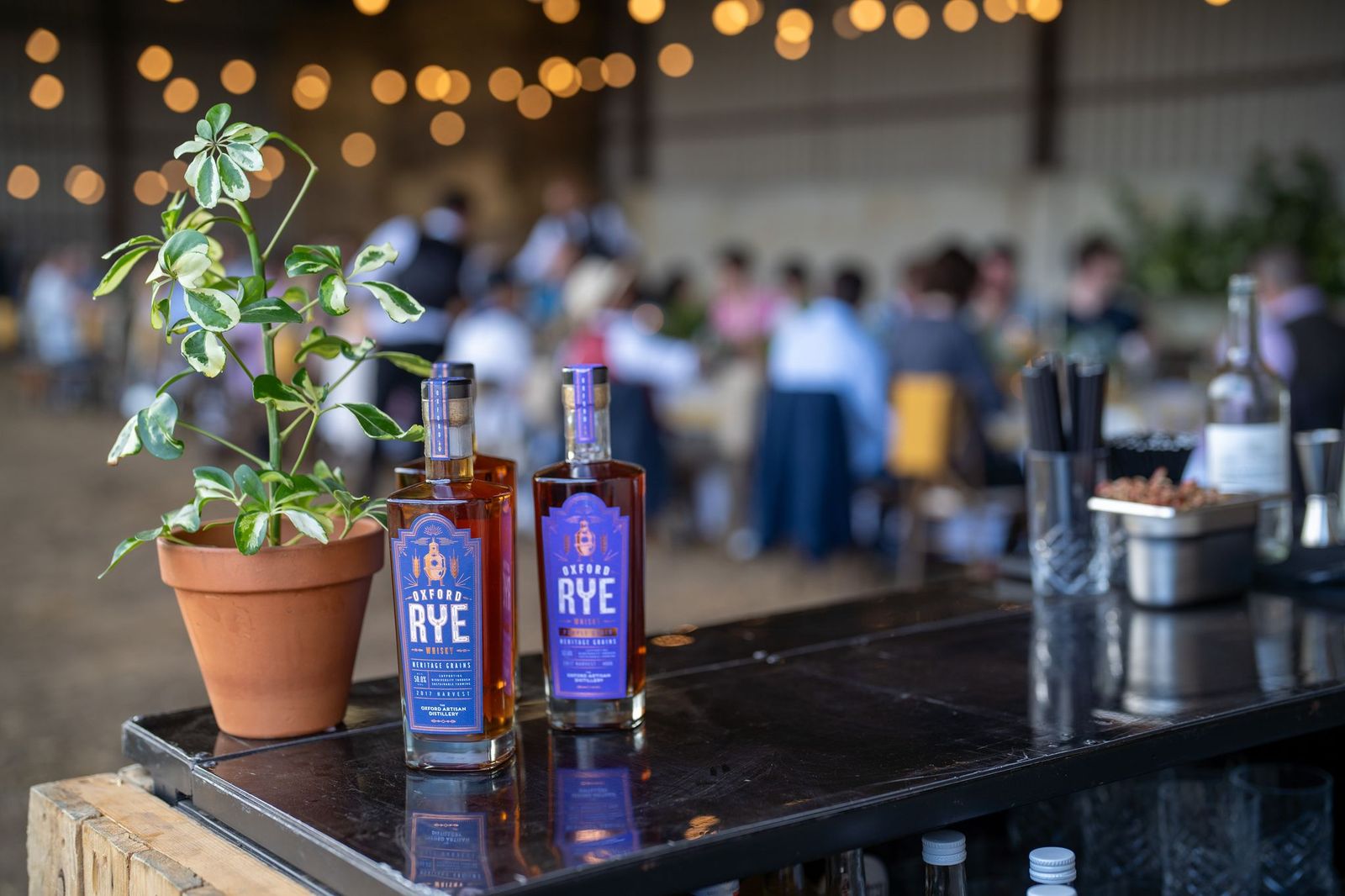 Friends and supporters were welcomed to Little Rollright Farm where we were delighted to find a pop-up bar offering cocktails showcasing the various spirits produced by the distillery. We then headed to a beautifully dressed barn to enjoy a meal of Oxford Bix with tomato and beetroot, Little Rollright venison – cured, of course, in Oxford Rye Whisky – and whisky-infused honey panna cotta. All supplemented with plentiful toasting, using the just-released, Oxford Rye Whisky 2018 Harvest: double-distilled for a mouth-fillingly smoky flavour bursting with buttery smooth hints of fruit and spice. Music from the fabulous Felipe and Paul of Rhythm & Booze (a raucously joy-filled lap steel and drum combo) ensured high spirits in every sense.
Whisky connoisseurs are further spoiled by TOAD with the launch of TOAD's new Black Pine Whisky (£150) created in partnership with The Oxford Botanic Gardens. Presented in a beautiful limited-edition gift box, each includes a coaster made with wood from the famous Black Pine tree in the Gardens, under which JRR Tolkien sat and created characters including the Ents (Giant Talking Trees). The tasting notes recall the essence of a pine forest, with complex wood and hints of mint, pepper and smoke. Is it too early to suggest that this would make a very special Christmas gift?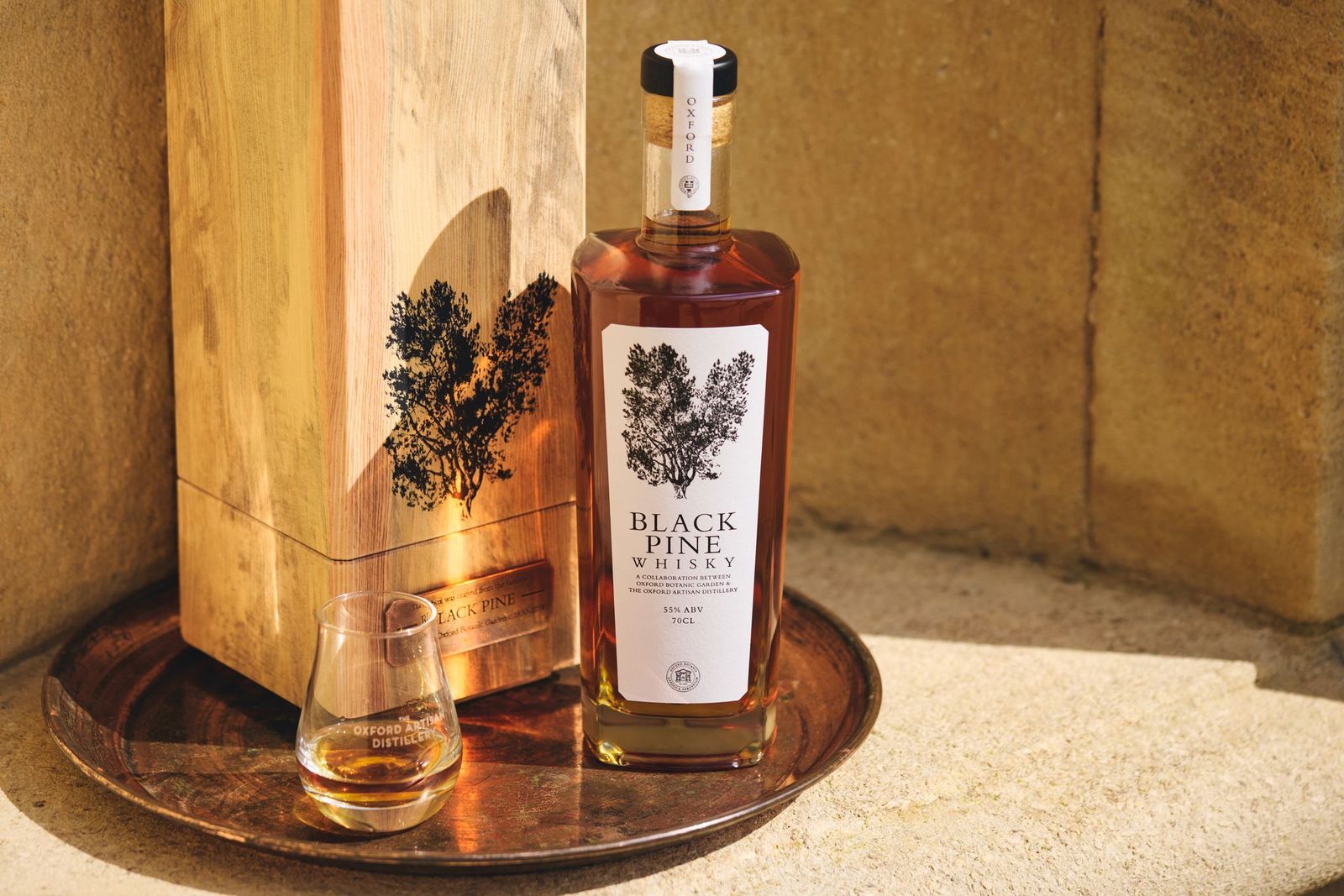 theoxfordartisandistillery.com