Wonderful at any time of year, but perhaps particularly in the Summer when the glasshouse comes into its own, Gees Restaurant and Bar has earned its status as one of Oxford's best places to eat. It's also quite the place to see and be seen – have I ever mentioned my best celebrity spot, seeing Robert Redford (yes, that Robert Redford) dining there during his whistle-stop visit some years ago?
After a period of closure for refurbishment, the iconic restaurant has just reopened with two new dining spaces. The Grade II listed conservatory started life as a greengrocer and florist in 1897 and was converted by Jeremy Mogford in 1985 into Gees, which joins The Old Bank Hotel, Quod Bar and Restaurant and The Old Parsonage featuring the Parsonage Grill in forming part of The Oxford Collection. Whilst the glasshouse still houses the main dining room, it is now joined by the Secret Garden decorated, as Jeremy Mogford describes, in the "colours of optimism…. Yellows of the sun and blues of the water", and Gees Gallery, a private dining space which double as a place to display works of art by emerging and established artists.
Regulars will be happy to know the menu still embraces its signature Mediterranean flare. New to the kitchen is Head Chef, Matt Smith who will be featuring regional dishes of Spain, Portugal and Italy using British produce, local if possible. Before trying it out for ourselves, we asked him a few questions.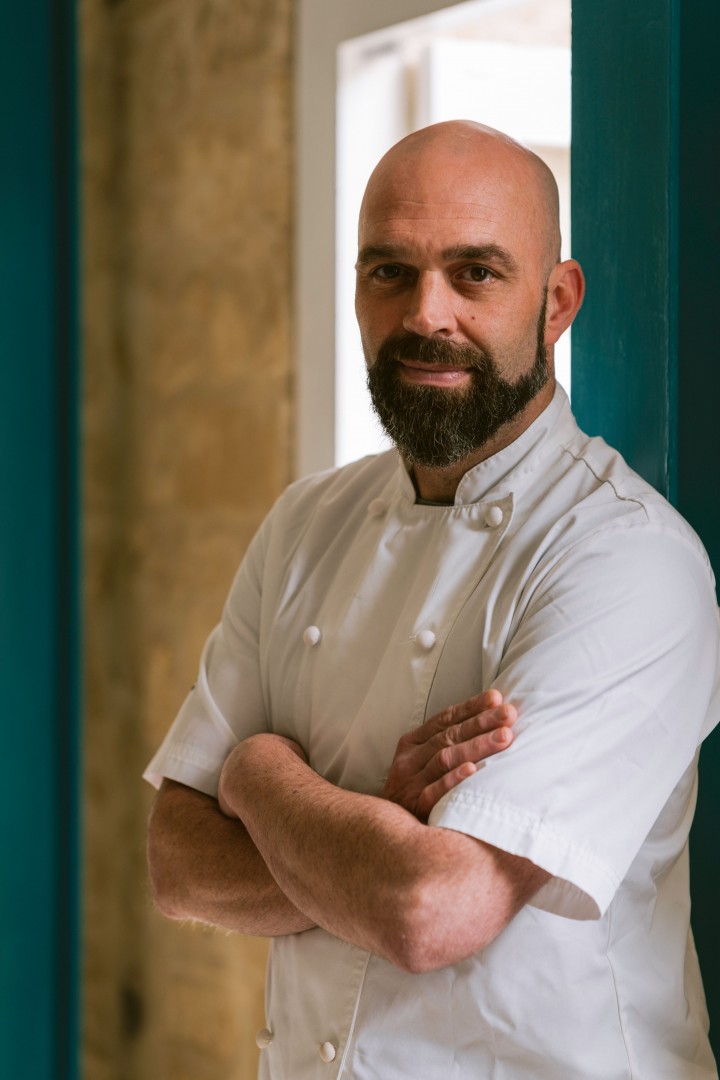 Matthew Smith Collective Chef

How have you evolved the food at Gees?
We've followed the ethos of simple dishes done well. Bringing in the seasons and working with great produce. There is no reason to make things over complicated; rather, we keep it simple but delicious. Whether a guest is coming for their tenth visit, or to impress a new date or celebrate a graduation, we want to guarantee that their experience is going to be one to remember in a positive way. Our new menu provides both an avenue to explore something new – a new taste or dish entirely –and for our regular guests to return for some of their signature favourites. The menu has evolved in a very organic way while maintaining its essence.
What is most exciting for you personally on the current menu?
We have fabulous fresh produce from local and regional suppliers. With some of our suppliers practically across the road, we really do have the cream of the crop when it comes to the quality of the produce. That makes it exciting to work into the dishes and our daily specials. I'm really happy with our chicken escalope which has been surprisingly popular, but also the burrata that comes with heritage tomato, pickled baby beets and watercress – a great summer dish.

Which dish, for you, best represents Summer - and what do you eat on a day off?
Pasta is definitely my go-to! There is so much one can do with pasta and a well-made sauce.
Review:
Walking into the glasshouse, after stopping to admire the newly repositioned bar and the floral-shirted bar staff, we were shown to our table and then left to drool over the menu. We were more than happy for the magnificent Restaurant Manager, Alessandra, to come over and help us choose. We eagerly went with her enthusiastic and knowledgeable recommendations; the Tapas sharing platter with a small side of grilled gambas, followed by the duck and wild mushroom rigatoni and the lamb cutlets. First things first, though – a cocktail. Champagne Amalfi for him, Queen Bee for me. Both refreshing, his blended champers with limoncello and elderflower in a zesty, fizzy flute and mine brought together beefeater gin with lemon and honey, sharpened up by a hit of ginger liqueur. Fabulous.
The joy of writing a review is that you get to relive the dining experience when you write up your notes and believe me, I could happily spend a lot of time reliving this particular menu. The Tapas was nothing short of phenomenal – I'm toying with a solo return visit where I scoff the whole lot myself. Frankly, it had me at arancini; gorgeously crisp Sicilian pops of meltingly soft risotto rice, with sweet pepper running through as a seasoning rather than a distinct flavour, enrobed in breadcrumbs and deep fried. Jockeying with them for position as alpha item were the slivers of lightly battered and flash-fried courgette. I know this sounds a bit much, but they moved me. It was the taste of holidays. Honestly, I had a Proustian moment with my first bite – transported to much-missed Mediterranean and the flavours of what I generically refer to as 'abroad', where fresh food is the star. Other accompaniments included cornichons, smoky-cured Italian beef, piquant boquerones, Padron peppers and cubes of yielding, sharp Manchego. There was aioli on the side but honestly, it wasn't needed. That didn't stop me dipping my sourdough into the pot for a sinful mouthful. These are the lengths I'm prepared to go to for 'the sake of research'. I haven't even mentioned the chargrilled prawns yet, have I? So plump and sweet with all the flavour of the grill. Although finger bowls are provided, I made sure I licked my fingers clean of any lingering herbs or juice, determined to extract every ounce of flavour before rinsing them off.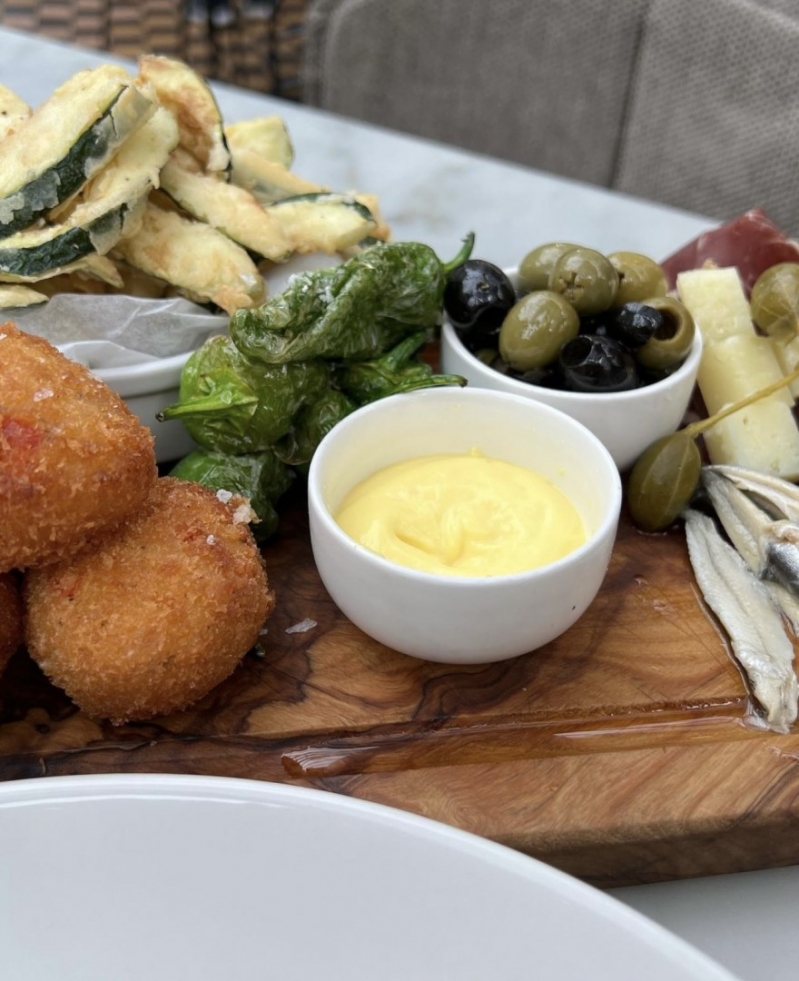 Cocktails done, we cast an eye over the impressive looking wine list which had plenty to tempt but ended up opting for a carafe of house white, which was dry, fruity and beguilingly drinkable. Luckily the attentive, friendly staff were on hand to top up water glasses.
Another massive plus point was the pacing. Just the right amount of time to allow a little digestion before the main courses arrived; beautifully pink lamb, served atop Head Chef Matt's interpretation of a caponata, which I've always thought of as fairly rich, thick and tomato-based but this was light, a little brothy and the perfect accompaniment to the tender meat. Tangy, herby salsa verde rounded the dish off and despite the fact I had gorged on the starters, I feel a did a commendable job of doing justice to my plate. The rigatoni was equally praised. Not too heavy, despite the creamy sauce, and gratifyingly generous with the duck:pasta ratio.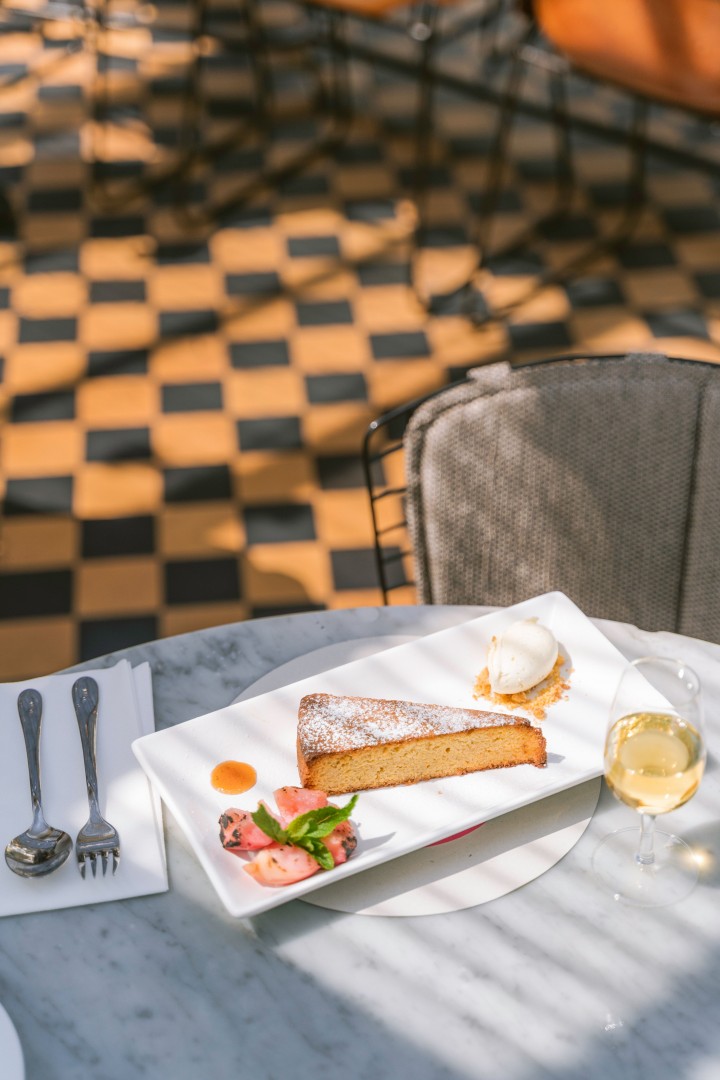 Whilst the dessert menu was filled with temptation – on any other occasion, I'd have snapped up the almond and polenta cake with roasted peaches– we had to politely decline. Instead, a glass of thick, sweet Sauternes accompanied by fresh biscotti (dipping actively encouraged). Arguably the perfect end to the perfect meal.
tldr: faultless