Maísa Stolz is a Brazilian sculptor whose work is being exhibited in the UK for the first time as part of Oxfordshire Artweeks. A selection of her pieces will be on show at Peach Croft Barn in Abingdon (Artweeks venue 15).
Maísa creates mixed media animal sculpture inspired by classic masterpieces and well-known pieces of art. The original idea for these sculptures came to Maísa when she was teaching children in Brazil. Imagining art muses as animals seemed a wonderfully fun way to introduce them to and engage them with art and art history. She has always been interested in animals and their characteristics so from them on whenever she saw famous painting or piece of sculpture she would find herself wondering what the protagonist in the original would be if they were transformed into an animal.
In Claude Monet's Woman with a Parasol, for example, his wife is seen buffeted by the wind in a billowing pink-white dress under a green umbrella. It's a soft painting with fluffy clouds and dreamy sunshine. To lift her character from the canvas into this imaginative animal world, Maísa opted for a gentle grey cat while Auguste Rodin's famous bronze sculpture of The Thinker – elbow on thigh, resting his chin on his hand as he contemplates the world – becomes a chimpanzee.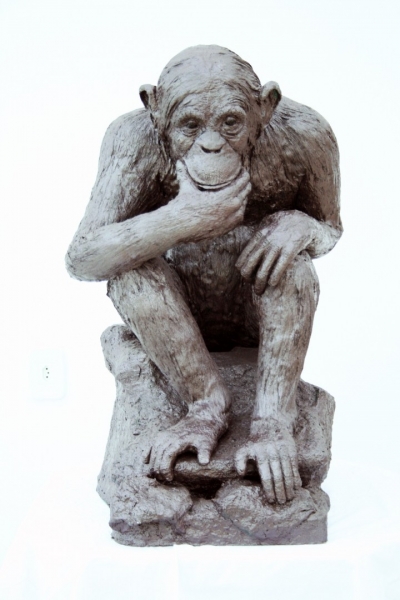 Maísa chooses which animal to use for her pieces based on both the shape and personality of the animal and how it matches that of the person she is representing. She then recreates the character in her garage studio in the heart of Abingdon, slowly building the shape from layer after layer of papier-maché and paint, before embellishing with fabric, glass and other materials. The finished pieces are light-hearted, for the most part, and theatrical. "I hope they will make people smile," she comments.
Degas' Little Dancer is perfect as a hare – her head tilted to the sky in a typical moon-gazing hare pose, her limb lean and lithe. If it weren't for her ears and her ballet shoes, which encase large feet than you'd see on a human ballerina, her stance and poise are identical to the original.
"The Mona Lisa is a sheep because she seems calm and placid," explains Maísa. Unperturbed in velvet and real sheep's fleece, she looks at you with a gentle gaze in the same way that sheep stare idly at length. The Goat with a Pearl Earring, she explains, to me is similar but more characterful - a little more wide-eyed and skittish. Her green eyes – made from giant marbles, gleam and glint with a touch of mischief. And as you move around Maísa's pieces, the way that their eyes catch the light adds life and dynamism.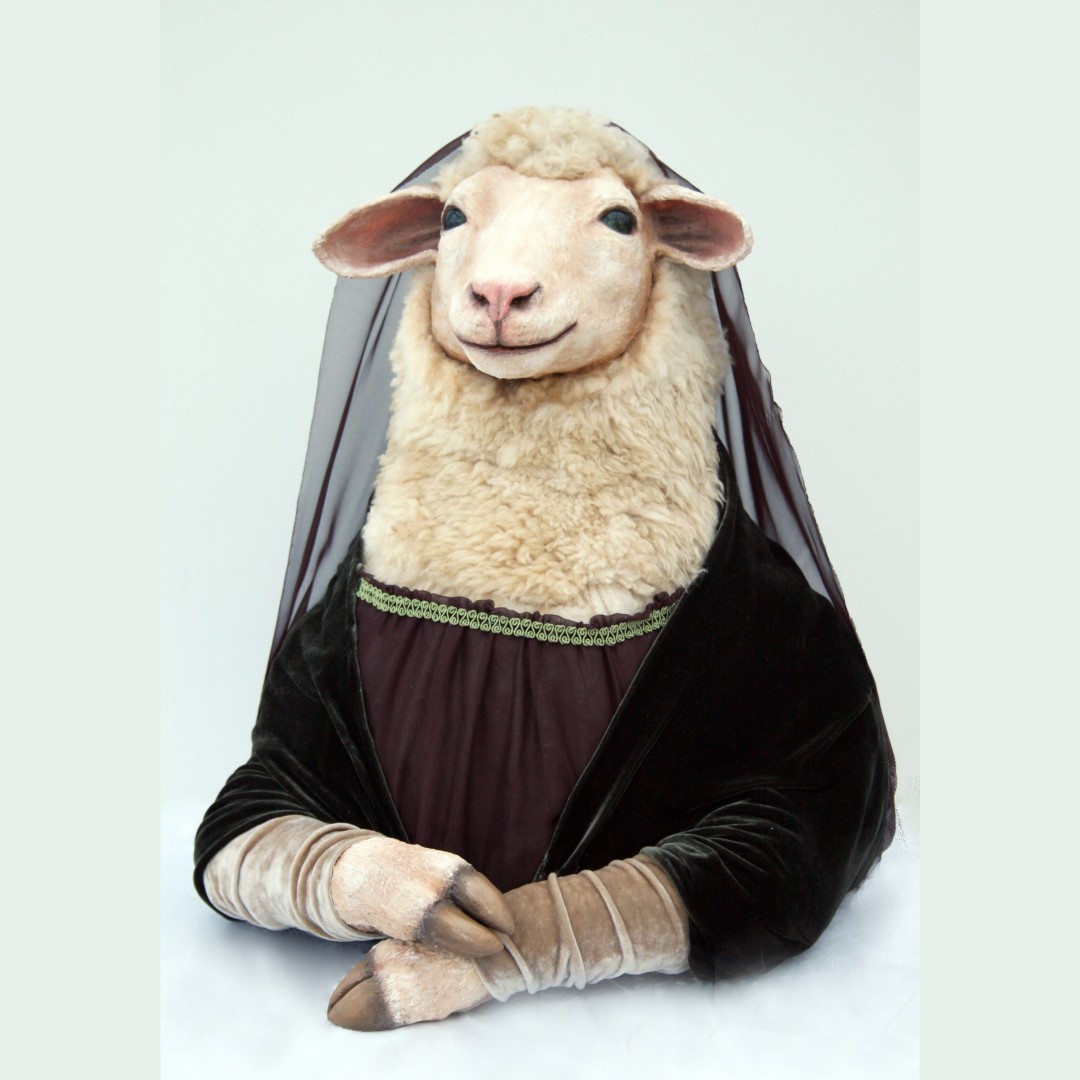 "I decided that Van Gogh, in his self-portraits, was most like a duck," she continues. "He's a thin-faced man with a golden orange beard and a rather pointed chin which reminded me of a beak, and character-wise ducks are curious and observant. Ducks are quite everyday, too, which seemed right for an artist who painted his chair and his bed and the simple interior where he lived. I used Van Gogh's trademark style of bold and dramatic brushstrokes for his blue coat."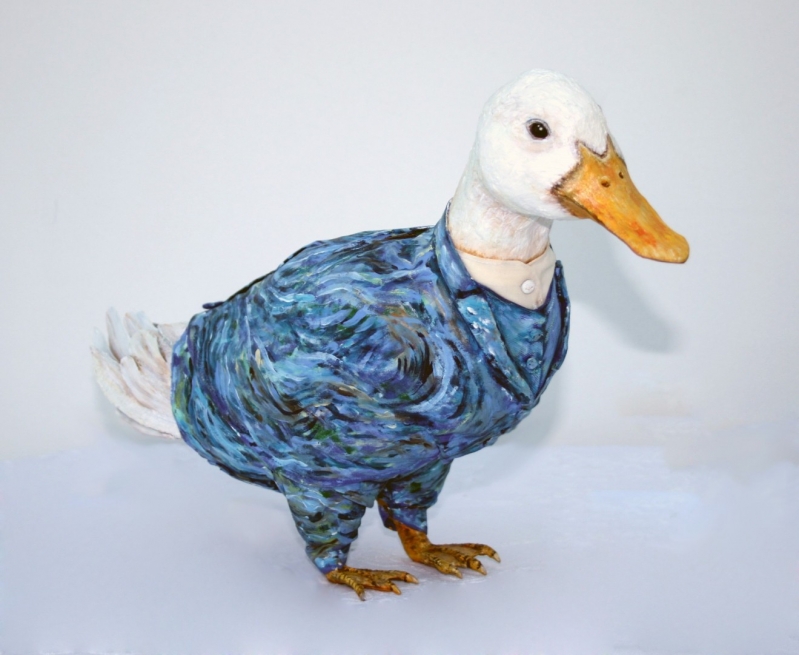 The Victorian men of Dicken's Christmas Carol are rats. All the animals/animal heads in Maísa 's current collection are life-size so, she adds, "mice, rats and little birds are great for small sculpture. A frog is also surprisingly human when he is made standing tall."
I laughingly ask whether Maísa has ever made an elephant to which she replies that yes, she has, although it was a surreal Daliesque elephant with spider legs. Whilst the sculpture was twice her height, it wasn't full-bodied like an African or Asian elephant. Maísa tells me that she loves working on a big scale when a particular project requires it. She did, though, once create a perfectly life-like n nine-metre-wide eagle for a Brazilian carnival, which was larger than life – unless, perhaps, it was the Giant Roc from Sinbad the Sailor's adventures as Maísa also creates occasional characters inspired by mythology or literature. And although you won't see anything on this scale from Maísa during Artweeks, keep your eyes out for a diminutive Pan. The satyr god of the wild, shepherds and sheep, who - with a friendly face and the hind legs and horns of a goat - might be just bring to mind Narnia's Mr Tumnus.