As we step into a New Year and a new chapter, we talk to Oxfordshire Artweeks designer-maker Sharon Highway of Mallory Journals who hand-binds individual and custom journals full of cheer and promise.
Under a sloped ceiling in a room at the top of her house, Sharon brings together beautiful leather, sumptuous soft cork, decorative papers, ribbon, beads, and buttons in a rainbow of colours to create tactile journals to hold treasured words and illustrations.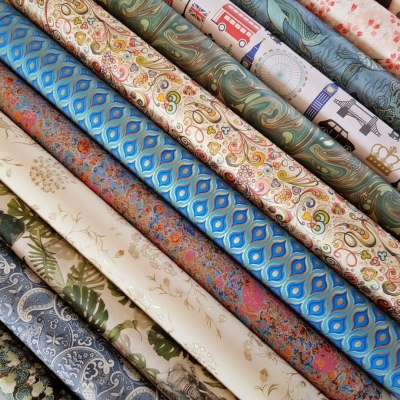 "I have always been a keen reader, and I love the romance of the idea of writers curled up in an attic, putting ink to clean crisp paper for a diary or a novel. I kept a diary as a child," Sharon continues, "and found it fascinating looking back at what I had written months or years earlier. I have always enjoyed books about writers and books written as diaries; Anne Frank, Adrian Mole, Bridget Jones, that follow the progress of a character through the years. Whether fictional or autobiographical they give the reader a real sense of being welcomed right into someone's life and mind.
I am a maker at heart, and so for seven years whilst I had a day job in an office, I went to evening classes to retrain as an upholsterer. However, furniture is too big to create in an upstairs room and it takes a long time to make a single piece. At home I was handmaking bags which required the same neat precision. I moved into journal-making about ten years ago almost by accident" she smiles. "The first one I ever made was for my husband-to-be using some spare upholstery leather. He is notoriously difficult to buy presents for and I wanted to make him something special. He was thrilled with it and so I went on to make more as gifts for the Best Man and Bridesmaids for our wedding. And that was it. I'd found my niche! I've been making and developing them ever since with different types of leather lined with colourful papers and trimmings to match every personality under the sun.
I start by pairing a leather colour with a paper lining. I generally choose from a selection of more than twenty shades which I buy in large hides from Italy. These are generally classic colours, although it is always a delight when I occasionally come across small pieces of leather in less traditional hues.
It's the lining that really adds the character. There's something magical about opening a journal's cover and discovering the enchanting pattern, colour, and style inside which you can't see from the outside. I gather the paper from everywhere and have hundreds of designs ranging from Golden Dandelions to Jungle Safari or Indian motifs. Most are very decorative. Italian paper is top quality and has beautifully illuminated patterns such as feathers, flowers etc, often Florentine in nature with gold and silver flourishes. Japanese Chiyogami paper, as used for origami, feels very different – it's smooth and silky and doesn't feel like paper at all. It is made only in Japan under licence, and the designs, whether traditional or modern, have a very different flavour. They tend to be elegant and sophisticated, often featuring blossom, cranes, birds, waves, and koi carp. Indian handmade cotton papers are different again; particularly vibrant and flamboyant in bold colours and patterns and sometimes they are enhanced with glitter.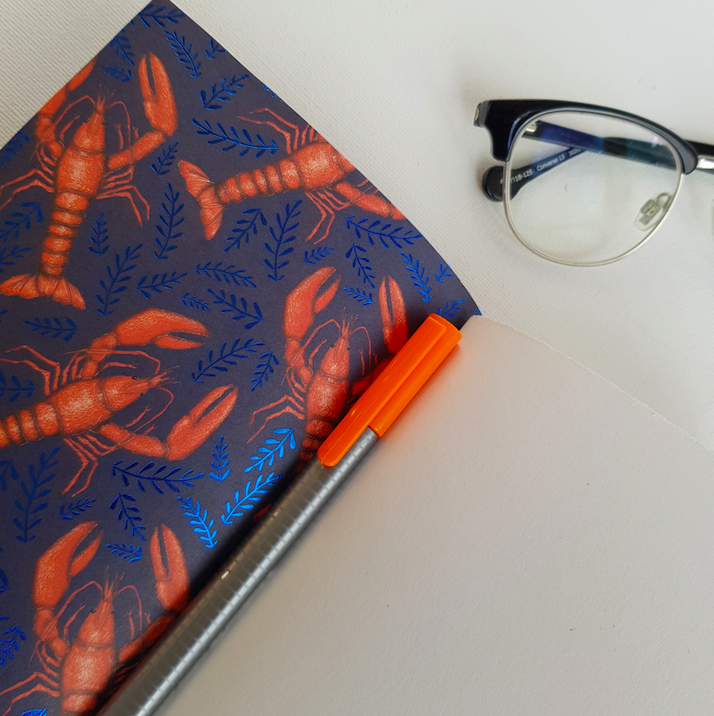 My favourite paper to use is vintage maps and atlas' to line journals. It could be a place that has special meaning for someone, or they are about to embark on a trip of a lifetime. I love making a journal specifically for a particular person, creating something that reflects their personality and what's important to them, and so I am very lucky that about half of what I make is custom journals designed around all kinds of individuals and the other half I have free rein playing with colour and paper combinations.
For the vegetarian and vegan writers and sketchers, or people who prefer something different, I also use cork fabric for covers, in its natural colour, dyed or printed. The cork is Vegan PETA approved. The cork oak trees are grown in large but beautiful orchards in Portugal; orchards that suffered when we turned to screw-cap tops on our wine and so the farmers diversified, and this is the happy result.
Inside the covers I can opt for plain cartridge, lined or dotted paper. Everything is hand cut and stitched: pocket journals have a pocket in the front and back covers in which to store photos or tickets for example, and some have a pen loop. To close the journal, I choose coloured cord or elastic and a bead or button fastener. These are mostly wood or glass. I also use handmade ceramic buttons. And finally, I add a ribbon page-marker. The whole process is design on a tiny scale and for a stationery fanatic, my journals are the ultimate in luxury: that final button is the cherry on the cake."
"A journal has a whole life," Sharon explains, "which often mirrors a precious or pivotal moment in someone's life. For those for whom being organised and planning ahead is a pleasure, using a special journal to make notes and keep track of ideas and decisions enhances the enjoyment of that process and then, when it is over, is a lovely record of thoughts and choices in the run up to a wedding, for example, or a big trip abroad. Other people love to write daily in a journal that's specific to them, simply the dramas of everyday or to record a new venture they have embarked upon. Using it is a very intimate and personal experience. On the other hand, I have also made journals that have gone on to be comment books and guest books to gather thoughts or reminiscences in one place. Being able to draw those memories together, perhaps with mementos and photos, wrapped and bound in leather, is a wonderful way to remember a life-changing event – or honour someone's memory. It's like bottling the past, and the optimism and joy in the present for the future"
Sharon has also made journals for two very famous authors and a celebrity gardener. Who? "You will have to come and find me this year's Oxfordshire Artweeks to ask me" she laughs.
To see more on Sharon and browse a selection of her journals, visit one of her two online shops: etsy.com/uk/shop/MalloryJournals and thebritishcrafthouse.co.uk
email hilma1969@yahoo.co.uk to commission your very own.