Artweeks newcomer Deborah Hunt of Doodledash Vintage & Home is presenting vintage furniture upcycled with layered textured finishes in the Pop-up Gallery in Deddington. Her small cupboards and chests of drawers are individually decorated, painted and embellished, so that each is both functional and a piece of art.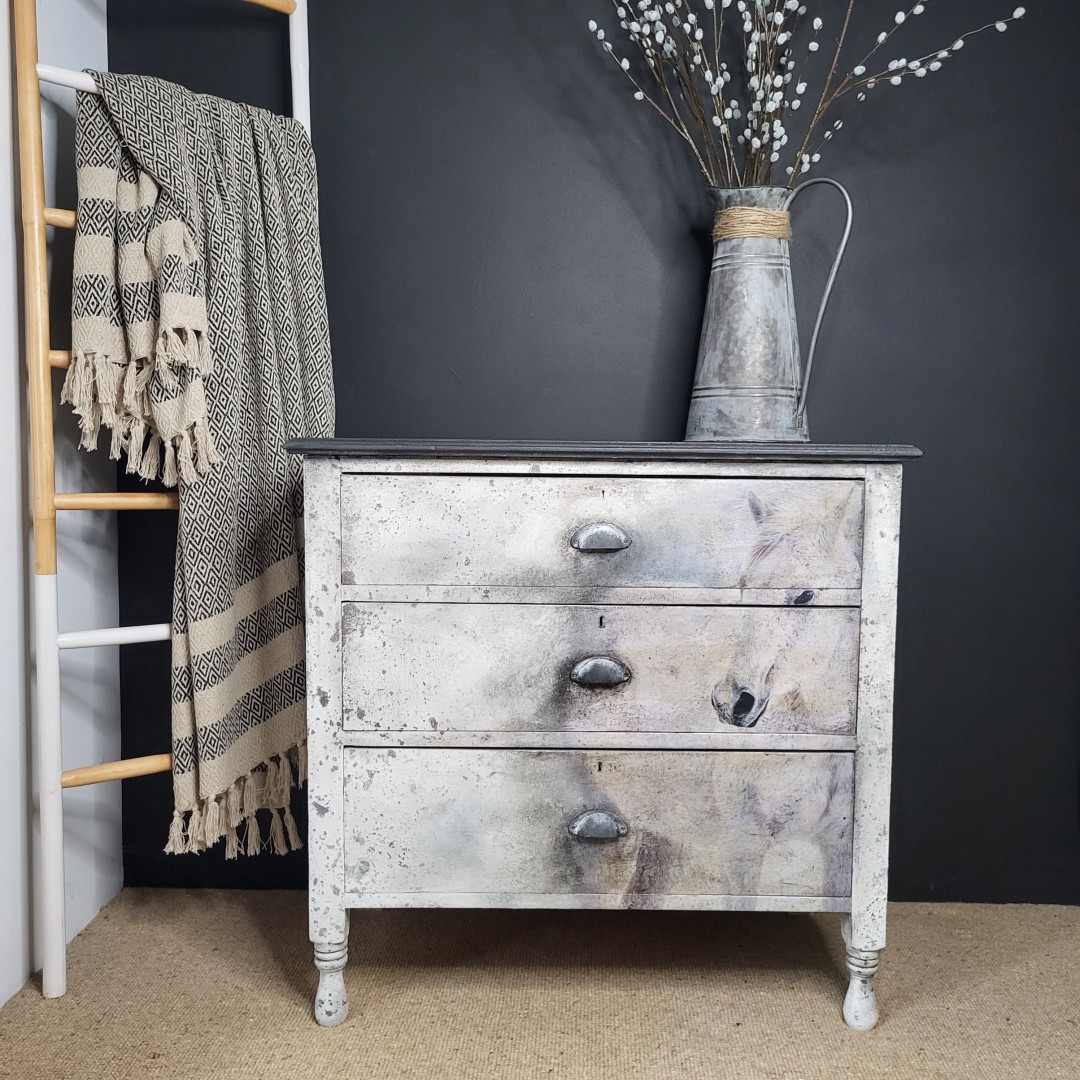 "My ethos is all about sustainability," says Deborah. "So many pieces of perfectly good furniture get discarded because they look tired or they don't quite fit the aesthetic that someone is now aspiring to. I enjoy transforming these traditional pieces with faux finishes and a contemporary take, whether that's a smart neutral style or a funky or playful new look to make you smile every time you pass it. Rooms in which everything matches perfectly can be rather dull and impersonal," she continues, "and even the smallest space can easily be transformed with a bold piece of bespoke furniture that is totally different. A house may be bricks and mortar but a true home is a collection of the furniture and objects you have gathered together within those walls and the emotions they elicit. A one-off piece that's been upcycled in an unusual way is a great way to stamp your individuality on your space"
Although Deborah does upgrade the occasional table and chair, her preference is for cupboards and chests of drawers, and furniture in which you can keep treasures and other things. "I make them beautiful on the outside again, and then inside they can be stashed with objects that tell another story altogether," she explains. "My favourites are Apothecary Cabinets, a type of cupboard once used by pharmacists and doctors to store all their different types of equipment and medicines. There's something rather magical about having all those separate spaces in one piece of furniture. They're perfect for the collector of 'things'."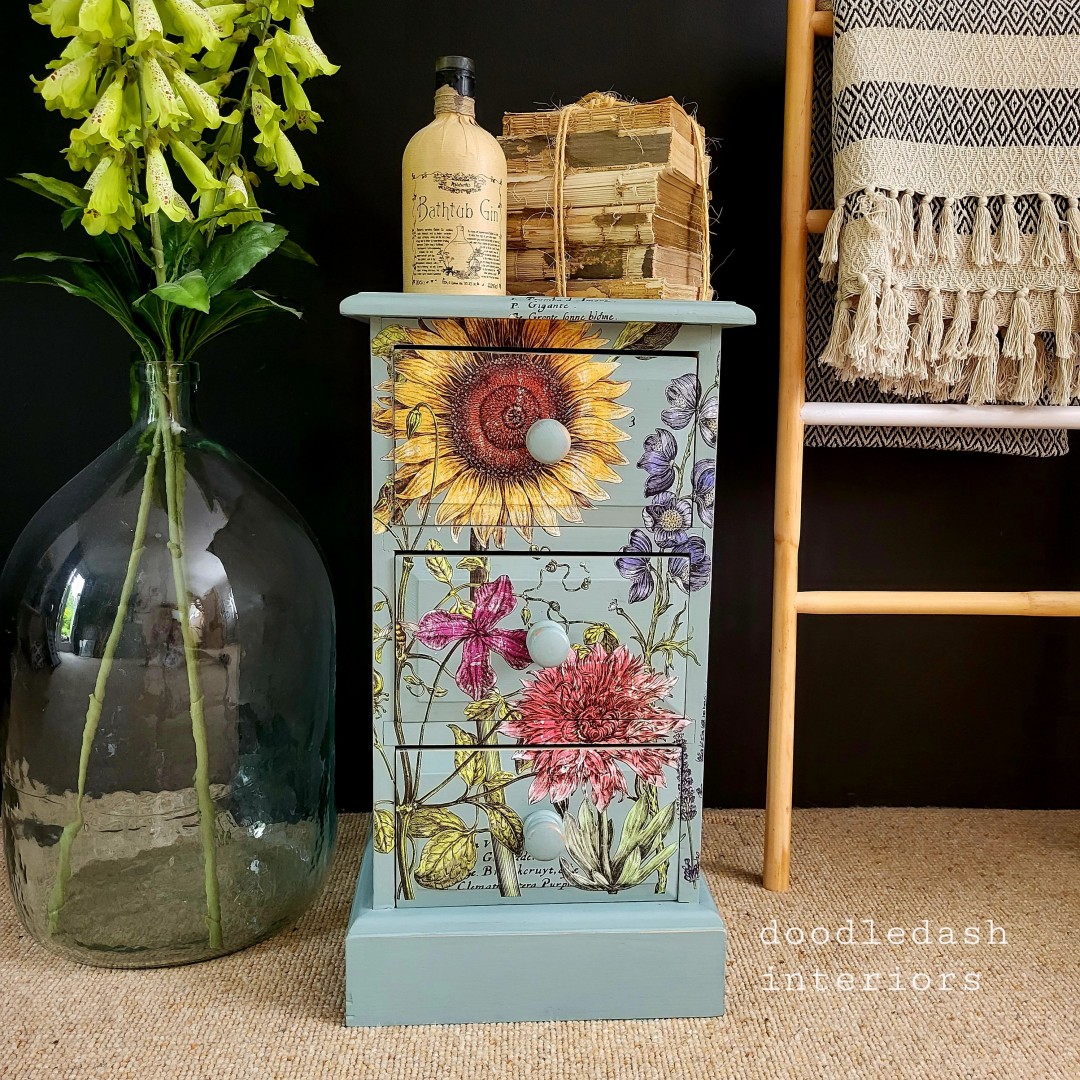 I'm rather a magpie although I collect furniture rather than items that shine. I am always keeping a beady eye out for furniture that will benefit from an individual makeover. Wherever I go in the UK, you'll find me in an odd emporium or checking out the vintage shops and auctions for elegant handmade Edwardian furniture, gorgeous turned legs or handles with luscious detailing. Then, twice a year, I drive across to the giant 'brocantes' in Amiens, north west of Paris, where in April and October more than 50 streets become one of the largest flea markets in France, with thousands of stalls selling just about everything. The French love their outdoor markets in France and I come back with pieces from the turn of the last century, and furniture with the graceful, curved cabriole legs and even marble topped. They're just what you would imagine discovering in a French chateau nestled in lush green orchards and vineyards under a summer blue sky. In fact, Escape to the Chateau is my all-time favourite TV programme and the mainstay of my furniture collection has that understated gentle elegance of shabby chic in neutral ivories and greys, wedgewood blue, taupe and organic light browns, and soft spring greens. Adding gold embellishments or edges with stencilling or gilding wax can elevate a piece from the rustic homely charms of the Loire valley to Marie Antoinette's Parisienne luxury.
I also decorate pieces with a calming coastal vibe which is very popular here in landlocked Oxfordshire, or inspired by the garden in spring and the joy that brings, to add flowers to a room all year round. I love to go bold and boho with layers of free-spirited colour that add energy to a room. Others pieces are much more unusual and intriguing. A piece I made recently for the Artweeks festival," she continues, "is a misty grey-white chest of drawers with an ethereal white horse across its front. I have created an aged patina on the wood, with layers and textures so that the wood looks weathered, from which the horse's head is appearing rather mystically, perhaps harking back to the folklore around Uffington's white horse and the the other chalk figures on stone age over the border in Wiltshire."
During Artweeks, a selection of Deborah's characterful Doodledash Vintage & Home furniture will be on show at the Deddington Arms Hotel (Artweeks venue 196) alongside paintings of sweeping skies and seas by Jo C (Stroke of a Brush) and bespoke jewellery in gold, silver and platinum incorporating precious and semi-precious gemstones, handmade by jeweller Emily Fermor.