As an artist, Sarah has always been inspired by colour and the wonderful turquoise seas around the Cornish coastline, in particular. "I'm always looking for colour contrasts and there's something amazing about the deep blue waves with white foam against the black rock. I'm also looking for movement and show this spontaneity and unpredictability with lots of texture, often using a bristle brush for the spray. In contrast, my abstract pieces are precise and considered and evolve much more slowly," she explains.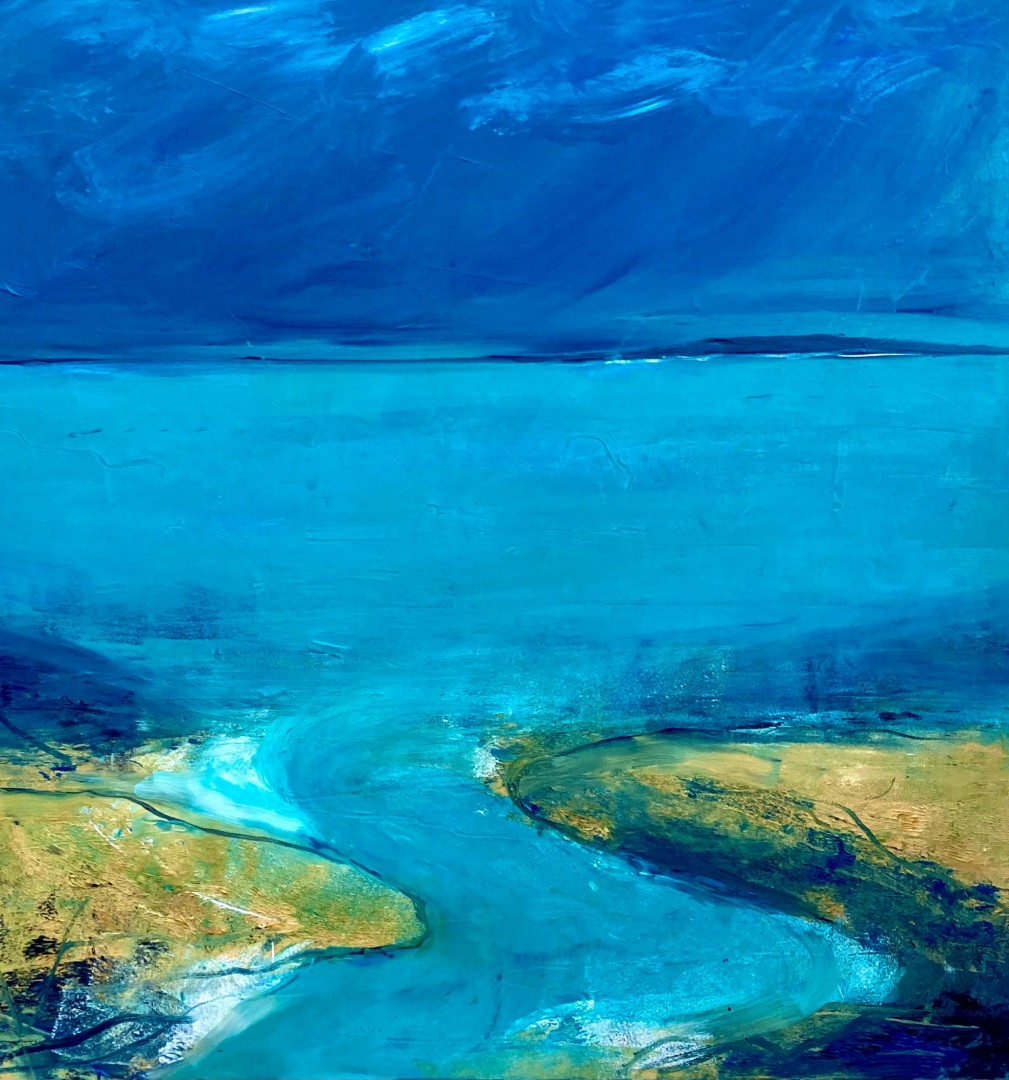 "I became interested in wind energy three or four years ago" she says. "Previously I had mainly been painting seascapes. I grew up by the sea and go to St Ives as often as I can to walk the coastal paths, I am always inspired by the great outdoors. I noticed that I was painting more and more stormy seas, because that is what I was seeing, and it made me realise how the weather is changing. Watching the sea in a big storm is tremendously exciting but I began to think about why there are so many now – there was one winter recently when the UK had one proper storm after another with gale force winds lashing the whole country for months – and I began to think much more about climate change. My husband had been working in the renewable energy sector and we were both keen to help people understand what was happening better and encourage a move away from fossil fuels in our own fields."
"I've also always loved wind turbines", Sarah adds. "On my way to Devon and Cornwall, and when visiting family in Bath and Bristol, I often travel on the road that runs past Westmill Wind Farm on the western edge of Oxfordshire where there are five towering turbines which you can see from the Ridgeway and Uffington's White Horse. You can visit the wind farm and it's amazing to stand beneath the blades and watch them turn. I had heard them described as a blot on the landscape but I find them beautiful! They're majestic, elegant and graceful and that's what I'm keen to show in my paintings. Some show them standing proud against the sky; others are more abstract, with a geometric or cubist influence as the rotor blades divide the sky and the landscape into shapes.
My husband had one of these abstracts, Winds of Change, as his Zoom backdrop during the first lockdown in 2020 as he gave presentations etc, and the Global Wind Energy Council saw it, and then commissioned me to do a painting for them for the UN Climate Change Conference COP26 held in Glasgow last November. I was invited to go out on a boat to see Rampion wind farm out at sea off the coast of Brighton. It was incredibly beautiful. Rampion is the only offshore wind farm on the south coast although there are others in Kent, Suffolk and Norfolk and along the East Coast, some in Scotland and a couple in Cumbria. I'd had no idea that the UK is actually very good at harnessing wind power and it's a field that's developing at a rate of knots. One lady came to my Artweeks exhibition back in May and was telling me that her wife is the only woman working in a control centre on one of the largest windfarms that's being built off the coast near Newcastle.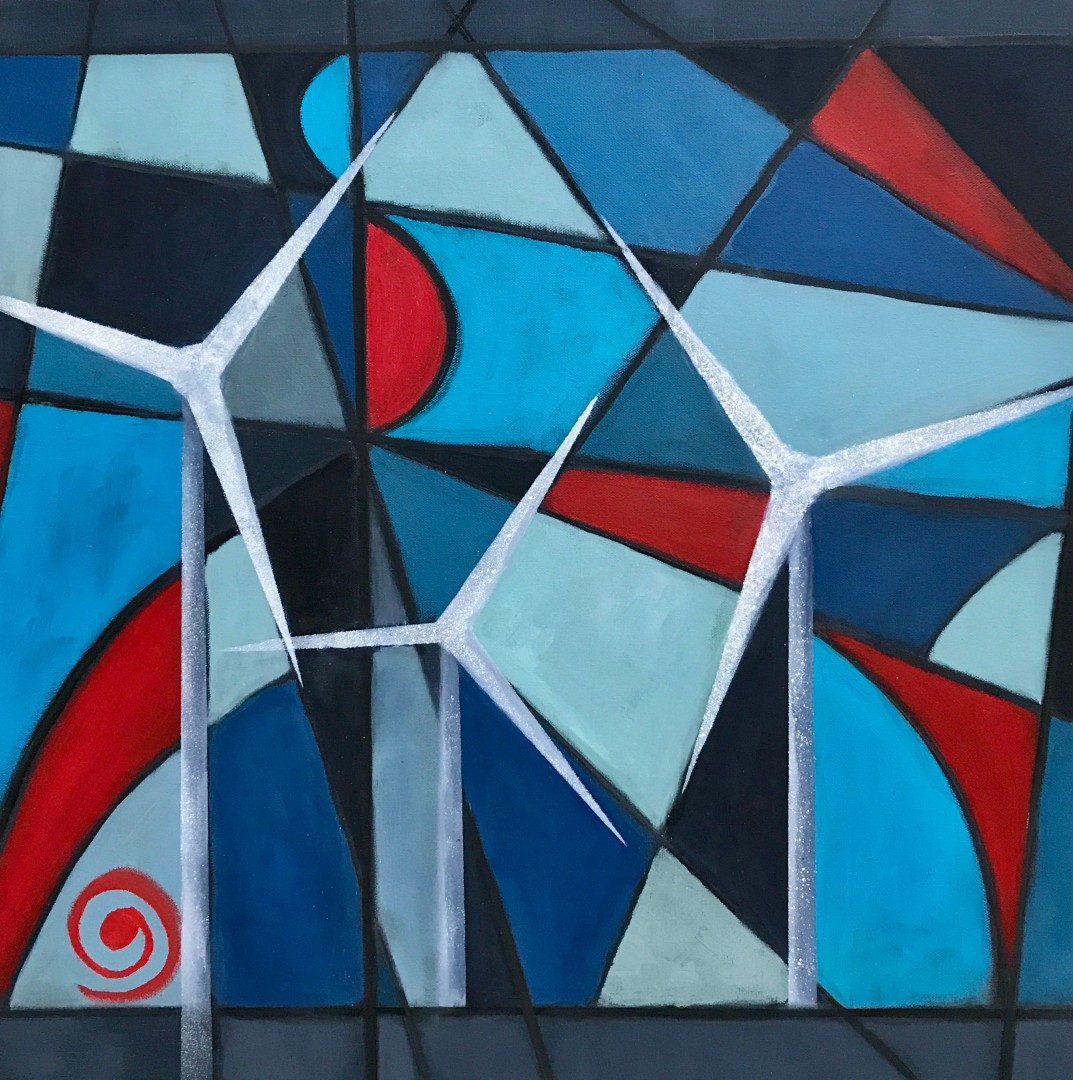 People have been getting much more interested in renewable energy over the past few years and I have had visitors this year coming to see my art because they also love the turbines and what they stand for as a longterm solution to many of the world's problems. Capturing natural energy like this is absolutely the way forward for us as a species if we're to have a future on this planet, so wind turbines are a strong symbol of hope. I'm optimistic that we can and will reduce our use of fossil fuel which is clearly so bad for the environment and also diminish our reliance on volatile supply chains.
I'm also interested in the power we can generate from the flow of water. The potential is phenomenal, though the best way to capture it in the oceans is still in development: there are issues around coastal waters because of erosion and the tidal flow and movement of the water which provides the energy is also an engineering challenge. There are lots of hydroelectric schemes that generate power from rivers and waterfalls though, and Norway and Denmark are leading the way in using them. I went to Iceland a couple of years ago and was wowed by both the colours – the white, blue and black I love, with lime green moss and the red roofs of the houses too – and their geothermal energy. It's an incredibly dramatic place, there's a strong sense of the raw elements and their power, fire, ice and wonderful waterfalls.
Most recently I have started to investigate and paint solar panels. Solar farms can be attractive when the light bounces off them, they reflect the sky and look almost like lakes but it was the photos of the whizzy circular designs in the deserts of Dubai and Nevada, for example, that captivated me. They have radiating rings of panels, and seeing them against the setting sun they were breath-taking, symbolising heat and warmth. I saw them as glorious rays of hope because there's such potential there.
Visually I see this light-dark dichotomy between the dark coal and oil that we bring up from deep underground and which has such a detrimental effect and these new technologies that can take the energy in the natural world and turn it into energy we can use for a cleaner future. It's clean, free and sustainable, and nearly every country on the globe has either sun or wind in plentiful supply. Let's do this!"
For more on Sarah and her art visit sarahbondart.com