For 30,000 years humans have been making objects from clay and hardening them in fire – from functional vessels to ritual figurines and decorative art. And you can see 21st-century design combined with these age-old techniques during Oxfordshire Artweeks.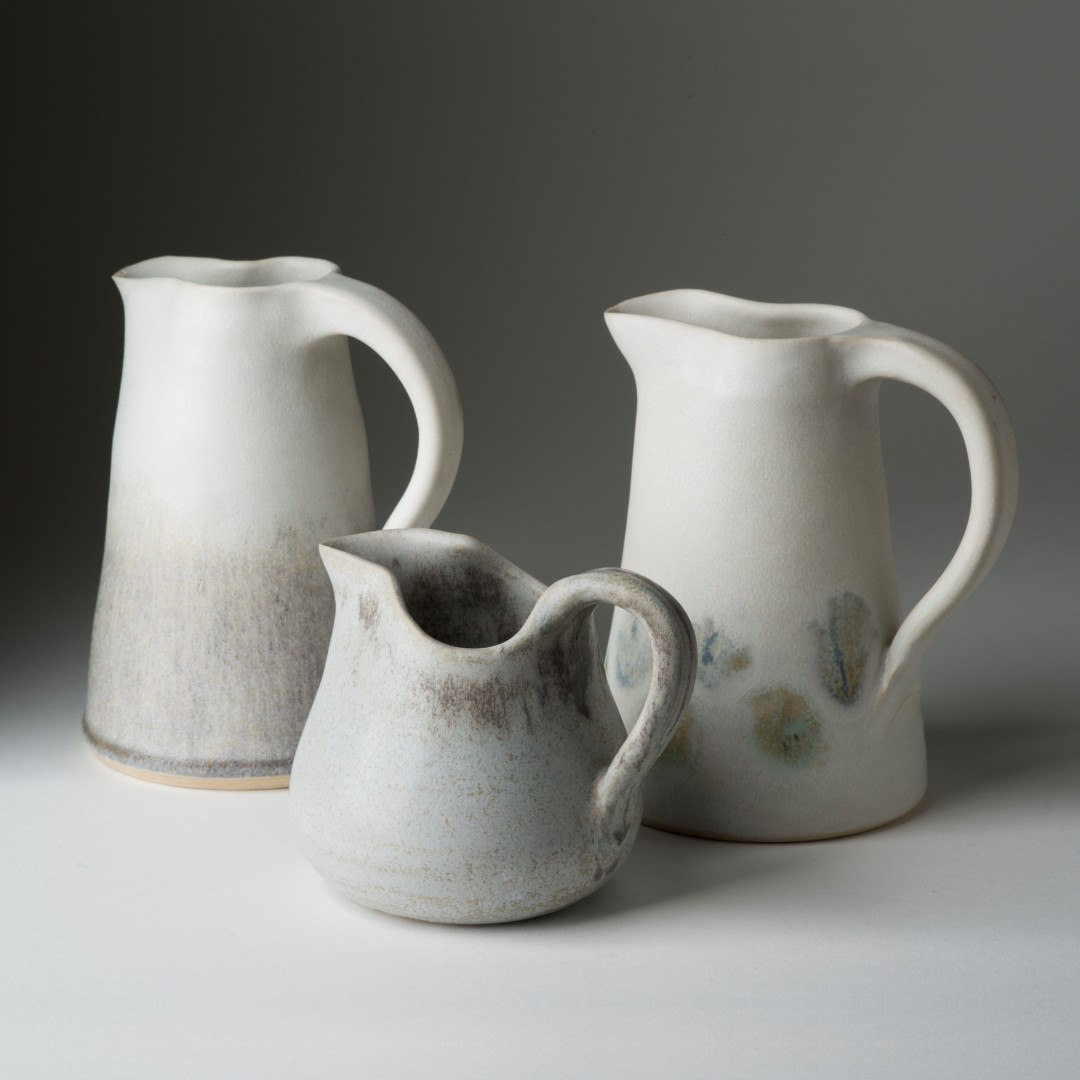 Oxford potter Tam Frishberg (Artweeks venue 20) describes how growing up in the wilds of Northern California led her to pottery. "We camped out under the cypress trees while building first a barn and then a house. I was used to using my hands and getting mucky so creating with clay was a natural step for me. I love being part of the centuries-long human endeavour to fashion vessels to use from elements in the earth. There's a kind of magic in sitting at the wheel and transforming a lump of clay into a shape I have envisioned, and it gives me pleasure to think that my pots will become part of someone's daily life. Several of the shapes I create have been inspired by ancient forms seen in museums, particularly the Ashmolean with its collection of vessels from across the world and the centuries. Because line and shape are uppermost in my mind, I tend to decorate in a fairly minimalist style using tranquil, subtle shades often with a hint of landscape. People often comment that there's an almost Japanese feel of my work— and I think that's the appreciation of the beauty of a calm simplicity in life."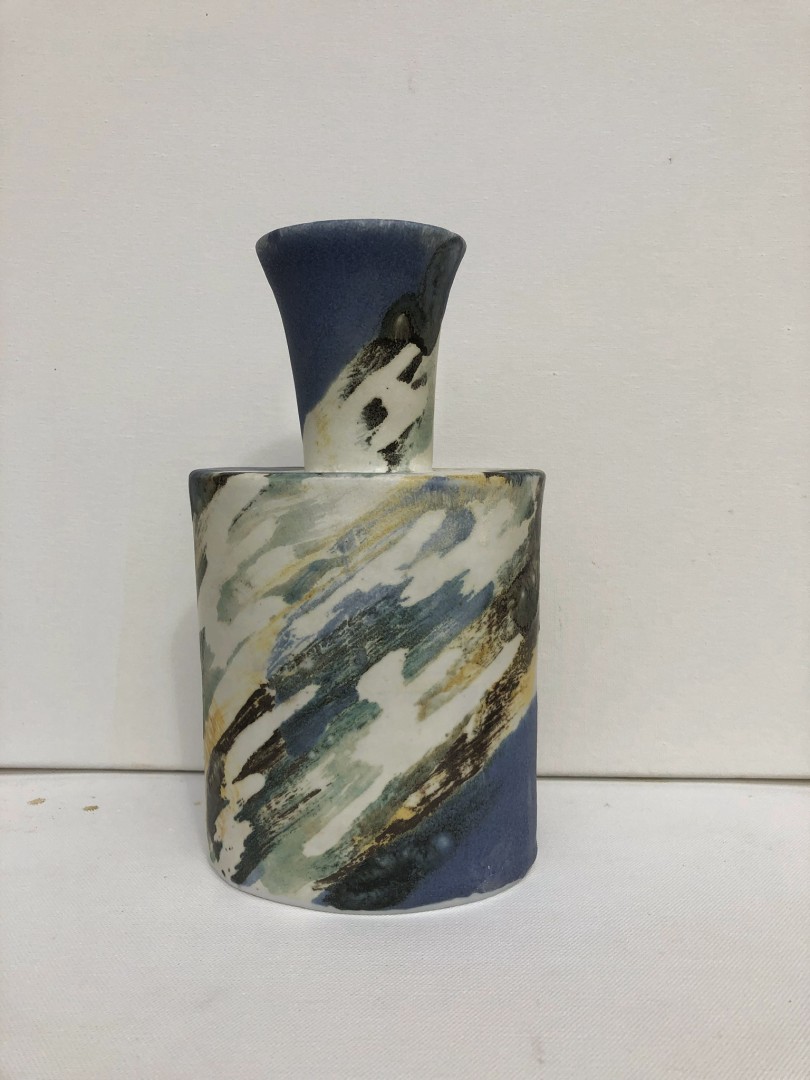 Throwing most of her pots on the wheel, and hand-building larger vases, Gilly Whittington (Artweeks venue 87) works with porcelain, despite its reputation as being tricky because of the way the brilliant white background gives the glazes an extra éclat. "I've always wanted my pots to have a feeling of spontaneity and movement, despite being static," she chuckles. "Inspired by Abstract Expressionist painters, I try to get that wonderful feeling of seemingly disorganised dynamism into each piece and I love the exuberance of the random brushwork, and the unexpected results when the colours melt and produce a new and unexpected shade. As a contrast I also make contemporary designed mugs, bowls and tableware in porcelain, with plain bright glazes.
"I always enjoy meeting people who are interested in ceramics so I am thrilled to be opening my Headington studio for Artweeks to chat to visitors about what I make, how and why! And excitingly, I'm exhibiting with another artist, Michael Kavanagh, who is including my ceramics in his still life paintings."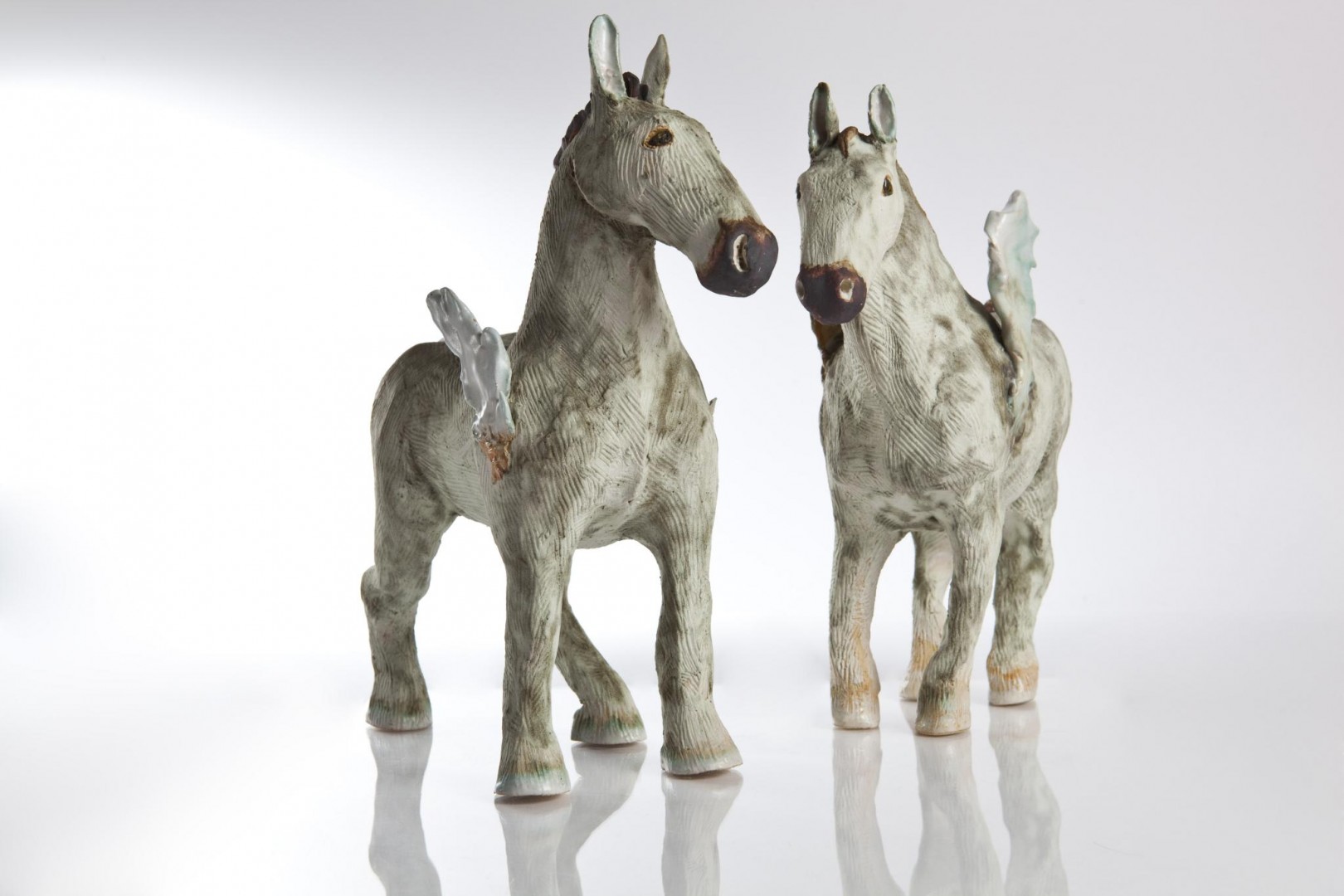 Also exhibiting in Oxford (Artweeks venue 138) Aline Stanway is best known for her ceramic horses – sculptures really – that stand around twelve inches tall from ears to ground.
"What interests me most," she explains, "is working on their form; finding that balance between making the horse's muscles and bones as true as possible whilst keeping their energy and dynamism. Originally, I studied art and specialised in extremely detailed drawings of birds: now I revel in the flexibility, tactile qualities and 3 dimensions of clay. It's very different."
"I grew up on the edge of common land, and spent much time around horses. It seems I just absorbed a tactile memory of horse form; the shape of a horse's shoulder bones under your hands, the long thin bones beneath the head as you put a bridle on, its velvety nose. Living in south Oxford, you don't have to go far to see a varied groups of horses, often with foals, near the river, drifting their way across the fields.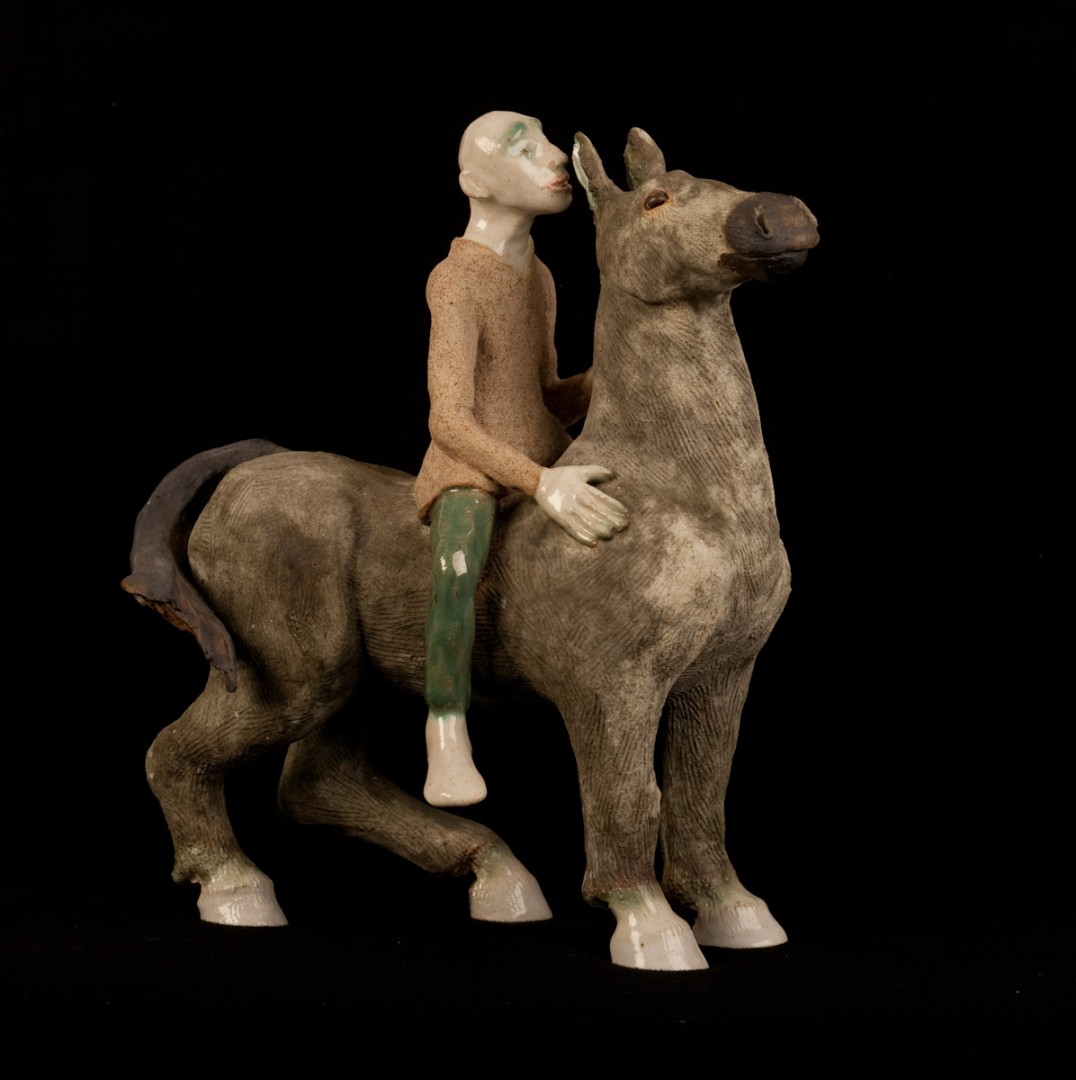 "Firstly I made horses with and without wings – almost wanting to see if they could really fly – then horses with riders who talked into their ears. Drawing and photographing horses, I noticed the amazing sculptural shape and movability of a horse's ear: their ears began to morph into shells which also have layers of meanings in myth, religion and ceremony. More recently I've looked at Tang Dynasty horses, the 'Heavenly Horses' which came across the Silk Road, and unlike the previous steppe ponies, had long elegant legs – such a challenge in clay!"
Aline hand-builds each piece, mostly using grey stoneware clay, working from sketches, photographs and books – especially Stubbs' Anatomy of the Horse – first published in 1766 – "as rich a resource now as it was then!"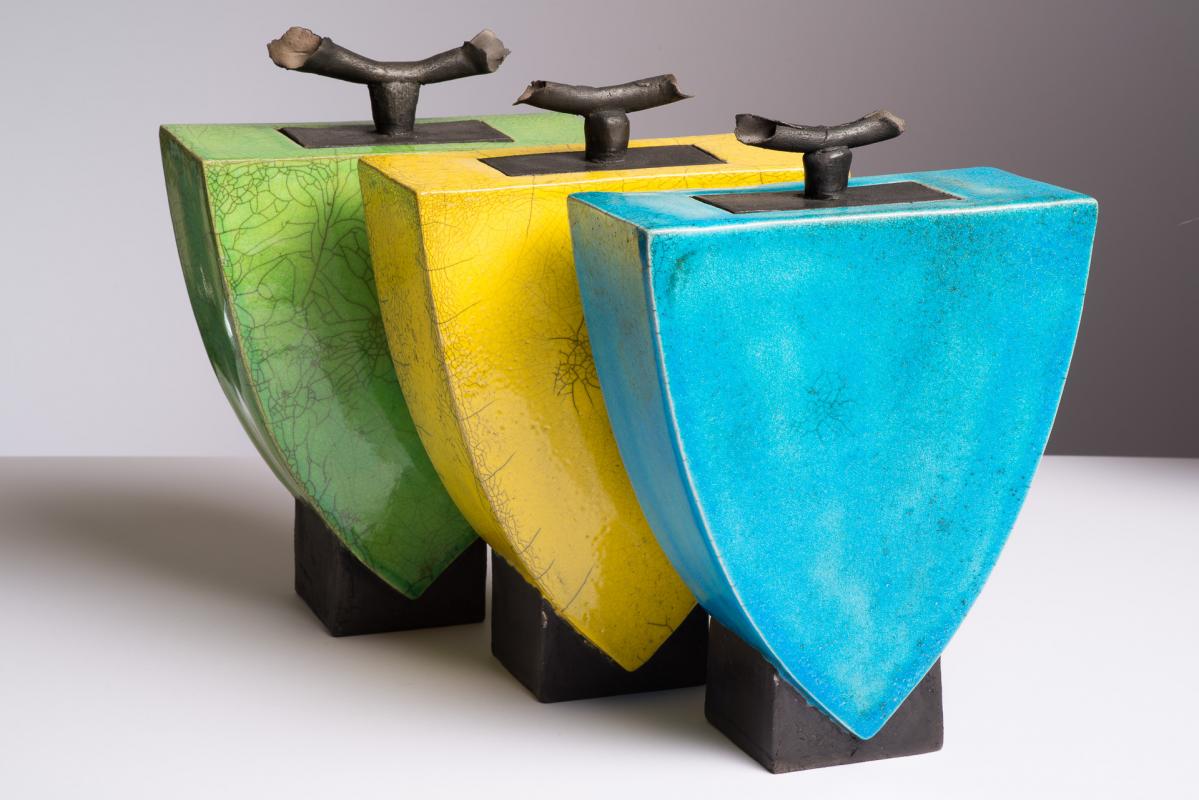 In a palette of sky blue, apple green, and sunshine yellow, many of Ian Fraser's stylish pots have that lush, rich feel of a spring or early summer landscape. Slab-built by hand using clay pieces he has cut using a template of his own devising, Ian's four- and five-sided vessels and bottles have unusual yet elegant forms that twists as they rise, narrowing towards the top with an intriguing organic geometry which would fascinate a mathematician.
Other lidded pots in striking shapes pair these bold bright colours – one on the outside and a contrasting shade inside – with black accents for a vibrant chic. It's an unusual colour choice for contemporary pottery, one harking back to the 1930s, an aesthetic Ian very much admires. "I live in 1930s house with appropriate furniture," he smiles, "and I love the pleasing cleanliness of the lines and shapes of Art Deco design. I've always been keen to create decorative pieces with that degree of style."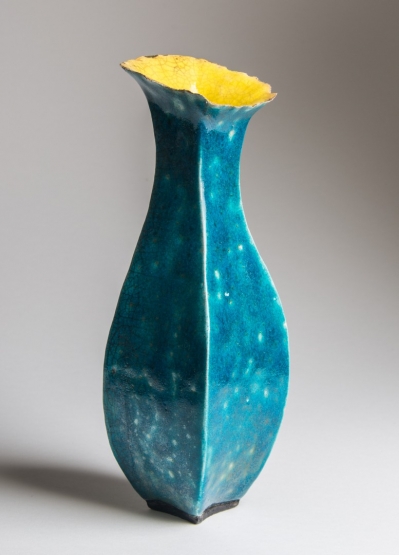 Ian's pots – both hand-built and thrown on a wheel – are created using a 'Raku' process, and each is fired for about an hour at 1000°C in a homemade kiln. The clay is white and 'gritty' which gives it the resilience to withstand the thermal shock of being removed quickly from that heat, but the glaze fissures giving a distinctive crackled look. The hot pot is then plunged into sawdust from which the cooling clay sucks carbon, giving an ash black finish wherever the clay is exposed. 
During Artweeks, in goggles and gauntlets (and long-legged trousers whatever the weather) Ian is demonstrating at Clay Works in East Hendred near Wantage (Artweeks venue 210), alongside seventeen other professional ceramicists, potters and sculptors showing all things clay from Amazonian bird jugs to Cornish harbours, and they invite you to come along and have a go!
Visit artweeks.org to see when you can visit these artists as part of the Oxfordshire Artweeks festival: from May 4-27, hundreds of artists open their studios to the public or host pop-up exhibitions in interesting spaces.