"In this heartbreakingly beautiful spring, my walks to Shotover Hill have been a lifeline," says Ella Clocksin, artist and art teacher. "Completely hidden away in the woods, well off the beaten track and with only the birds for company, I've been drawing and painting. Getting totally absorbed in the deliberate and subliminal decisions in painting can be a way of stilling my mind from the losses and uncertainties of the wider situation. It means noticing, moment by moment, what's in my field of vision and hearing, and responding on the paper in watercolour, pencil, crayon and more. It's not synaesthesia. It's more like when we dance. We hear the music, respond to it and move. I've long worked from observation to abstraction, so I'm used to processing what I see into more abstract compositions. But this current series also transcribes the rhythm and the musical undulation of birds singing in the woods."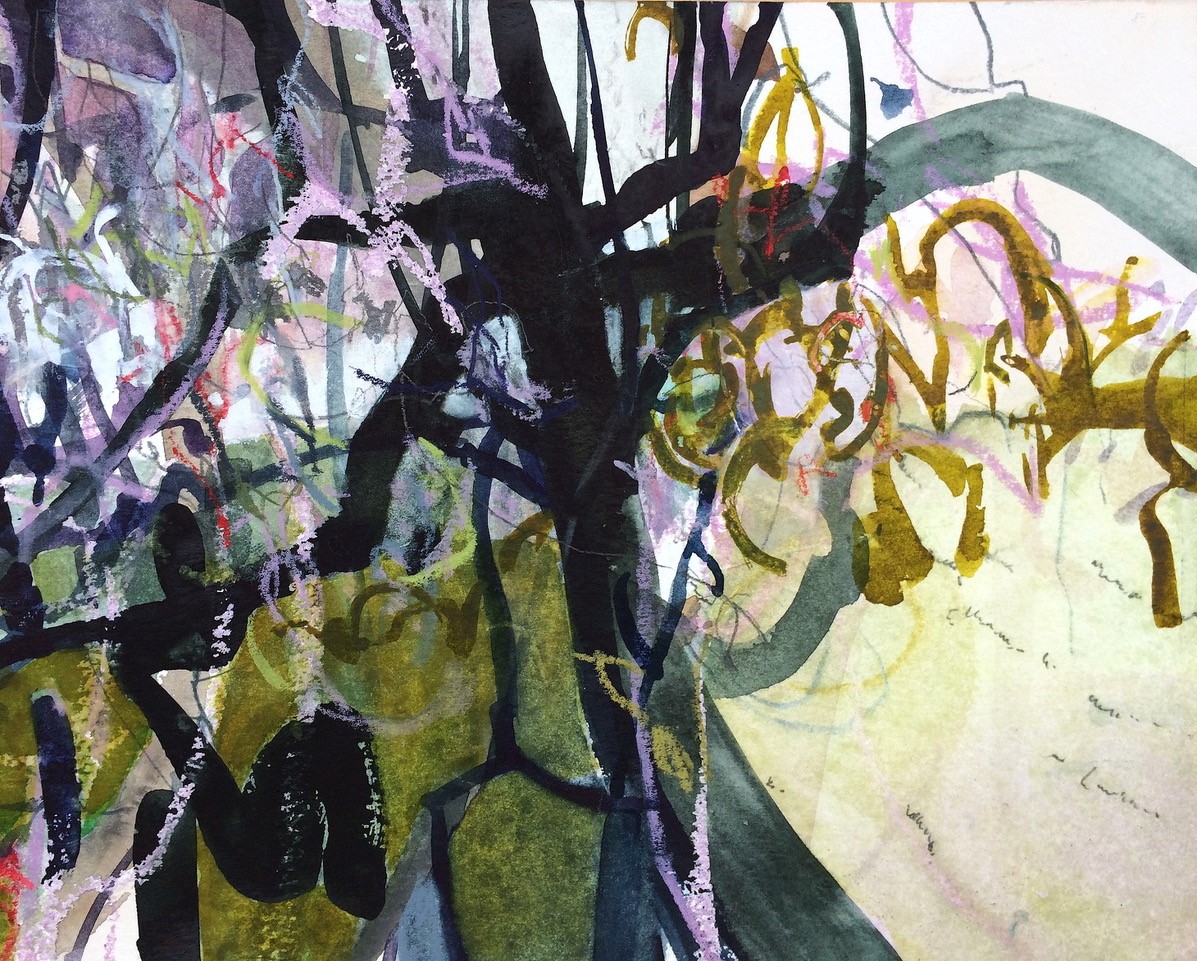 Ella's latest paintings include trees, branches, tangled undergrowth and the notations of what she hears in the woods. Her lines and shapes mimic the visual shape or pattern of the birds singing, their calls and responses to one other across the woods; the bludgeon cries of alarm, the thin, falling keen of a red kite, a blurred murmuring, a sharp clear staccato, the two-note chiffchaff, and the baroque ornamentations of a blackbird in full song.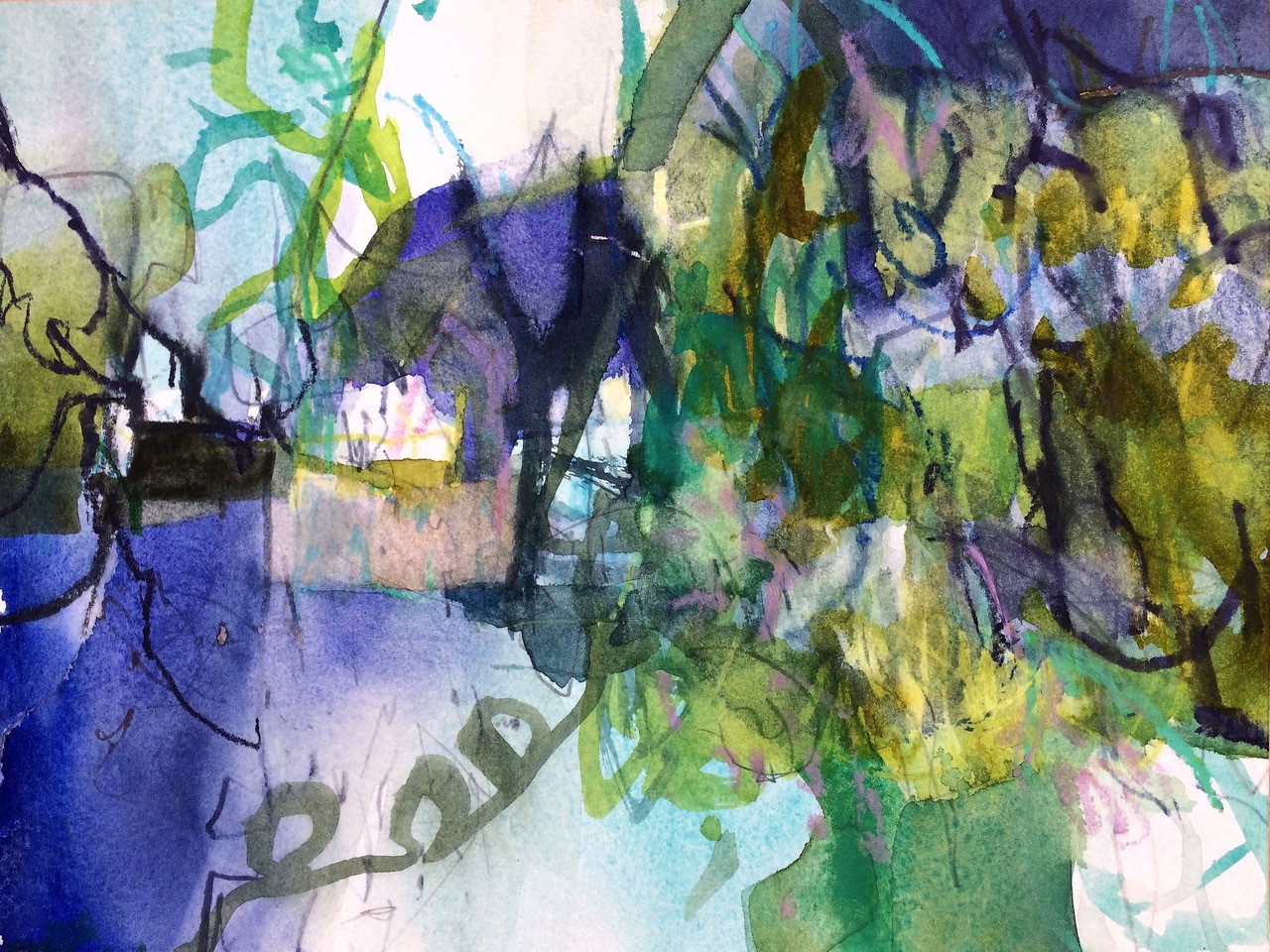 Cumnor artist Sue Side has explored the slow, symbiotic work of the forest environment with inky paintings and atmospheric etchings in an exhibition, Arboreal, available to view online over the summer.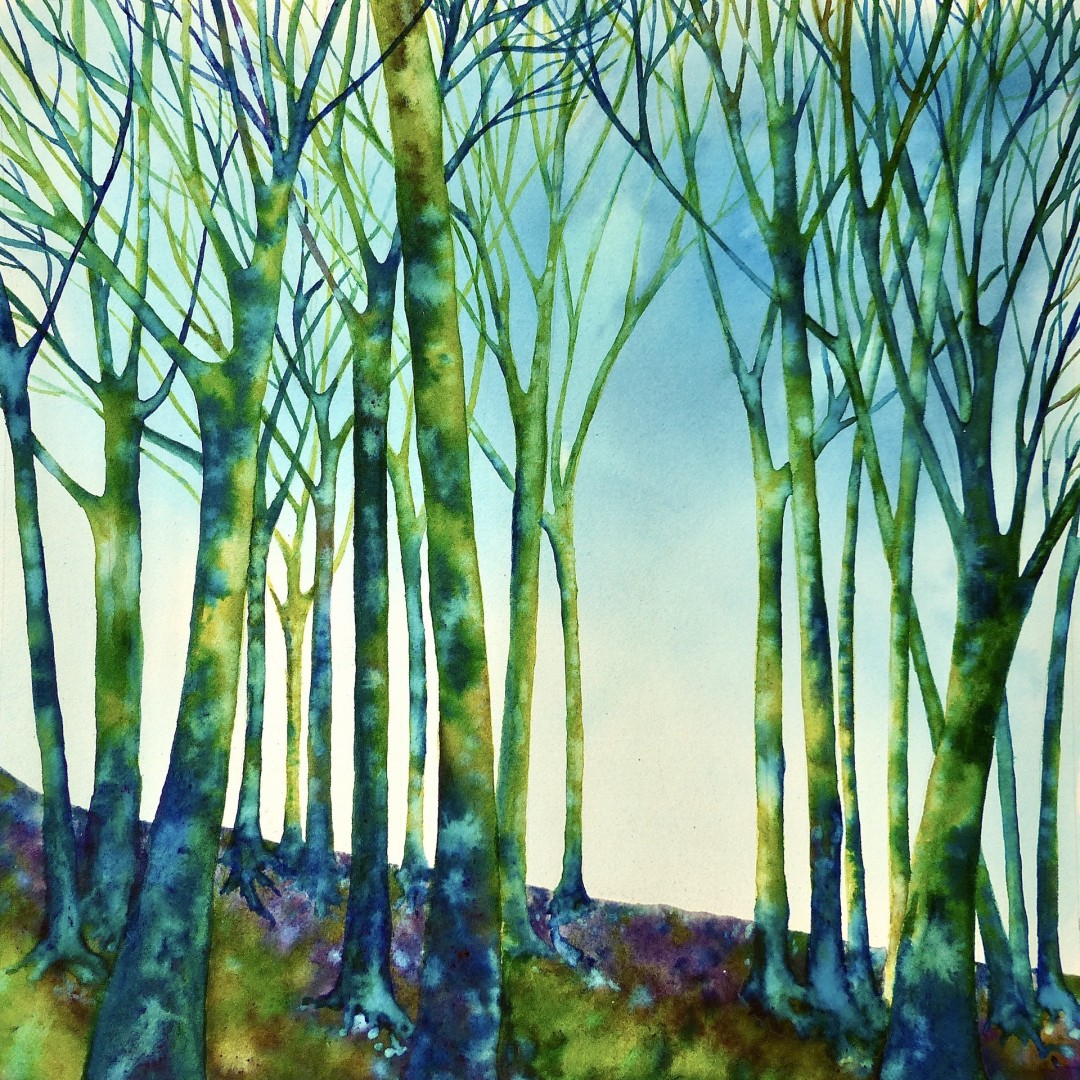 "This year, more than ever, my lifelong fascination with trees seems to resonate even louder. As the world is slowly waking up to their importance, I am shouting loud about the wonder that is trees. From their mossy root systems to their light-seeking crowns, my work celebrates these incredible carbon storehouses and the symbiotic environment of which they are part. The exhibition will take you through ancient forest, inviting you to look up into inky, sky soaring tree branches or to look down and explore intertwining webs of knotty roots. Etchings of endangered woodland animals highlight the forest as an interdependent organism. Wandering deep in Wytham Woods, which I am so lucky to live near, always brings a lift to the heart and peace to the soul. Is this due to the heady daylight oxygen and phytoncides I am breathing in or a deep acknowledgement of ancient tree language, and 'wood wide web' swirling around me? Whatever you believe, trees are essential to us and our world. It's a joy to be able to explore them."
"Trees are forever present and so majestic. They are here when we are born and will carry on long after all the people on earth have passed on. It's as if they are watching over us, and so my sculpture reminds us to value what we hold dear. That's especially important in times like this," continues sculptor Christopher Townsend.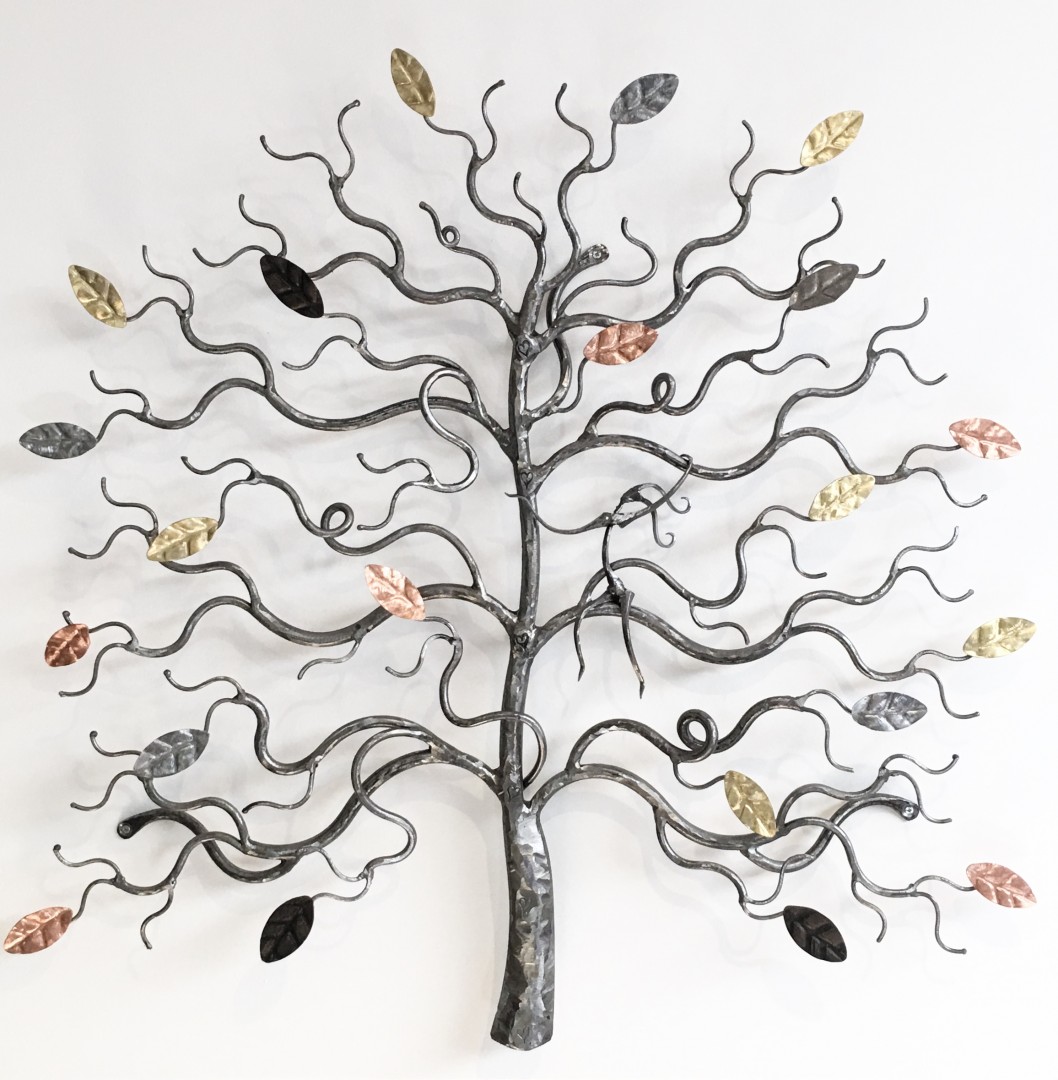 Best known for his iron tree sculptures, Christopher works in a charming rustic barn studio in Asthall, from which the beautiful lush Windrush Valley drops away in emerald green. Christopher sees his art as a way of describing and interpreting a journey through life and as a response to stimuli, feelings and emotions: the inspiration for many of his #lovethetree designs comes from the ancient and mystical Wychwood Forest close by.
His tree sculptures represent both the tree of life and the family tree, so many of his creations are bespoke with the names of family members, for example, on the leaves. Some are wall-mounted, others freestanding, windswept, or even Daliesque, and the natural steel finish of an angle-ground tree almost glitters with life. The shadows add a further dimension so that the tree's impact moves with time, throughout the day.
Populating his metal forest, Chris also creates leaping fish from iron, giant dragonflies and huge Day of the Triffids seedheads a metre in diameter. Here too small characters roam like The Borrowers, made from horseshoe nails, these figures dance, spin, rock and even climb amongst the leaves that catch the light along the curling twisty branches of the hazel or the extraordinary corkscrew willow.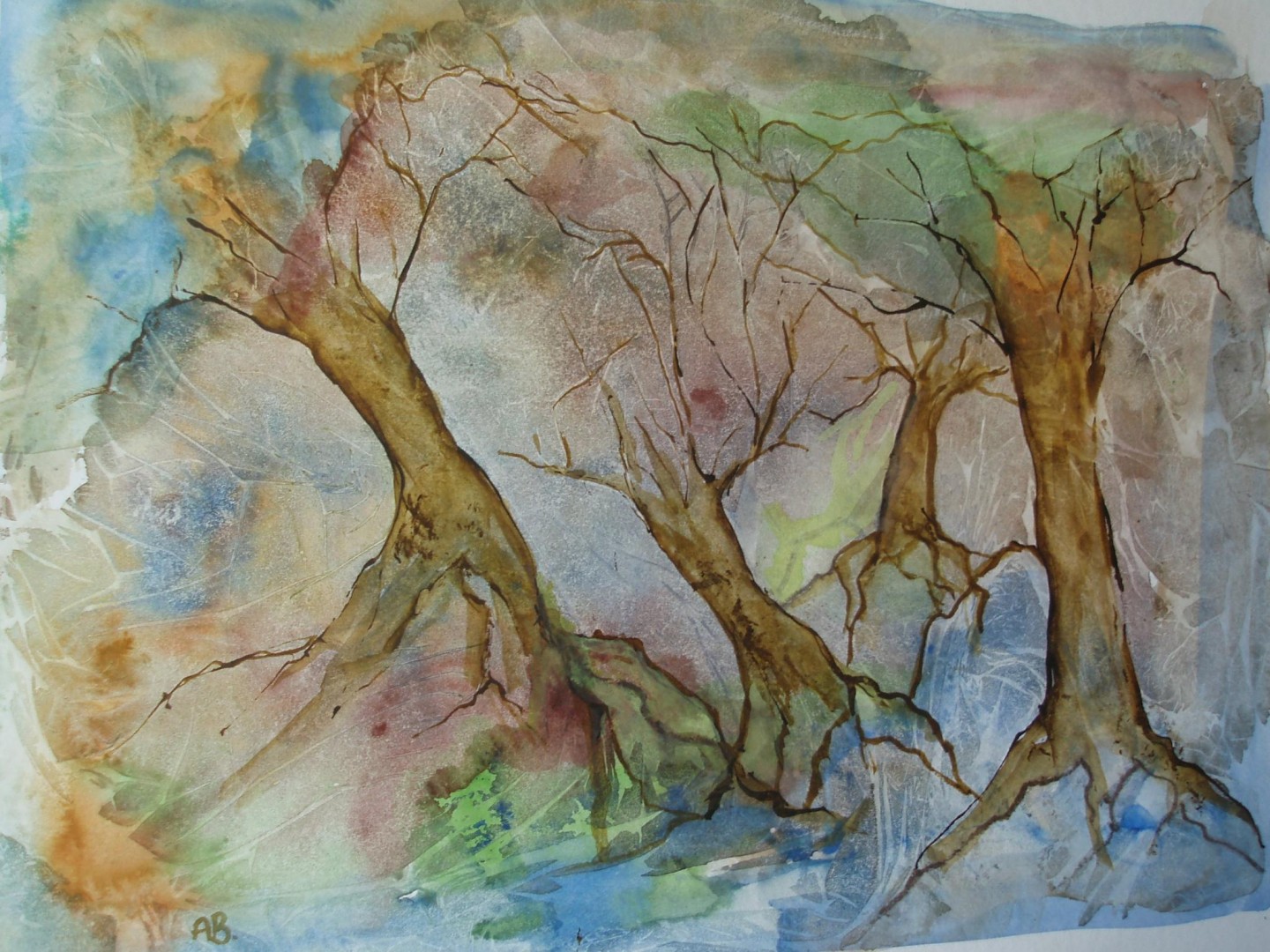 The ethereal woods of literature have inspired a new series of watercolours and mixed media paintings by Enstone artist Andrea Bates. Her semi-abstract paintings are inspired by parallel worlds and painted from both memory and her imagination as she depicts scenes from the book, The Hidden Life of Trees and from Tolkien's Lord of The Rings in which he describes a fictional Fangorn Forest. "Here trees sway and confer and take on a life of their own," she explains. That trees are living, breathing entities in our world comes across strongly in her work.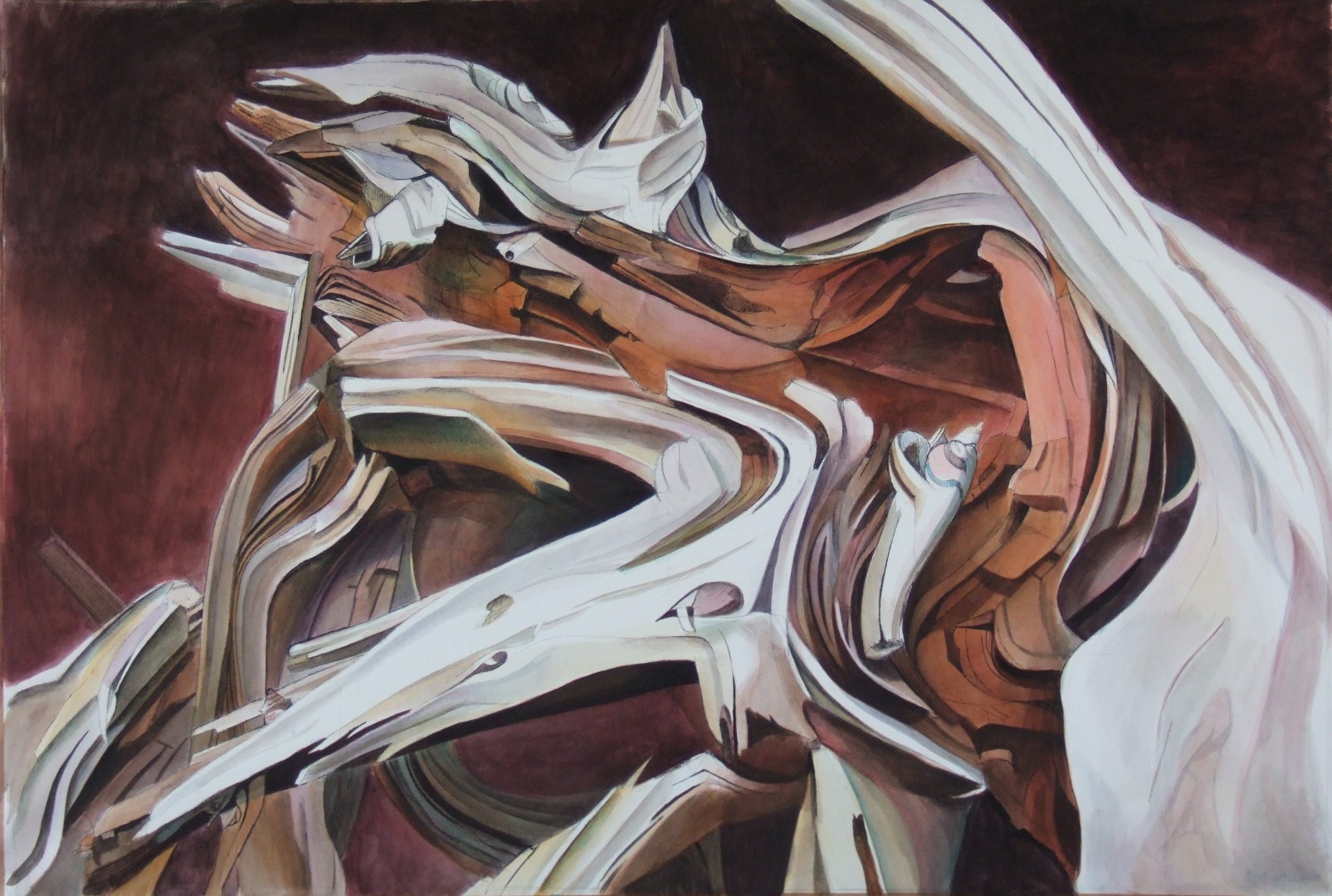 Haunting trees also appear in the paintings of Shipton-under-Wychwood's Julia Sorrell who focuses on careful observation, and reduces the scenes she sees using warm and cool colours. She delights in giving dignity to the overlooked subjects. Her husband, furniture-maker Ian Sanders, hand-carves unique tree-tables inspired by the trees from which they originate. Crafted from native British trees, his finished tables are both a smooth and flowing tree sculpture and a piece of decorative furniture. Ian was originally a botanist studying plant growth and form. His pieces, gloriously timeless, reflect his respect for the natural world. Each could almost have been carried from the woods or a fairytale; a unique piece of both time and nature for the home.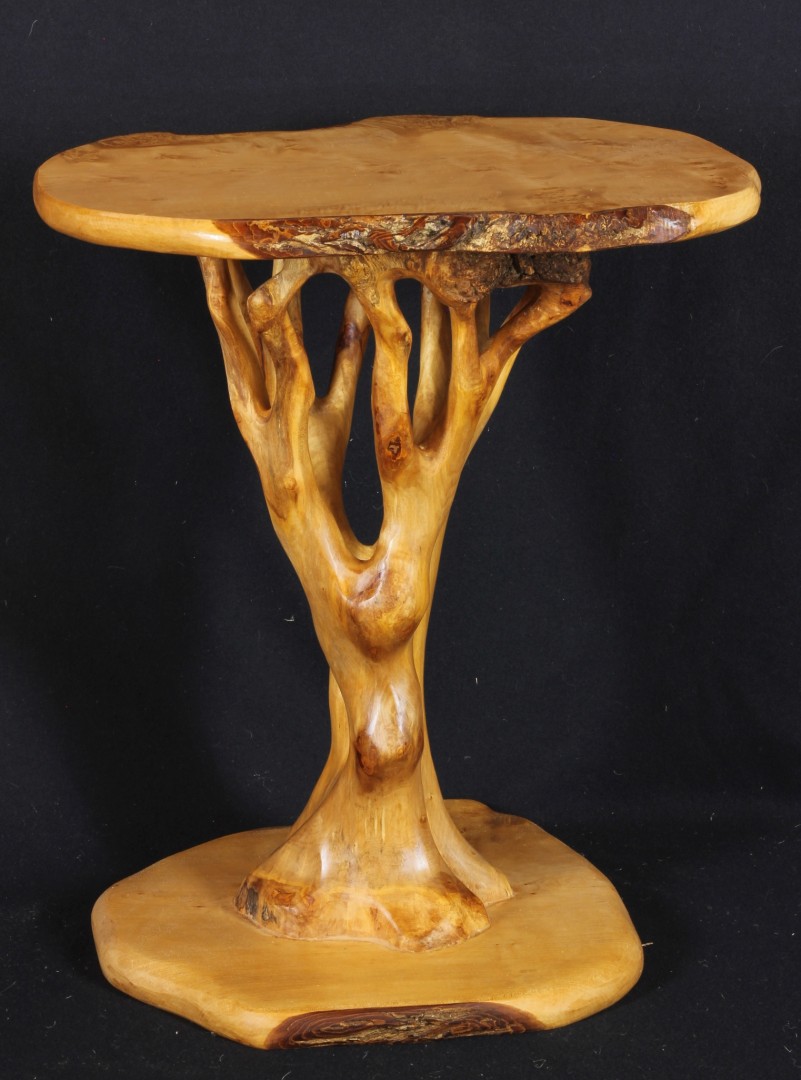 It is the famous 15th-century painting by Paolo Uccello, The Hunt in the Forest, which hangs in the Ashmolean, and the promise of tales within it that inspired artist Christine Erica Bainbridge's latest series of art. "Uccello's success with perspective draws my imagination deep into that forest with its hint of moonlight and mystery," she explains. "It is a forest I want to explore leaving far behind the energy and noise of the hunt which invades its silence. I started painting, thinking how colour could express the forest in all its different moods. One painting led to another and the magic of the forest took over.
"I have always loved painting trees and during recent months have spent a lot of time walking in the ancient Holton Wood and nearby Bernwood Forest," she continues. "There is always the anticipation of seeing deer as I search through the trunks to catch flashes of movement. The plantations of aspen are particularly inspirational as they have similarities to Uccello's painting; the canopy of rustling leaves high above with their tall branchless trunks which diminish into distance, and hint at the unknown beyond."

You can see more on all these artists and others at artweeks.org where the May festival art trails – including one that takes you 'Into the woods' – remain live over the summer.