Normally each May, Oxfordshire blossoms with art as the Artweeks festival manifests in hundreds of venues throughout the month like a spring garden full of colour. This year however they have taken this splendour online with an astounding range of work to explore, inspired by landscapes, flora and fauna both close to home and further afield.
Meet first photographer Ian Bailey for whom photography is a long-held passion that began many years ago as he captured both family moments, developing prints first in the bathroom ("most inconvenient for everyone") and then in a garden shed dark room."It may have been tiny physically, but I could really lose myself in there," he chuckles, "sometimes only emerging in the small hours of the morning. Now I have a studio where I do everything digitally," he continues.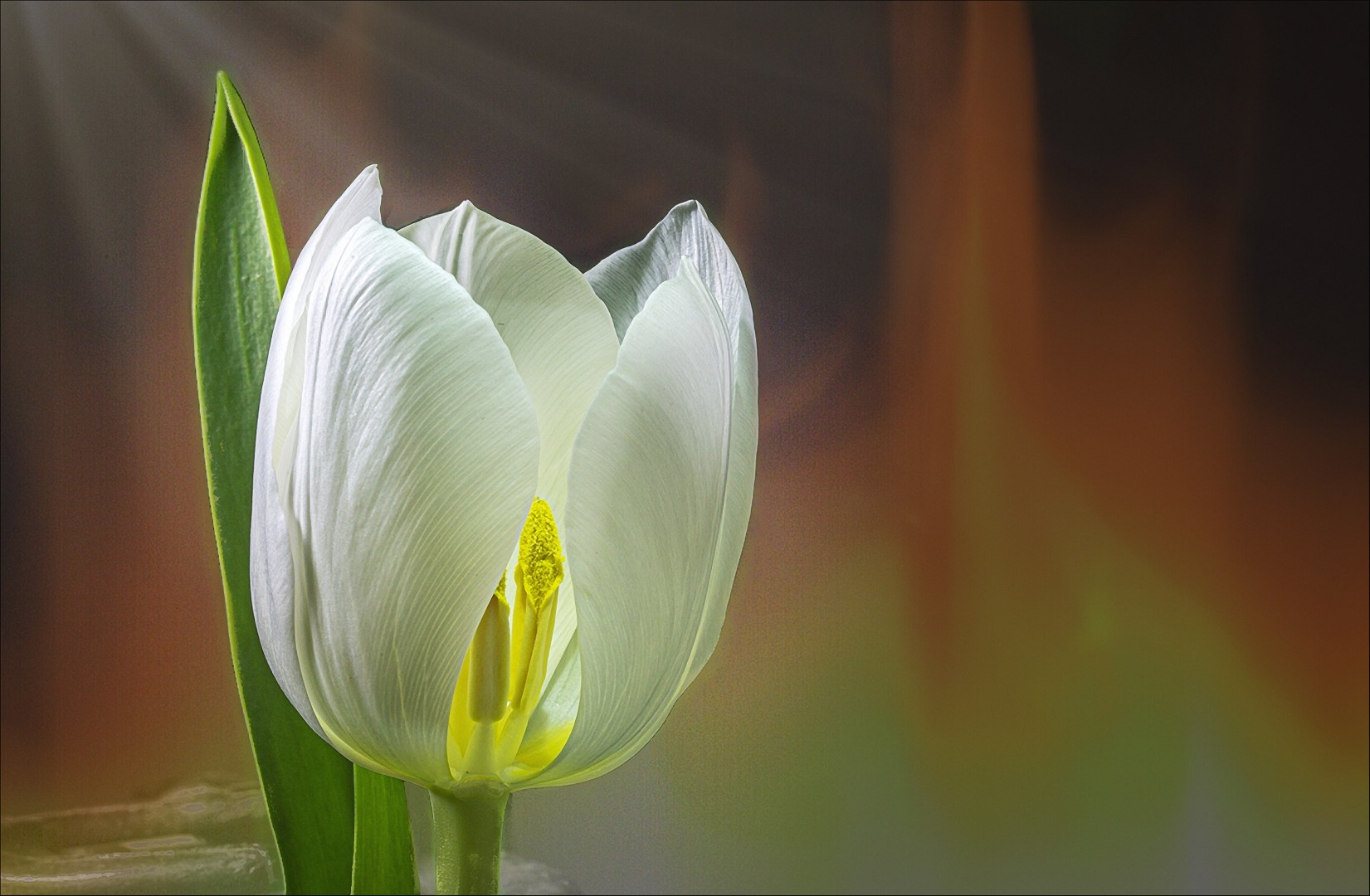 "For a long time, I was most inspired by the west coast of Scotland. It is so different with the towering mountains and dramatic seascapes. I loved the quiet and isolation up there and the way the light constantly changes with the weather. It could be dark and grey and then just a few minutes later the clouds disperse and there'll be a fresh feeling and dramatic sunset against a clear sky."
Ian was introduced to the west coast of Scotland by his wife, Heather, who is also showcasing her art in the Artweeks festival portal. She grew up in Glasgow and fell in love with the coastal scenery during family holidays where the light, so they tell me, is incredible.
"Against the backdrop of the giant mountains people seem so insignificant. I strip the shapes of the landscape back to the bare bones and try and capture that solitude, and the space (both mental and physical) that you find up there." says Heather, and this thread of purity, a desire to uncover and admire the elements within, also runs through Ian's work.
However, although they often see a creative opportunity at the same time, Heather and Ian interpret the shapes that appear before them very differently, Heather imbuing her paintings with emotion whilst Ian has a more measured and technical approach. His landscapes tend to be black and white to highlight differences in shade and tone, whilst she squeezes pure deep colour onto canvas and mixes it in situ. Her palette is rich and vibrant with resonant oranges, rich reds, pinks, purples, blues and greens. "North Scotland has almost citric greens that jump out at you," she smiles. "The Cotswolds are mellower, homelier shades, and they are surprisingly orange if you look. Where the reddish earth has been turned over in the fields, it is striking in sunshine against the olive and grass greens of the rolling hills."
This beauty and simplicity of the local flora is also reflected in Heather's more recent pieces. "Two years ago, I was invited by the National Trust to express the historical grounds at Upton House in art and so I began painting flowers," she explains. "I have always been very much influenced by Charles Rennie Mackintosh, having walked past his Glasgow School of Art every day when I was a schoolgirl. Inspired by the stylised clarity of art deco flowers, I too stripped them back to a linear simplicity on heavily textured emerald green backdrops."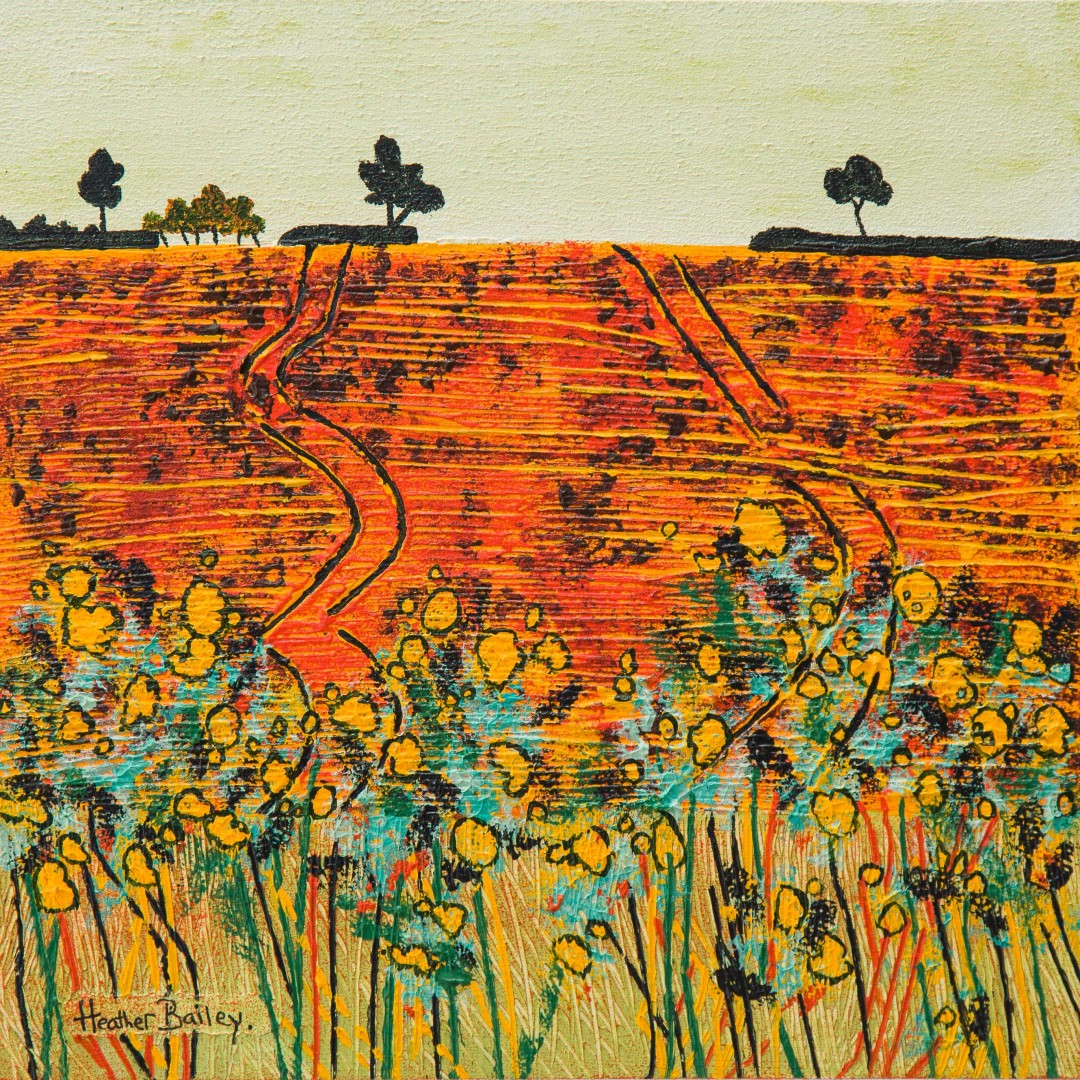 More recently, Heather has taken an abstract approach in which the vibrancy of each flower is created by the serendipity of paint pouring, an effect that gives organic delicacy as random flows curl colourfully inside each flower's outline.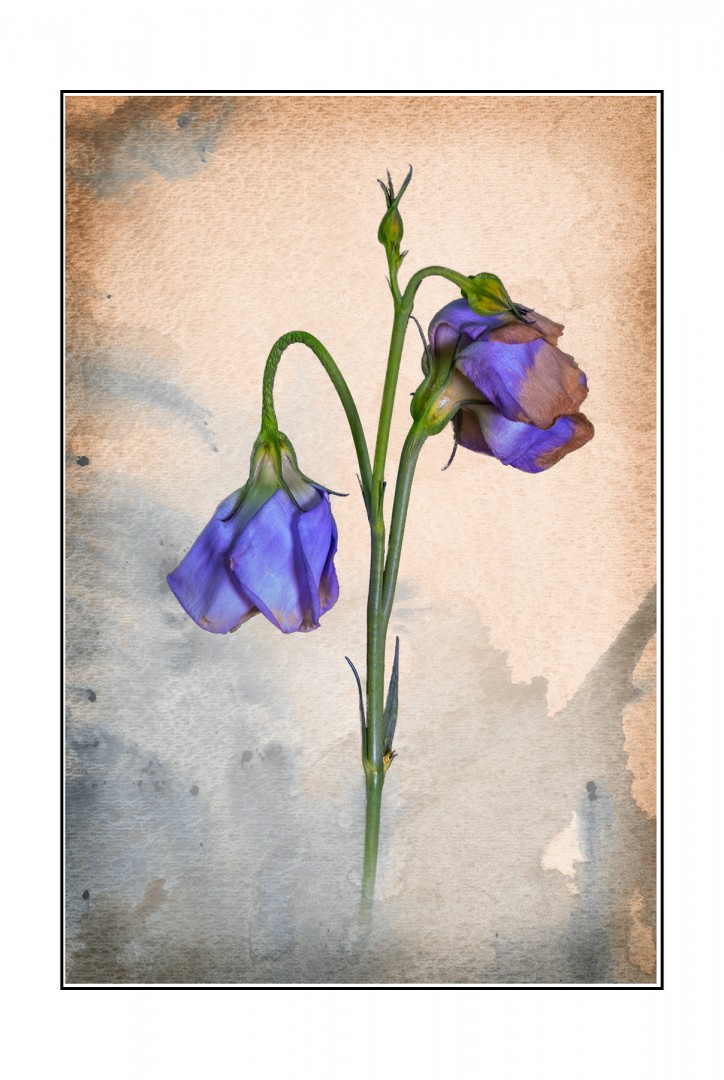 Although resident in the Cotswolds for 20 years, Ian has also only recently taken an interest in the local flora, using a macro lens to focus on the smallest details of the everyday flowers that herald in the spring.
"Everything in nature is remarkable," he says, "and while the huge panoramas in Scotland are amazing, there's also true beauty and complexity in a single flower, in the lines of its form. I wanted to highlight that, capturing its wonder and stripping from it any background distraction, allowing a single flower to simply speak for itself."
"In one series, for example, I recorded the deterioration in a tulip over three weeks, where nothing else in the picture set up altered. It was fascinating to see natures changes this way. In others I use the same flower and strengthen its colours against different background shades to evoke different moods."
Originally planning to exhibit alongside Ian and Heather, and also preserving the flavour of the Cotswolds in her creations, ceramicist Penny Varley hand-builds bold, contemporary, decorative and functional vessels in organic flowing shapes, using colour and texture inspired by the changing flora and fauna, weather and landscape.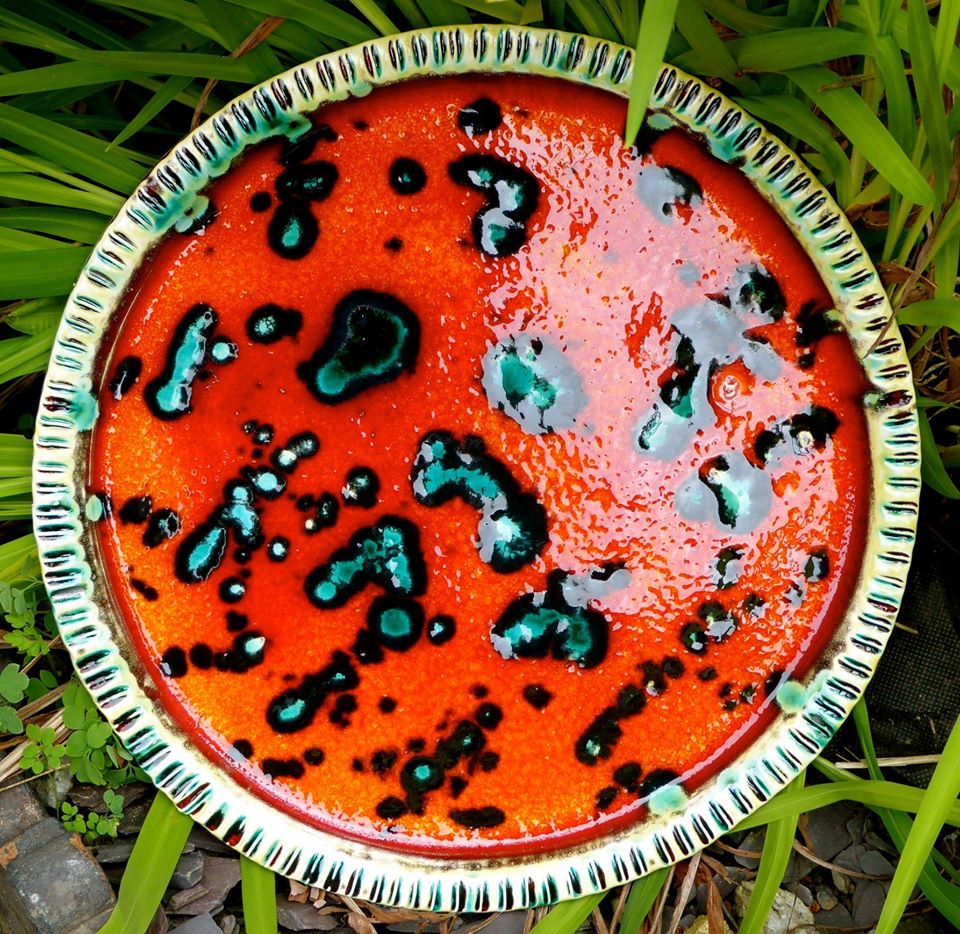 A keen walker, Penny is inspired by the colour and textures she observes when walking along the Edge Hill escarpment, storing the different angles of the woodland carpet and the changing light through the seasons in her memory and combining them with the textures of the natural treasures in her garden: bark, twigs and seed heads. Often the organic matt glazes of autumn colours contrast with the bold, vibrant hues of summer, giving a dramatic and sometimes surprisingly fiery embodiment of the countryside around the calm sanctuary of her garden studio.
The peace of the countryside is broken up by the sound of animals, whether that's the rustle of a hare in the hedgerow or the lowing of cows, and this dimension of the natural world fills the canvases of Melanie Charles whose contemporary spin on traditional animal portraiture, in a bold style using blocks of colour, brings a touch of sunshine. She particularly enjoys painting different breeds of cattle, from Highlands to Friesians, in her garden studio to a backdrop of birdsong. "Cows are my absolute favourite," she explains. "They are very inquisitive and so when I am out with my camera, if I catch one's eye, it will come over to say hello, and usually the whole herd will follow. They are such gentle giants, although I do tend to stay the other side of the fence. Cows have adorable eyelashes and soft slobbery noses which are great to paint, and I love how each and every one has different markings giving them their own character. Most Friesians have black noses so finding one with a pink nose is something special."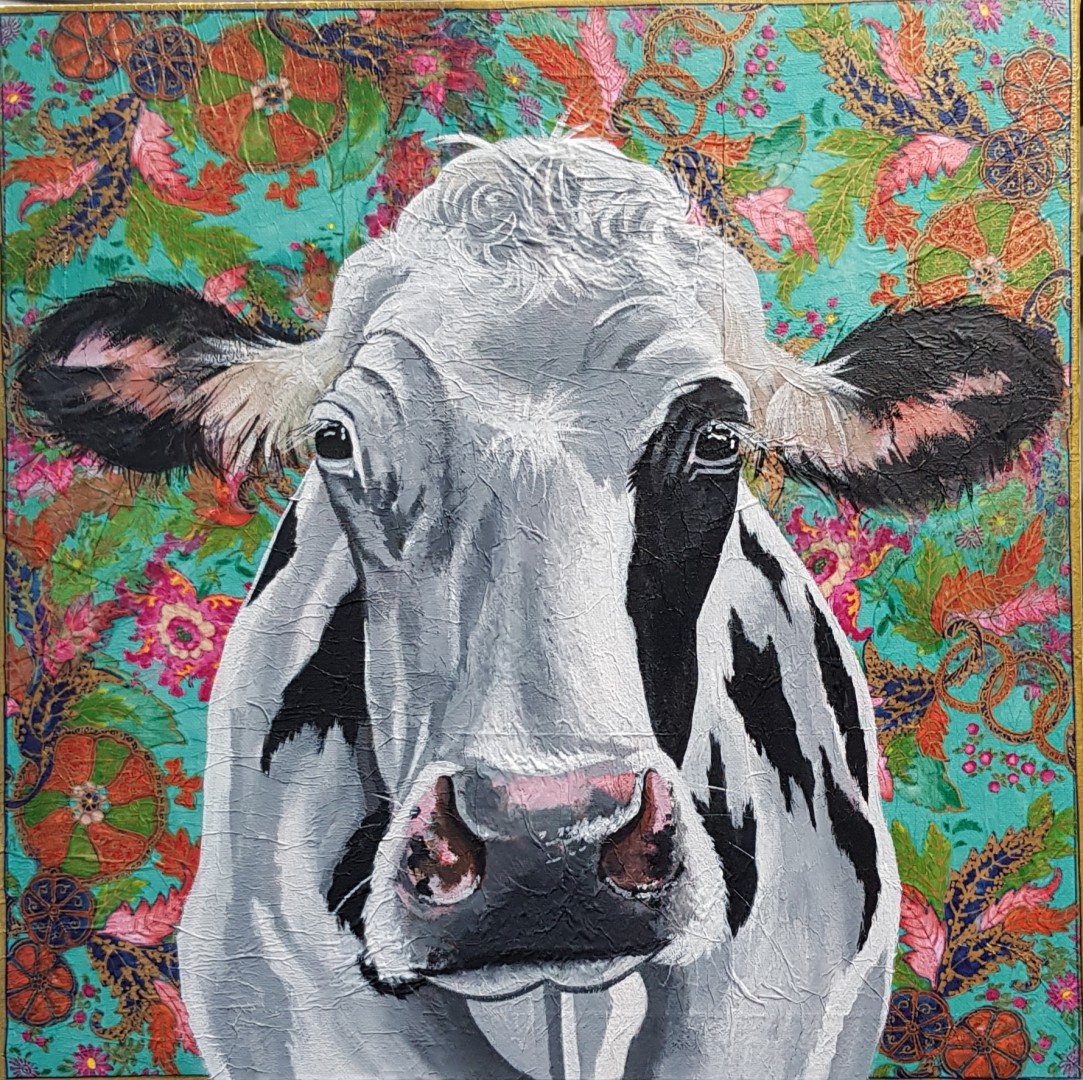 And it is that sense of hunting for something magic that Artweeks offers annually, and in these strange times, this year it is something you can do from the safety of your sofa.